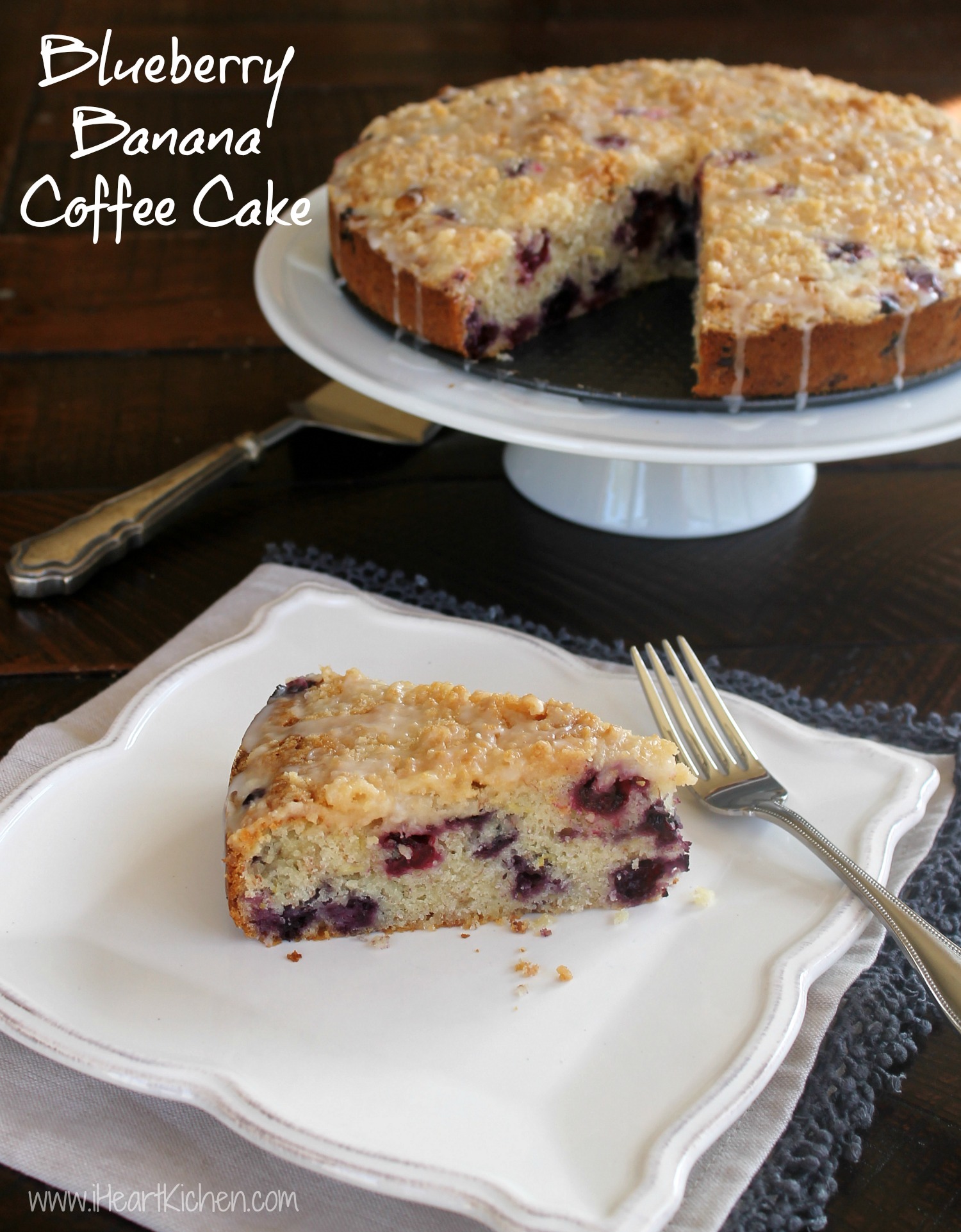 What do you do when you have overripe bananas? I hope you don't toss them! There are so many great things to do with them…Banana Bread, Banana Muffins and you can also make my Blueberry Banana Coffee Cake!
While I don't like coffee, I love a good coffee cake! I have a basic recipe that I make and kick it up based on what I have on hand. Since I had a few overripe bananas and a pint of neglected blueberries, I decided to see how they would taste together.
I was thrilled at how this recipe turned out….it might just be my best version yet!
Blueberries and bananas go together beautifully and work to make a delicious, moist cake. The crunch of the crumble on the top makes this out of this world delicious. I can say for sure that my guys loved it. They were practically climbing on the table to get a piece. I barely had time to snap my pictures before they starting attacking it.
Next time you see those ripe bananas on your counter don't toss them. Try this recipe and let me know what you think!

Blueberry Banana Coffee Cake
Ingredients
Cake
2 cups all purpose flour
½ teaspoon salt
1½ teaspoons baking powder
½ cup unsalted butter, softened
1 cup sugar
2 ripe bananas, mashed
2 eggs
1 teaspoon vanilla extract
½ cup milk
1 tablespoon lemon zest
1 pint fresh blueberries
Crumb Topping
½ cup sugar
½ cup all-purpose flour
2 tablespoons butter
Icing (if desired)
1 cup powdered sugar
2 tablespoons fresh lemon juice
Instructions
Preheat oven to 350º.
Mix the flour, salt and baking powder in a small bowl and set aside.
Add the sugar and butter to a large bowl and beat until light and fluffy.
Add the eggs, vanilla, mashed banana, milk and lemon zest and beat until combined.
Add the flour mixture and stir to combine.
Gently fold in the blueberries.
Pour the batter into a 9" cake pan or springform pan that has been cooking spray.
Create the crumble by mixing the flour and sugar together then use a fork to cut the butter into the butter/sugar mixture.
Sprinkle the crumble over the batter.
Bake at 350º for 50 min to 1 hour (or until a toothpick inserted into the center comes out clean)
Prepare the icing by mixing the powdered sugar and lemon juice. The icing should be thin and pourable. If too thick simply add additional lemon juice. If too thin, add a little more powdered sugar.
Once the cake is done, drizzle the icing over the top of the cake and serve warm.