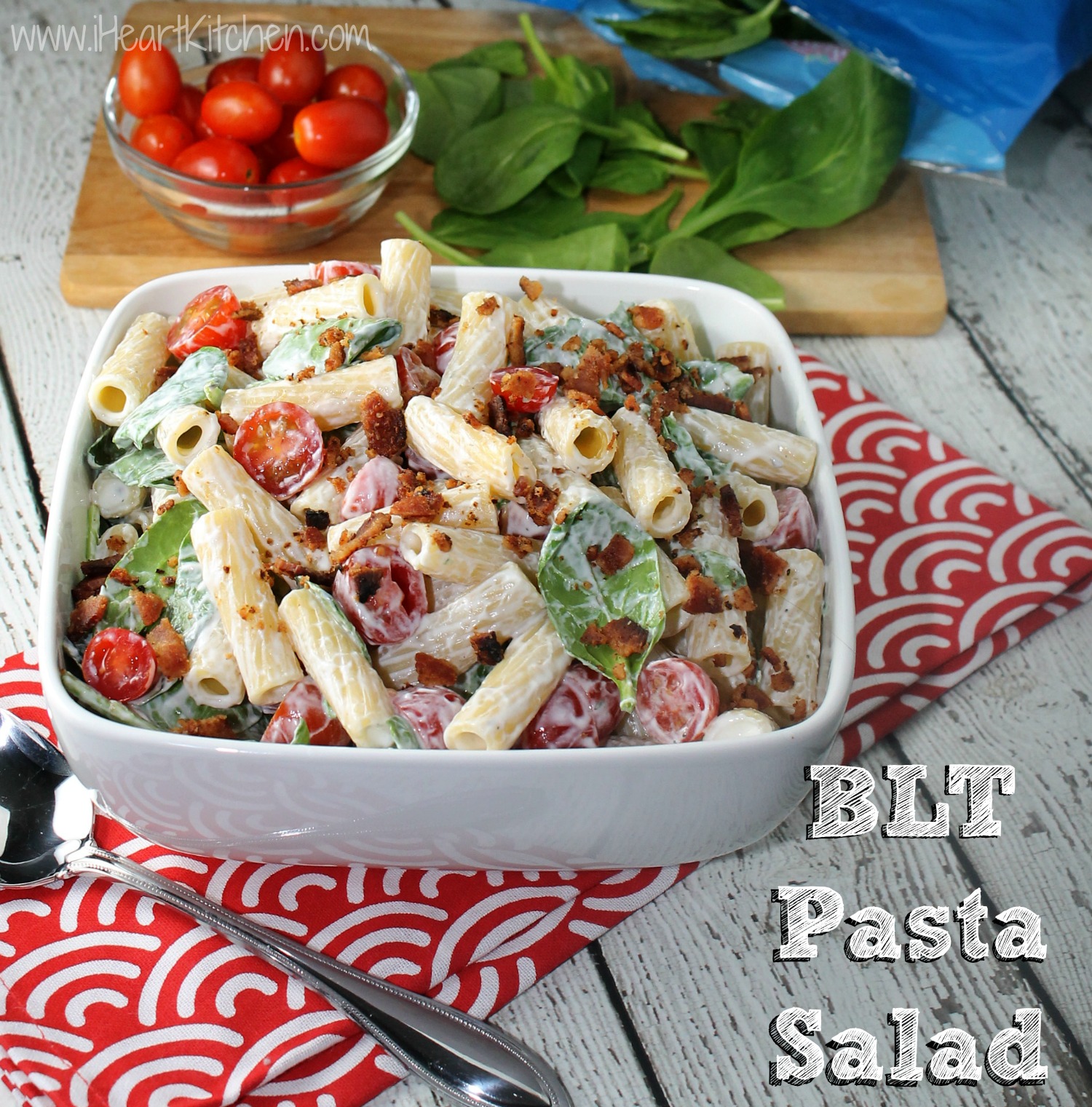 This is the busiest time of year for me. My boys have so much going on that dinner time is often a rushed meal between activities. Some nights there is not even time to cook. Those are the nights I depend on my slow cooker or do easy make-ahead meals like my BLT Pasta Salad.
My boys love any meal where there is pasta involved. I saw a recipe on Pinterest that was simply pasta, tomatoes, lettuce and bacon bits mixed with bottled ranch dressing. While my boys would be all over that ranch dressing, that's not really my speed. I decided to see if I could come up with a recipe that my guys would love.
I opted to use Greek yogurt for my dressing. I use it in place of mayo and/or sour cream in many of my recipes and like the others, it turned out great. I also wanted to bump up the nutrition so I went with spinach instead of lettuce. Of course if you prefer, chop up some romaine and toss it in instead. You really can make this recipe your own.
My version was a hit and now it's one of my go to recipes when I know I need a meal ready ahead of time.
This is one of those recipes that is actually better if you allow it to sit in the fridge for a while. It's a great dinner option and also a perfect potluck dish. Whip up a big batch and you'll find that the bowl comes back completely empty!

BLT Pasta Salad
Ingredients
16 oz pasta - your favorite shape
1 pint cherry tomatoes, halved
2 cups baby spinach
1 cup plain Greek yogurt
1 -2 cloves garlic, minced
1½ tablespoons ranch seasoning mix
1 teaspoon lemon juice
4 strips of bacon, cooked crisp and crumbled
Instructions
Cook the pasta according to directions. Drain and run under cold water to cool
While the pasta is cooking, make your dressing.
Mix the yogurt, garlic, ranch seasoning and lemon juice until combined.
Add the cooked pasta, tomatoes and spinach to a large bowl and toss with the prepared dressing.
Refrigerate for 4 - 6 hours before serving.
Sprinkle with the crumbled bacon before serving.