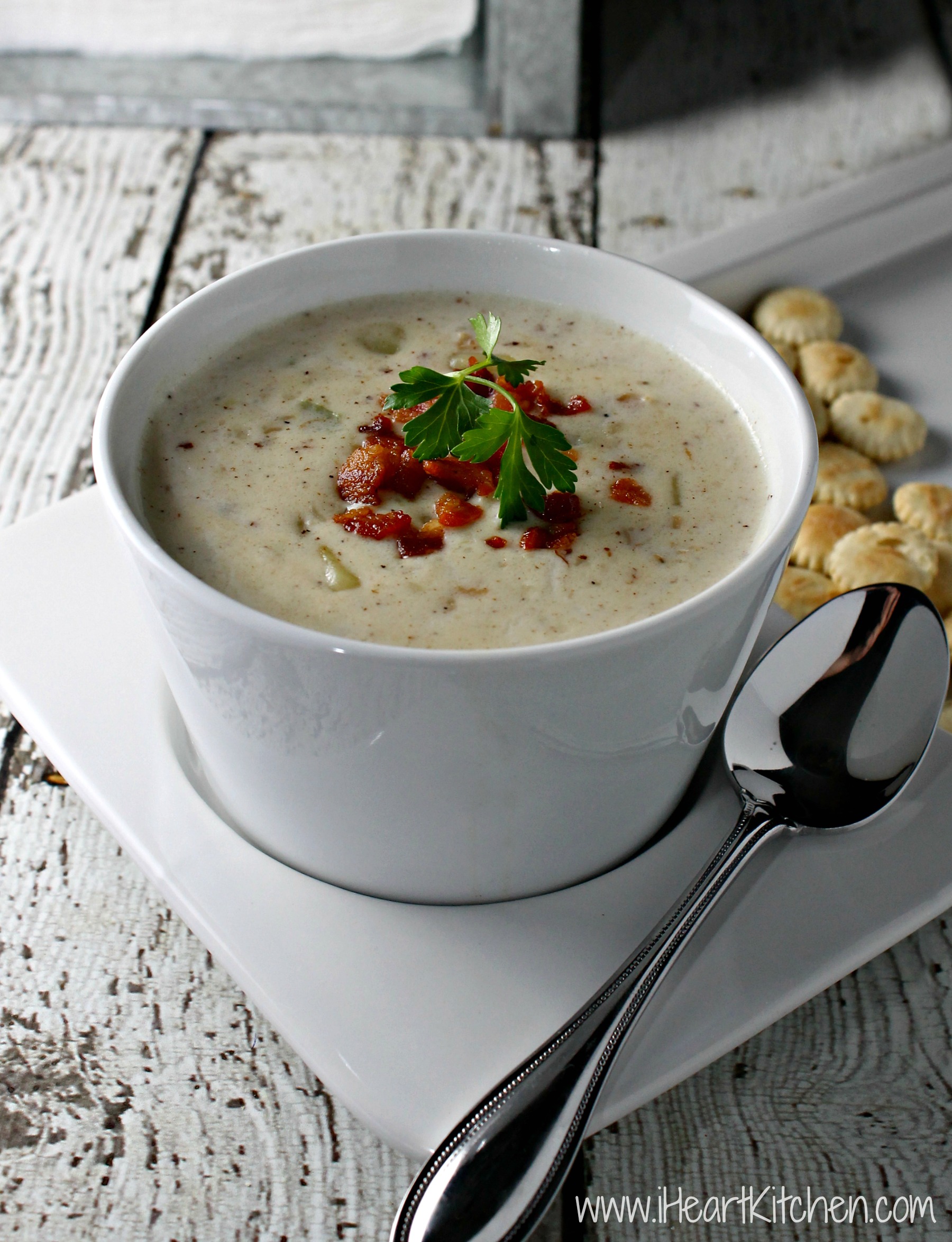 Each week I do a taste test for one of my other sites. We try the national version of a food and the matching Publix store brand. It's a fun thing that all of my guys have come to look forward to each week. Recently, we tried a couple of cans of clam chowder. It's been so cold here that I needed a hearty soup to warm me up.
Well…that taste test had me hankering for more clam chowder! I looked in my pantry and had a couple of cans of clam so I whipped up a batch of my Easy Clam Chowder.
This recipe is so simple but yields an incredibly delicious chowder that will have you scraping the pot clean! What's nice is that it takes very few ingredients. Now, I am sure that some folks will turn their nose up to the fact that this recipe uses canned clams. I am sure fresh clams would be fantastic…but let's get real I live in Tennessee and there's not a huge offering for fresh clams. That takes major planning and a lot of effort to get those babies! It also requires quite a bit more effort. Trust me when I tell you the canned clams will still have you licking the bowl clean!
Next time you are hankering for a bowl of delicious, comfort food, give this recipe a try! I think you'll find that you'll skip the canned version from now on!

Easy Clam Chowder
Ingredients
3 slices of bacon, chopped - I use thick sliced
2 cans clams with juice 6.5 oz
2 medium Yukon Gold potatoes, peeled and diced small
1 onion, finely chopped
2 celery ribs, finely chopped
1½ cups water
¼ cup flour
2 cups half & half
1 bay leaf
salt & pepper to taste
Instructions
Cook the chopped bacon in a large stockpot.
Cook until crisp then remove to a paper lined plate to drain and reserve for later.
Pour off all but 2 tablespoons of the bacon fat.
Add the onions and celery to the bacon fat and cook over medium until softened - about 5 minutes.
Add the potatoes, clam juice (reserve the clams for later), water and bay leaf.
Cook for about 10 -12 minutes or until the potatoes are cooked through.
Add the flour to ½ cup of half and half, whisk together until combined and no lumps remain.
Pour the mixture into the pot along with the rest of the half and half.
Cook over medium heat and simmer until the chowder begins to thicken - about 5 - 8 minutes.
Add the clams and remove from heat.
Season with salt and pepper to taste.
Remove the bay leaf before serving.
The soup is best if left to sit for about 10 minutes.
Top with the cooked bacon.