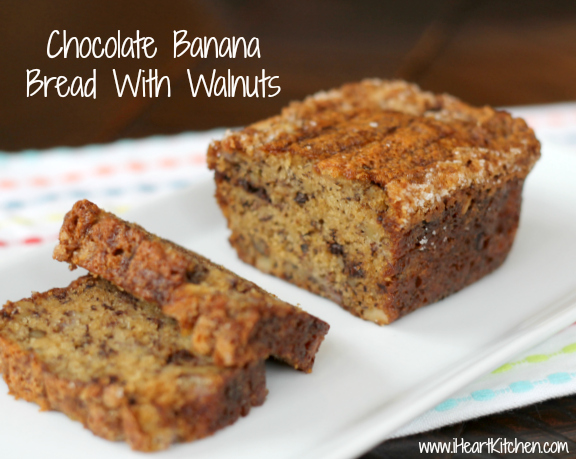 We were in Alabama last week visiting my husband's family for Thanksgiving. I like to come home to a clean house so I won't feel overwhelmed trying to get caught up on laundry. It's hard to get back in the swing of things once you are away for a few days. I thought I had taken care of any food that might not make it until we returned but found a big batch of bananas that I had overlooked. Many folks would be sad to see those mushy black bananas but I just smiled and turned on the oven.
I love to bake especially in the fall and winter. There is something so inviting about a home that filled with the smell of fresh baked goods. I also don't mind the fact that the oven adds a little extra warmth to the house…I am a bit more cold natured that my guys. I especially don't mind when I am whipping up one of the best recipes ever – Chocolate Banana Bread With Walnuts.
I tease my husband that I am going to start calling this recipe "Banana Chocolate Crack" because it's so good we can demolish an entire loaf in a day! I have made many banana bread recipes over the years but this is the only one I make now. I finally tweaked this one to the point of perfection – yes it's that good!
Luckily the folks at Good Cook sent me a Sweet Creations Mini Loaf Pan so instead of one loaf I was able to make four small ones. I am hoping this will help the batch last a bit longer. Although I guess I should admit that the loaf I used for the picture is already gone! I think I will be making a couple more batches so I can have a few in the freezer. I might even give a few away to some friends and family if I can get them wrapped up before my guys get their hands on them.
Right now you can use the code SWEETLOAF to get 25% off the Mini loaf pan at GoodCook.com. Grab it for someone on your holiday list and be sure and print them a copy of this recipe…they are sure to love your gift.

Chocolate Banana Bread With Walnuts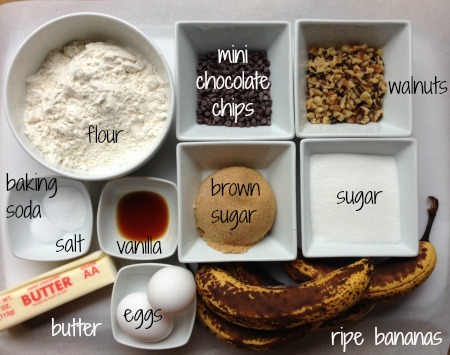 Ingredients
1¼ cups all-purpose flour, sifted
½ teaspoon salt
1 teaspoon baking soda
2 eggs, at room temperature
1 teaspoon pure vanilla extract
1 stick unsalted butter, softened (plus more for greasing the pan)
½ cup sugar (plus more for sprinkling in pan)
½ cup brown sugar, packed
4 very ripe bananas, peeled and mashed
½ cup walnuts, chopped
¼ cup mini semi sweet chocolate chips
Instructions
Preheat oven to 350 degrees.
Butter your loaf pan(s) then sprinkle with sugar. Shake pan to coat the entire buttered surface with sugar.
Mix flour, baking soda and salt together then set aside
Combine eggs and vanilla, set aside.
Cream butter and sugars in mixer fitted with paddle attachment.
Gradually add egg mixture and beat until incorporated.
Add mashed banana to mixture.
Add flour mixture and then mix by hand just until just moistened (do not over mix)
Fold in chopped walnuts and mini chocolate chips.
Pour into butter and sugared loaf pan(s).
Bake in 350 degree oven for 40 minutes for 4 mini loaves (1 hour 10 minutes for single loaf) or until the top springs back when touched.
The outer crust will be dark and crispy and the inside moist and delicious!
Allow to rest in the pan for 5 minutes then transfer to a cooling rack.
Notes
This bread freezes great!
Also - mini chocolate chips work best in this recipe as the larger ones tend to sink to the bottom of the batter.
Adapted from Food Network