Chocolate Banana Bread With Walnuts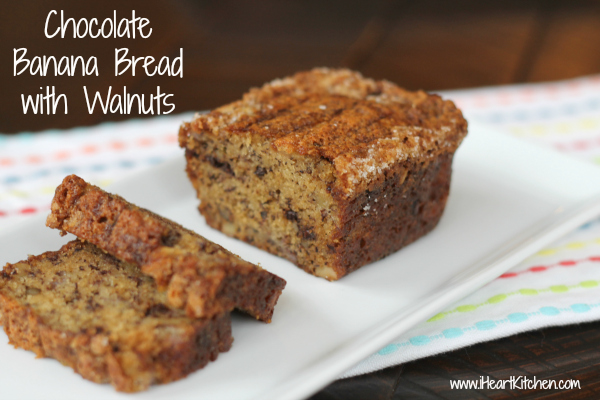 1¼ cups all-purpose flour, sifted
½ teaspoon salt
1 teaspoon baking soda
2 eggs, at room temperature
1 teaspoon pure vanilla extract
1 stick unsalted butter, softened (plus more for greasing the pan)
½ cup sugar (plus more for sprinkling in pan)
½ cup brown sugar, packed
4 very ripe bananas, peeled and mashed
½ cup walnuts, chopped
¼ cup mini semi sweet chocolate chips
Preheat oven to 350 degrees.
Butter your loaf pan(s) then sprinkle with sugar. Shake pan to coat the entire buttered surface with sugar.
Mix flour, baking soda and salt together then set aside
Combine eggs and vanilla, set aside.
Cream butter and sugars in mixer fitted with paddle attachment.
Gradually add egg mixture and beat until incorporated.
Add mashed banana to mixture.
Add flour mixture and then mix by hand just until just moistened (do not over mix)
Fold in chopped walnuts and mini chocolate chips.
Pour into butter and sugared loaf pan(s).
Bake in 350 degree oven for 40 minutes for 4 mini loaves (1 hour 10 minutes for single loaf) or until the top springs back when touched.
The outer crust will be dark and crispy and the inside moist and delicious!
Allow to rest in the pan for 5 minutes then transfer to a cooling rack.
This bread freezes great!
Also - mini chocolate chips work best in this recipe as the larger ones tend to sink to the bottom of the batter.
Recipe by
I Heart Kitchen
at https://www.iheartkitchen.com/chocolate-banana-bread-walnuts-best-recipe-ever/