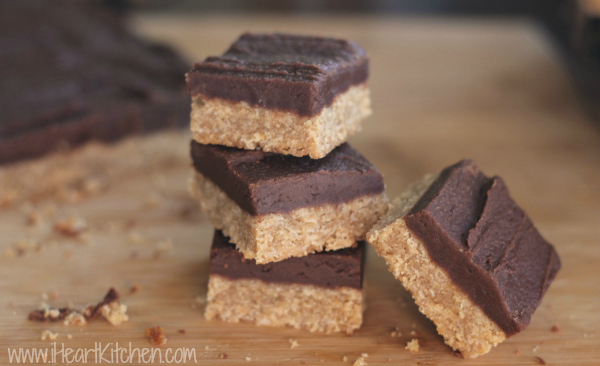 Tis the season for holiday get togethers. I have a ton going on this month that calls for lots of baking. I have two cookie swaps and a house full of guests coming in just a couple of weeks. Time to grab the apron…it's time to start working on the list of goodies that I'll need to have ready.
The folks at Hodgson Mill sent me a couple bags of their products so I thought I'd try using them to whip up a family favorite – Peanut Butter Fudge Bars.
This recipe is a modification from a treat that was made back in the 60's at my mom's school cafeteria. My mom's best friend helped out in the cafeteria so she was able to pass the recipe to my mom. We modified it slightly over the years and I decided to try my hand at the bars – making a few more changes including the addition of Hodgson Mill White Whole Wheat Flour.
While this is a sweet treat, there's no reason you can't pack it with a punch of goodness.  The recipe already had healthy oats plus great protein from peanut butter. The addition of the whole grains adds a little extra nutrition to the bars. White whole wheat (which is actually tan in color) is milder and sweeter in flavor than whole wheat – with the same health benefits. It has a lighter texture than whole wheat flour and can be used in recipes as a substitute for any type of flour. The flour's texture is a perfect compliment to the slightly chewy bars.
These are perfect for your holiday cookie parties and make tasty gifts for your friends and family. Pop a few into a cellophane bag with a pretty bow. Then just print the recipe and tie it to the bag. Your gift recipient will love you for the treat and even more for quick access to the recipe. I like to make these and drop them off at my boys' school. I put them in the teacher's lounge with a printout of the recipe, plus a little note thanking the teachers for all their work and patience.
Be sure to grab the coupon to get $1/1 Hodgson Mill flour or cornmeal 5 lb bag to help you save on your ingredients. After you grab your coupon, head over and enter the "25 Days of GRAIN Holiday" Sweepstakes. I'd love to hear that some of you guys are winners!
Try this recipe and let me know what you think!

Peanut Butter Fudge Bars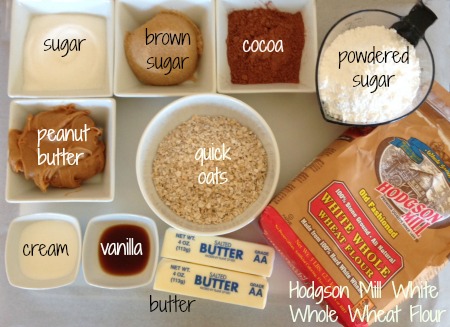 Ingredients
Bar Ingredients
1 cup Hodgson Mill White Whole Wheat Flour
1 cup quick oats
½ cup brown sugar
½ cup white sugar
1 teaspoon vanilla extract
½ cup melted butter
⅓ cup creamy peanut butter
Frosting Ingredients
16 oz confectioners sugar, sifted
½ cup cocoa, sifted
6 tablespoons melted butter
1½ teaspoons vanilla
¼ cup creamy peanut butter
¼ cup water
2 tablespoons cream (or half & half or milk)
Instructions
Bar Instructions
Preheat oven to 375 degrees.
Mix all ingredients by hand in a large bowl (dough will be thick).
Press dough into a 9" x 13" pan.
Bake for 20 minutes or until lightly browned.
Frosting Instructions
Combine all ingredients except cream in a medium bowl.
Add cream as necessary to get to desired consistency - should be thick but spreadable.
Frost bars immediately after removing from oven by spreading chocolate onto warm bars.
Allow to cool completely before cutting into bars.
Disclosure: I was provided with products from Hodgson Mill. No other compensation was provided. This post is part of my entry into the "Have GRAIN Holiday" Recipe Contest. All comments and opinions are my own.