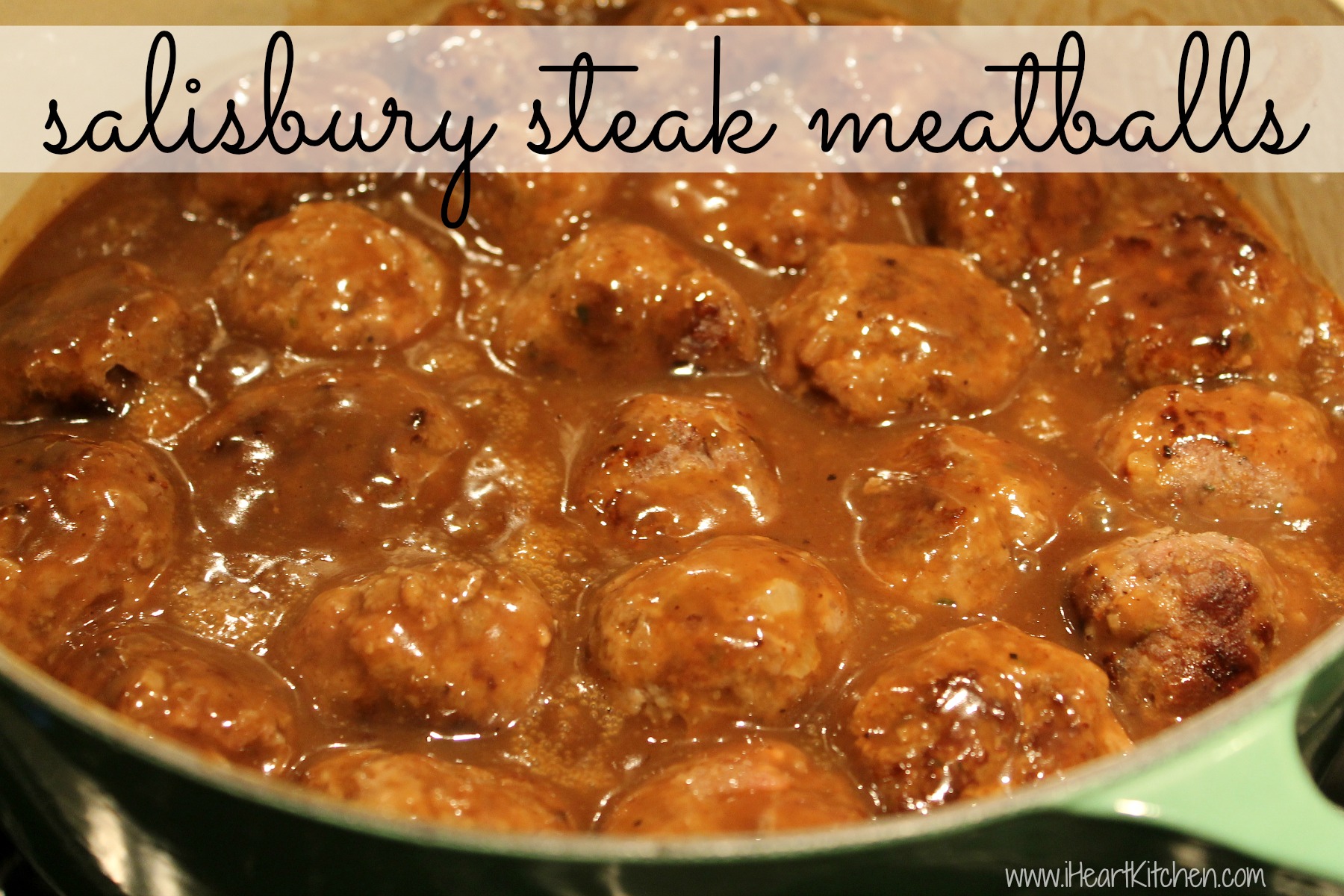 My guys love meatballs of all kind. I figure if it gets them to eat their dinner without complaints, I'll happily keep making them.
While my guys would eat basic meatballs without complaint, I need some variety! I make all kinds of delicious options just to keep things interesting!
All of those recipes are quite simple but this recipe for Salisbury Steak Meatballs is one of my personal favorites.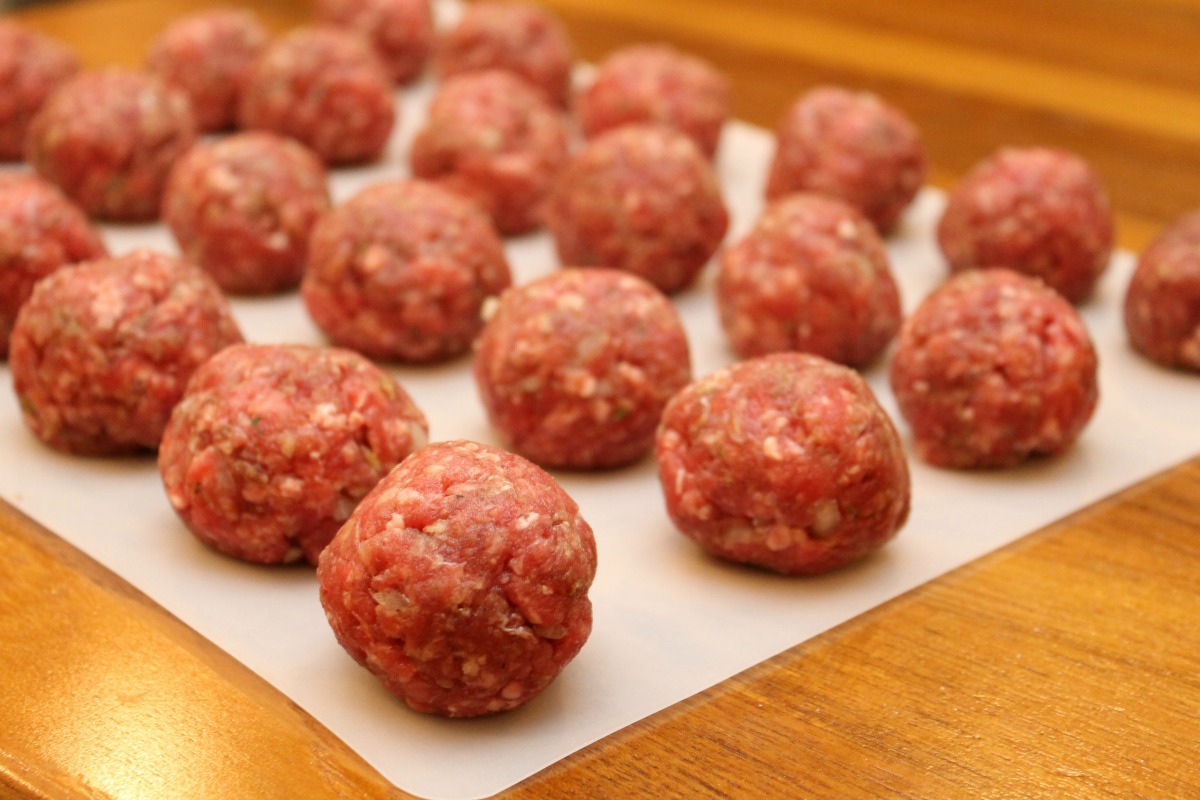 If you feel the urge you can make the meatballs ahead of time so that you can get dinner on the table lickity split. I usually do about a pound and a half of meat so that I have enough for dinner plus leftovers for my lunch later in the week!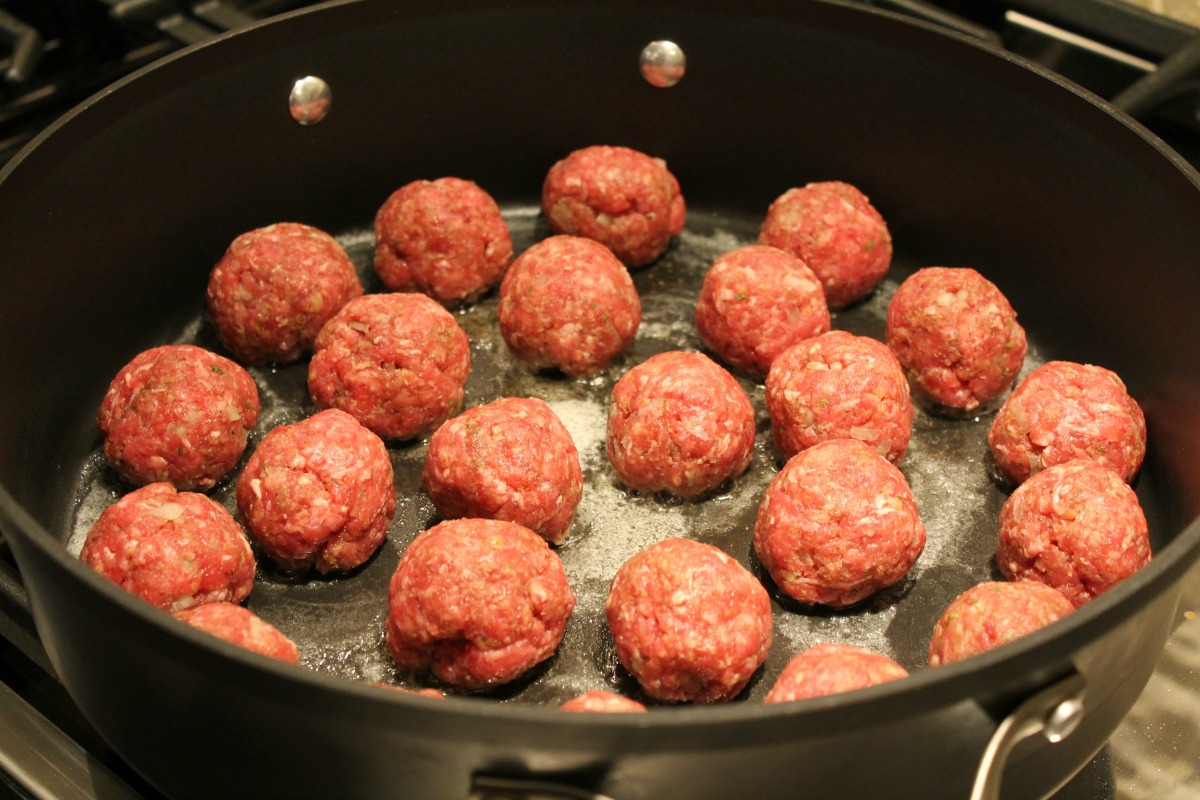 They take no time to fry up and you really just want to brown them. Slow cooking them in the yummy sauce really makes these fantastic.
Now if you have little ones like mine who aren't onion fans…no problem. The first time I made these for my crew my boys grumped so much about those onions they almost would't touch them. They insisted that they didn't like them. So being the tricky mom that I am – the next time I simply put the sauce through a sieve and then simmered the meatballs. I wasn't willing to give up the taste that the onions add to this dish. Doing it this way still give you the yummy flavor without having the onions in the sauce.
If you are an onion fan like me be sure and save those onions. I add them to my plate and let my boys enjoy the meal without them…that way we're both happy!

Salisbury Steak Meatballs
Ingredients
1½ pounds lean ground beef
½ cup seasoned bread crumbs
1 egg
2 medium onions, ½ onion chopped finely and the remaining sliced
1½ medium onions, sliced
1 tablespoon Worcestershire sauce
1½ teaspoons beef bouillon
2½ teaspoons salt, divided
2 teaspoons pepper, divided
3 tablespoons butter, divided
¼ cup flour
3 cups beef broth
1 teaspoon Gravy Master or Kitchen Bouquet
Instructions
Add the chopped onions, meat, breadcrumbs, egg, Worcestershire sauce, bouillon, 1 teaspoon of salt and 1 teaspoon pepper to a large bowl.
Mix well with your hands and form into 1 inch meatballs.
Melt 1 teaspoon of butter in a large skillet and add the meatballs.
Cook the meatballs on medium heat for about 6 - 8 minutes until browned - turn frequently to ensure even browning.
Remove the meatballs to a plate - the meatballs may not be cooked through but will finish cooking in the sauce.
Add another teaspoon of butter to the pan and then add the sliced onions.
Cook over medium low heat until caramelized - about 8 - 10 minutes.
Add the remaining butter to the pan and allow to melt.
Stir in the flour and mix until a paste forms. If not all the flour is absorbed add a little more butter.
Cook the flour/onion paste for about 30 seconds and then add the beef broth, Gravy Master and remaining salt & pepper.
Cook over medium low heat until the sauce thickens, stirring frequently - about 3 minutes.
If you wish to remove the onions, run the sauce through a mesh sieve.
Add the meatballs to the sauce and simmer for 10 - 12 minutes.
Taste and season as needed.
Serve over mashed potatoes or pasta.