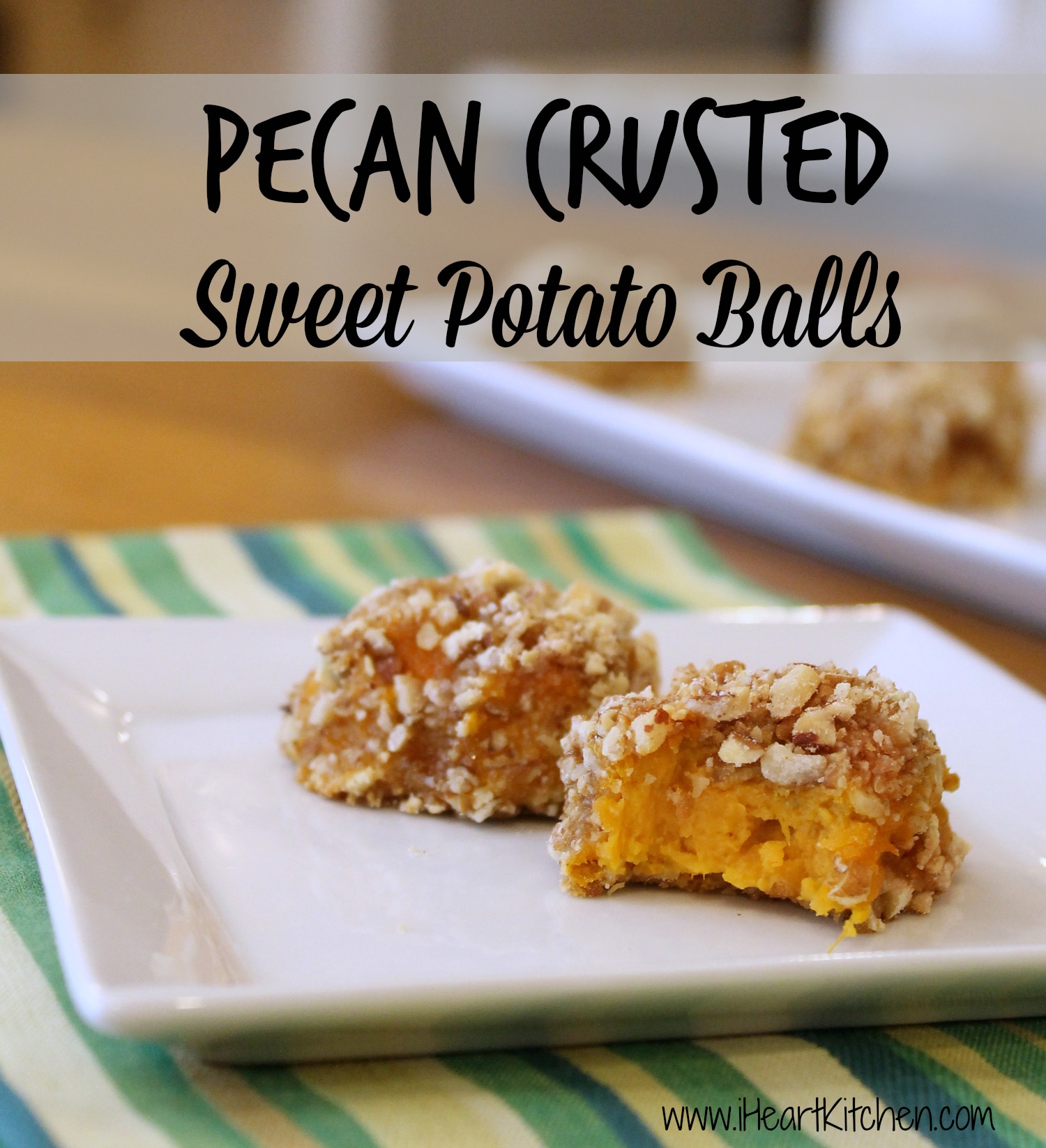 I had planned on making a sweet potato casserole for our family Christmas dinner. Once I started chatting with my husband he decided that we had to have gravy to go with the turkey. Of course once there is gravy, there has to be mashed potatoes. Yes…it's kinda like the "if you give a mouse a cookie" scenario – tee hee.
I made the executive decision that one potato dish was more than enough. My whole goal for the holiday dinner was to do simple dishes since I was doing all the cooking! Naturally I had already shopped so I found myself with a bunch of sweet potatoes that needed to be used.
Well, those sweet potatoes have been haunting me for the last week. I decided that I had to do something with them. I baked a few for dinner but there were still a few left. I came up with a delicious recipe that I just had to share – Pecan Crusted Sweet Potato Balls.
These were so good – almost like a cross between a sweet potato casserole and a mini sweet potato pie.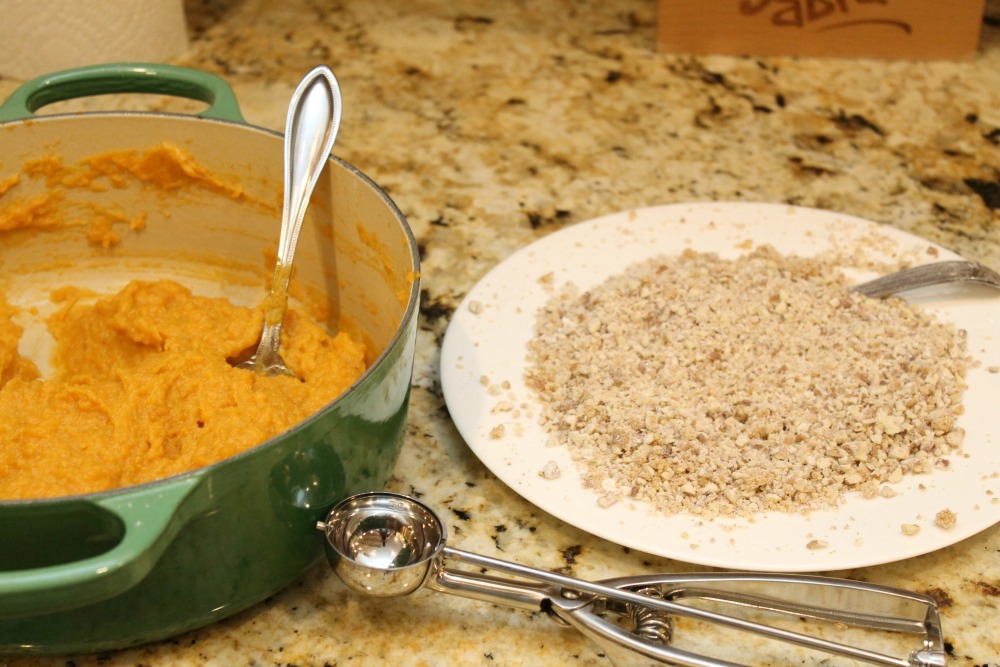 These were pretty simple too. Once you have your filling put together it's just a matter of a cookie scoop and a dunk in the pecan coating.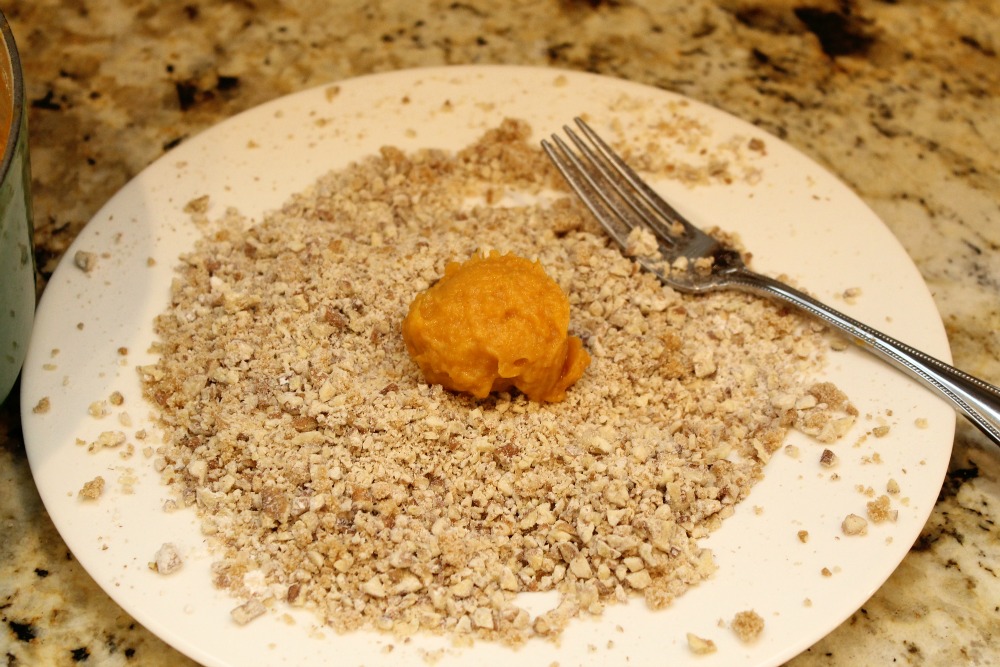 The filling is very loose so you basically drop a scoop of the filling into the pecan crumb mixture then push the crumbs around the sweet potato mixture. They'll adhere and then you can pick up the potato ball and move it to your cookie sheet.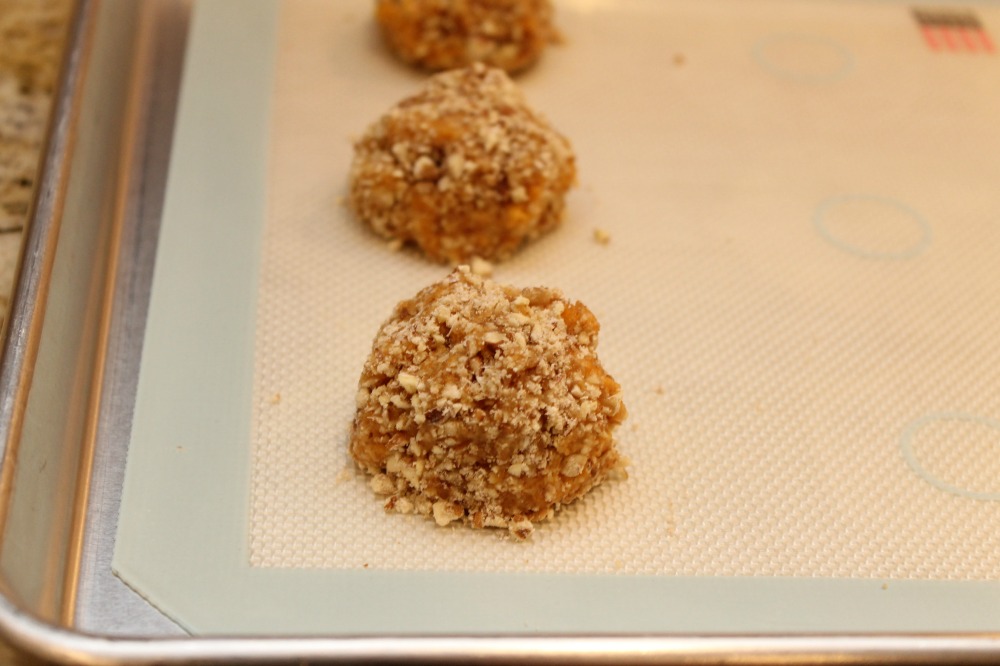 Now, it might take a little shaping to create that ball shape. I just did a little molding with my fingers once the ball was on the cookie sheet. I wasn't too concerned if they were perfectly round. I didn't figure my guys would care about the shape.
These were a huge hit and I'll definitely make them again. If you have a few extra sweet potatoes hanging around, give this recipe a try. Heck…you might just want to pick up a few sweet potatoes just for this recipe…I don't think you'll be disappointed!

Pecan Crusted Sweet Potato Balls
Ingredients
2 cups mashed sweet potatoes
1 cup brown sugar, divided
2 tablespoons butter
2 eggs, beaten
6 oz flour, divided
⅛ teaspoon cinnamon
1 cup pecans
Instructions
Preheat oven to 375º F.
To the mashed potatoes, add the butter, ½ cup of brown sugar, eggs, cinnamon and ¼ cup (4 oz) of flour and mix until combined.
Allow the mixture to cool completely.
Place the pecans in a food processor pulse until finely chopped. You'll have a meal like texture with some larger crumbs.
Add the remaining ½ cup of brown sugar and 2 oz of flour to the pecans and stir to combine.
Pour the pecan breading into a shallow dish.
Use a cookie scoop to drop 1½ tablespoon dollops of the potato mixture into the pecan mixture.
Gently push the coating around the potato ball to coat.
Place the coated potato ball on a cookie sheet lined with parchment or silpat.
Continue until all sweet potato balls have been made.
Bake at 375º F for approximately 25 minutes.
Allow to cool on the cookie sheet for about 8 minutes and transfer to a cooling rack to cool another 5 minutes or so.