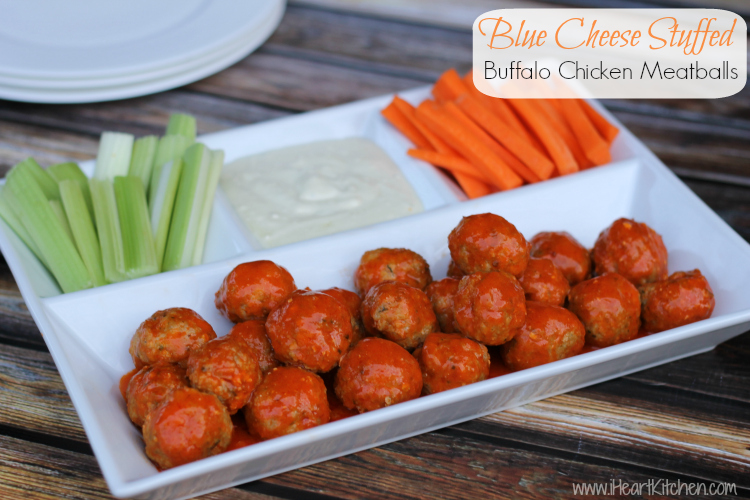 I have a great love for buffalo wings. I don't make them often at home because they take a fair amount of effort and aren't exactly figure friendly. I am always looking for ways to get that great buffalo chicken flavor without having to go to a wing place.
I shared a recipe for Buffalo Chicken Stuffed Hasselback Potatoes on my other site a while back. I had a buddy who saw the recipe and noted my love for buffalo sauce. She emailed me suggesting that I try one of her favorite ways to do buffalo chicken – Blue Cheese Stuffed Buffalo Chicken Meatballs.
I was immediately interested. Her instructions were literally…"make your favorite meatball recipe, stuff the meatballs with blue cheese, cook them and then toss in Frank's." So that is exactly what I did.
Let me tell you these babies were fantastic. My husband and I both immediately decided that they would be on our menu rotation quite often. The best part, they were super easy to make. I served them with some veggies and a salad and we had a great dinner that was actually quite healthy.
Give them a try and let me know what you think. These would also be great served as little appetizers – just double your batch and throw them in your slow cooker!
Blue Cheese Stuffed Buffalo Chicken Meatballs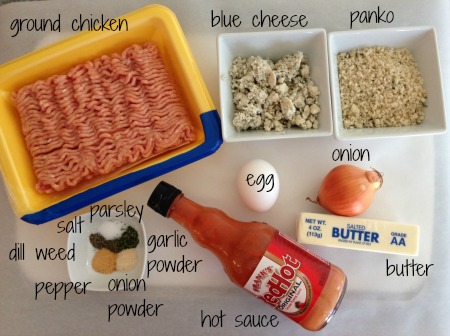 Ingredients
1 pound ground chicken
½ cup Panko bread crumbs
1 egg white
½ teaspoon garlic powder
½ teaspoon onion powder
½ teaspoon parsley
½ teaspoon salt
¼ teaspoon pepper
¼ teaspoon dill weed
½ cup blue cheese
1 cup hot sauce (I love Frank's RedHot)
2 tablespoons butter
Instructions
Preheat oven to 400 degrees.
In a medium bowl, add the chicken, Panko, egg white and all the spices and mix until combined.
To stuff the meatball - I like to use a small 1" dough scoop in order to create uniform meatballs. A 1" scoop will yield approximately 24 meatballs.
Grab a scoop of the mixture and using your finger, create a well for the cheese.
Add about ¼ teaspoon of blue cheese to the opening and then use your fingers to close the meatball around the cheese.
Roll gently to form and then place on a baking rack that's been sprayed with non-stick spray.
Place the rack on a shallow baking sheet and bake in a 400 degree oven for 12 - 15 minutes.
While the meatballs are cooking, heat the hot sauce and butter in a medium saucepan and stir to combine.
When the meatballs are done toss in the hot sauce and serve warm.