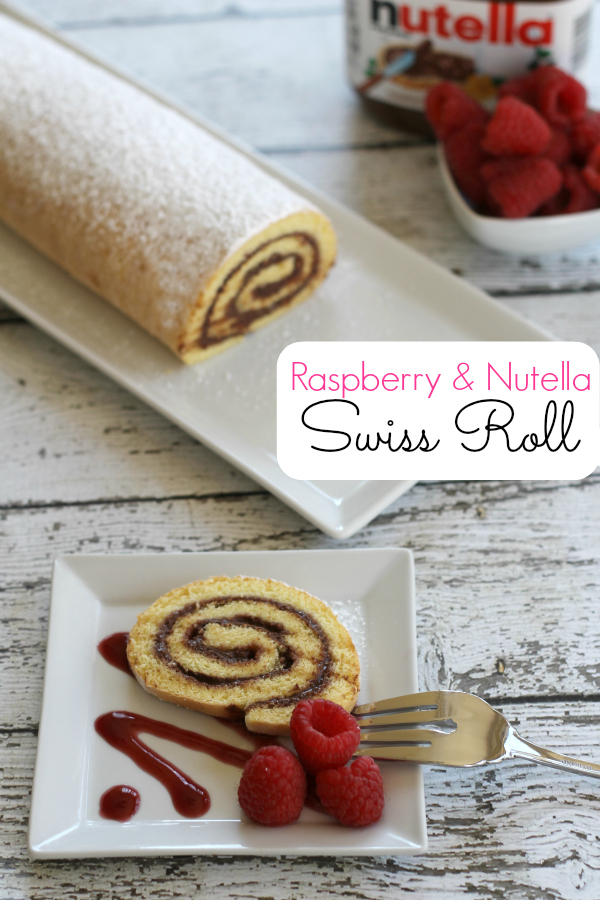 We were invited to dinner with friends and I was to bring the dessert. My friend Amy offered to make one of my all time favorite meals – Shrimp and Grits. I had a hard time coming up with a dessert to go with the meal. Had I been hosting, I would have probably done beignets to go along with the creole menu. Beignets are best warm so I had to come up with another option.
I started thinking about something that wouldn't take me all day to prepare and that would travel well. My solution – a swiss roll. Instead of the standard cream filling I decided that I would step it up a notch. I love chocolate and raspberries together. I looked in my pantry and saw the tub of Nutella and decided that was the kicker. In minutes I had whipped up a Raspberry & Nutella Swiss Roll.
Swiss rolls are so easy to make and they bake up super quick. I decided to make two just in case one didn't turn out. Plus I had to taste test it before I took it to dinner…at least that's the story I am sticking with- tee hee. Oh guys, this was a fantastic dessert. I hope you try it and then come back and let me know what you think.
Raspberry & Nutella Swiss Roll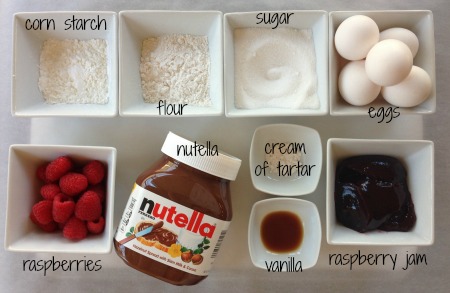 Ingredients
5 large eggs at room temperature (4 eggs + 1 yolk)
⅓ cup cake flour, sifted
3 tablespoons corn starch
½ cup plus 1 tablespoon sugar, divided
1 teaspoon vanilla extract
¼ teaspoon cream of tartar
powdered sugar
½ cup seedless raspberry jam
1 tablespoon water
1 cup nutella
fresh raspberries for garnish
Instructions
Preheat oven to 450 degrees.
Line a 12"x 17" baking sheet with parchment paper then spray the top with an oil/flour spray like Baker's Secret.
In small bowl, mix flour and corn starch then set aside.
Place 3 egg yolks + 2 whole eggs and ½ cup sugar into your stand mixer bowl with paddle attachment.
Mix on high for 5 minutes until light yellow and creamy.
Add vanilla extract and beat until combined.
Remove whipped eggs from mixer and add ½ of flour mixture and gently fold until incorporated.
Add the remaining flour and fold until combined.
In a clean mixing bowl fitted with the whisk attachment, add the egg whites and beat on high until foamy.
Add the cream of tartar and beat until soft peaks form.
Add 1 tablespoon of sugar and beat until stiff peaks form.
Gently fold about ½ cup of the egg whites into the batter to lighten it up a bit.
Fold in the remaining egg whites.
Pour the batter into the prepared pan and evenly spread using a spoon or spatula.
Bake in a preheated 450 degree oven for 6 minutes or until the cake has lightly browned and springs back when touched.
Remove from oven and immediately sprinkle with powdered sugar.
Quickly invert the cake onto a clean tea towel.
Remove the parchment paper from the cake and sprinkle with powdered sugar.
Roll up the cake with the towel (The towel will be rolled with the cake. Do not remove the towel yet).
Place the rolled cake/towel onto a rack to cool.
While the cake is cooling, place the jam and 1 teaspoon of water in a small sauce pan.
Stir on low the jam has thinned out to a syrup then remove from heat.
Once the cake has cooled, carefully unroll the cake.
Spread half of the warm raspberry syrup on the cake and then spread with warm Nutella. (warm Nutella in microwave for about a minute to make spreading easier)
Gently roll the cake up then move off the towel to a serving plate.
Dust with powdered sugar before serving.
Serve with remaining raspberry syrup and fresh raspberries.