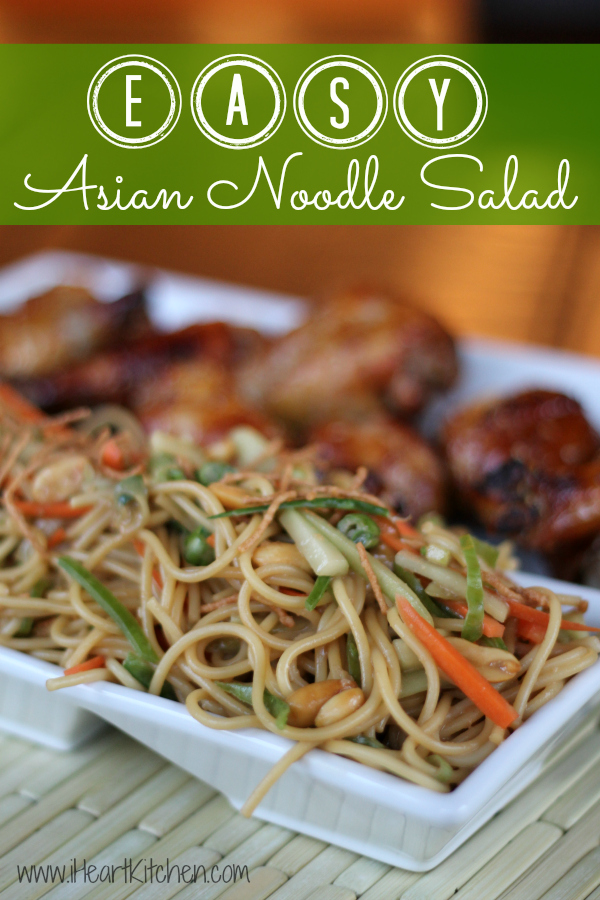 All of my guys love spaghetti. Instead of plain old pasta with tomato sauce, I like to shake it up a bit. I love a good noodle salad with big flavor. My Easy Asian Noodle Salad is one of my favorite recipe to throw together because I can prepare it early in the day and then pull it out when dinner time rolls around.
Breaking up dinner prep over the day means a less stressful evening. If I can knock out one part of dinner at my convenience, my time in the kitchen seems to fly by.
Like many pasta salads, the longer this one marinates – the better it tastes. I try to make a big batch so that I can munch on it throughout the week for lunch.
Besides tasting great, this is a great recipe to get more veggies in your family. I listed my favorite veggies but feel free to  toss in your favorites. You can even add some meat to make this a complete meal. I love this with a quick sautéed chicken or pork. This is a super easy recipe to whip up a great meal or side dish.
Easy Asian Noodle Salad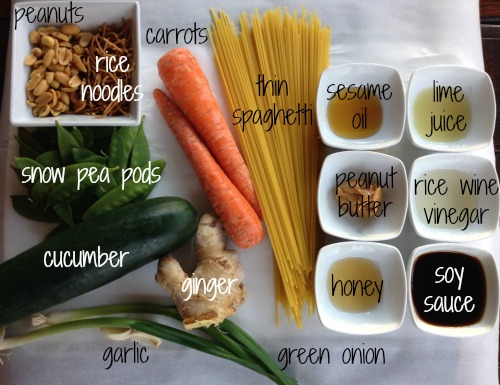 Ingredients
8 oz thin spaghetti, cooked according to package
1 large cucumber, seeded and cut into thin strips
2 carrots, cut into matchsticks
2 green onions, chopped
1 cup snow pea pods, thinly sliced
1 teaspoon ginger, minced
2 cloves garlic, minced
1 teaspoon sesame oil
1 tablespoon lime juice
1 tablespoon peanut butter
1 teaspoon rice wine vinegar
1 teaspoon honey
2 tablespoons soy sauce
½ cup peanuts
¼ cup rice noodles
Instructions
In a small bowl, combine ginger, garlic, sesame oil, lime juice, peanut butter, vinegar, honey and soy sauce.
Toss the mixture in the microwave for about 30 seconds and whisk until combined.
Place cooked spaghetti, carrots, onion, cucumber and pea pods in a large bowl.
Toss with dressing then place in refrigerator for at least an hour.
Serve cold.
Top with rice noodles and peanuts before serving.