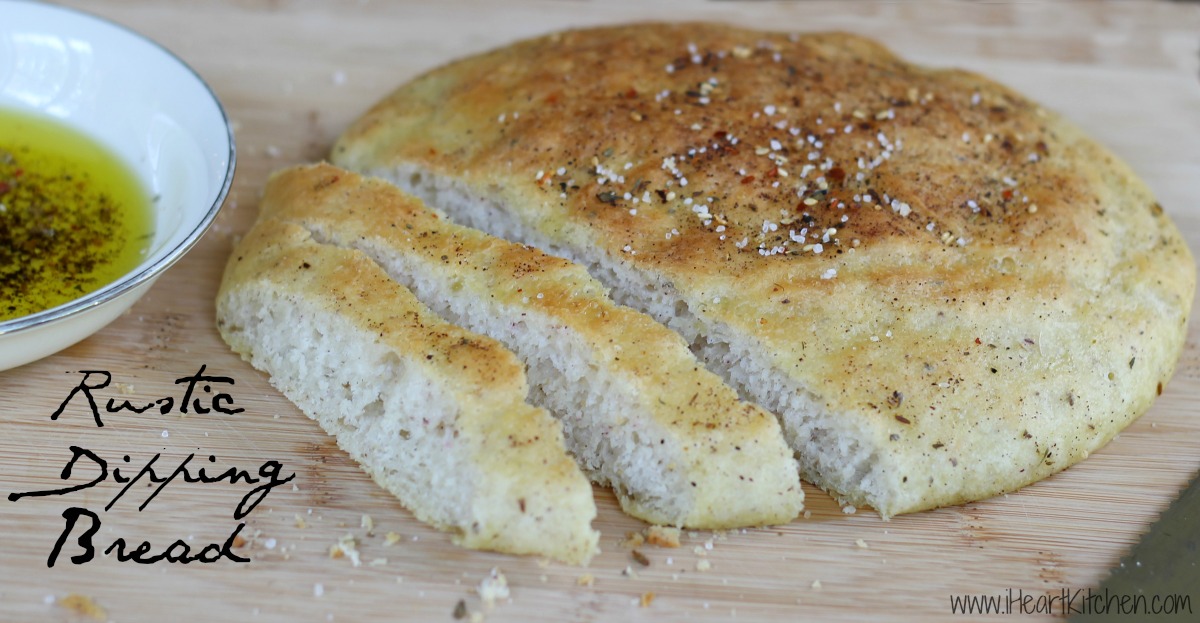 I almost never buy bread from the store. There really is no need to buy bread because making it yourself is so simple.  After eating bread fresh from the oven you may never want to take that twist tie off that store bought loaves ever again!
I think people shy away from baking bread as they think that it's difficult and somehow they will mess it up. I am here to tell you that bread is super simple and honestly takes very little active work. The hardest part about making bread is all the waiting that's needed. You often have to allow bread to rise a few times before you toss it in the oven. That's not hard…seriously, all that's required is that you leave it alone. Pretty simple huh?
Today, I wanted to share my family's favorite Rustic Dipping Bread. This bread is the ultimate for dipping into oil but it can be used for so much more. I'll often serve it with pasta meals. Sometimes I turn it into croutons and I have even made it into a gourmet grilled cheese sandwich.
This bread offers a deliciously chewy crust with a soft, airy center. I season the bread with Za'atar before it's baked and also sprinkle it on top for even more flavor. Heck, I even add it to my olive oil. Yes..that spice blend is phenomenal with this bread.
Now, if you don't have Za'atar you really might want to grab some. You'll find that you probably buy it more often than you pick up parsley…It's that good! If you want to make the bread with what you have on hand you could always throw in some rosemary. It's a great combination with this type of italian bread.

Rustic Dipping Bread
Ingredients
1 tablespoon yeast
1 tablespoon sugar
1 cup warm water (between 105º - 110ºF)
2 tablespoons olive oil, divided
2 cups all purpose flour + additional for kneading
1 teaspoon salt
2 tablespoons za'atar spice mix
2 tablespoons olive oil
Sea salt (if desired)
Instructions
Mix the sugar, yeast and water in a bowl and allow to sit for 3 - 5 minutes until bubbly.
Add in 2 cups of flour, 1 teaspoon of salt, 1 tablespoon of Za'atar and 1 tablespoon of olive oil and mix until combined
Remove the dough to a floured surface and knead for about 10 minutes until the dough is smooth and elastic.
Shape the dough into a ball and place in a bowl lightly coated with olive oil.
Cover with a tea towel and place in a warm, draft free area and allow to rise for about an hour.
After the first rise, punch down the dough and divide into two balls.
Sprinkle the dough with the remaining tablespoon of Za'atar and lightly press into the surface.
Allow the dough to rest while you prepare the pans.
Coat two 8" - 9" cake pans by lightly coating with cooking spray or olive oil.
Place the rounded dough onto the pans then cover with the tea towel allowing it to rise for 45 minutes in a warm, draft free area.
Preheat the oven to 400º F.
Place a pan of boiling water on the lowest rack and then bake the bread on the middle rack for 15 - 20 minutes until lightly browned.
Remove the bread from the oven and brush with olive oil and sprinkle with sea salt if desired.
Broil the bread for 2 - 4 minutes until the top is golden brown.
Serve with olive oil sprinkles with additional Za'atar.