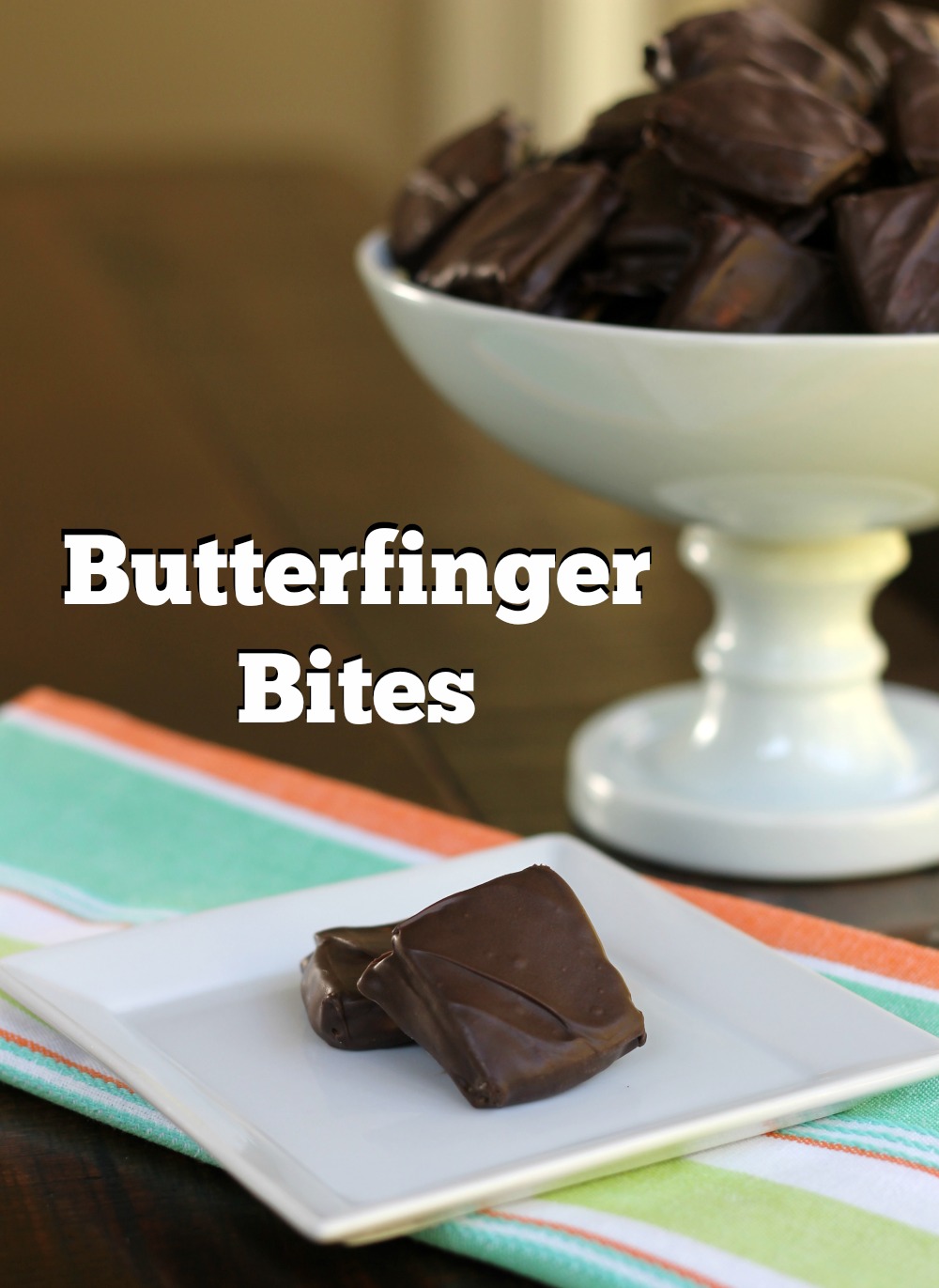 Today I thought I would share one of our favorite family treats – Homemade Butterfinger Bites.
I usually whip up a big batch of these around the holidays . First, I like to have a variety of treats available for all my family and friends. Second, I typically only make them during the holidays because if they are at my house…I will eat them – ALL of them!
A friend of mine came over not too long ago and had a little bowl full of goodies. She was very excited to give me a batch of her "famous" Butterfinger candy. I had to giggle as it was the same thing that I refer to as Butterfinger Bites. I didn't have the heart to tell her that these babies have been around for forever – so I just thanked her for that famous recipe of hers and proceeded to snack away!
I was nice and shared my little bowl of goodies with my husband and kids. She only brought a handful of the candies and I have had a hankering for them ever since. Well, I figured that it would be a good idea to share the recipe with you guys. I mean that would be the nice thing to do, right? It really had nothing to do with the fact that I just NEEDED to have these this week – tee hee.
I figured it was also good timing as I could eat a few then put them out at our party we have planned this weekend. So, I get my treat but I'll have folks help me eat them so I don't overindulge.
I guess the nice thing about this recipe is that you can make as few or as many as you'd like. Calling this a recipe may be a stretch as it's really just an assembly of ingredients. But if you take these to a party, I guarantee that you'll come back with an empty dish. You can even call them your "famous" recipe 😉

Homemade Butterfinger Bites
Ingredients
Big Cheez -It Crackers
Creamy Peanut Butter (try Peter Pan Honey Roast - yum!)
Chocolate Almond Bark
Instructions
Spread a dollop of peanut butter on a cracker then top with another cracker to make a sandwich. Do this until you finish the box (or make as many as you'd like)
Follow the package instructions to melt the chocolate almond bark.
Dip each mini cracker sandwich into the chocolate, shaking off any excess chocolate.
Place the dipped cracker on wax paper.
Allow the chocolate to harden and serve!
Notes
Prep time and ingredient quantity will vary as it will be based on how many candy bites you wish to make!