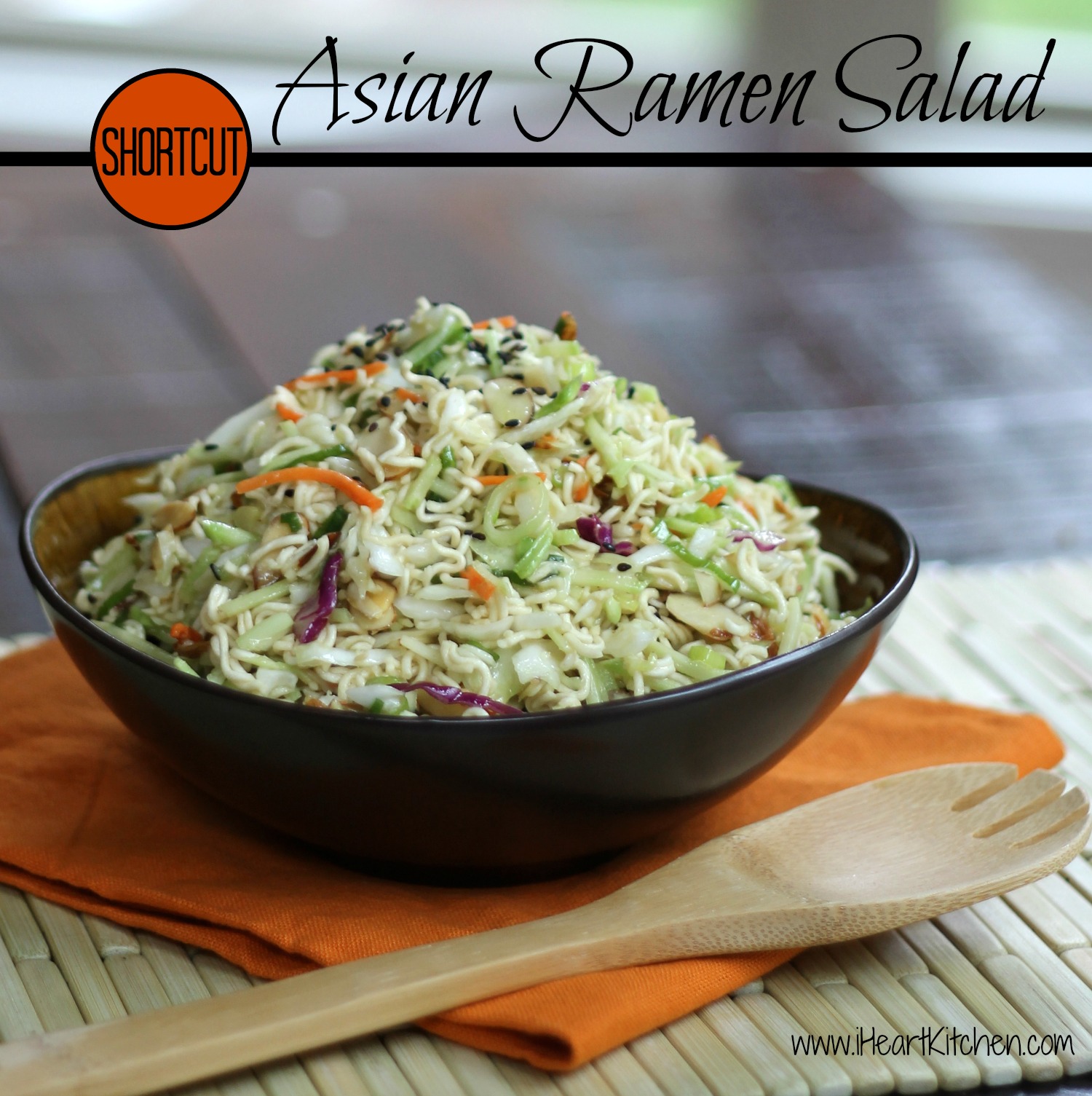 I know most of you guys have had this Asian Ramen Salad. If you have ever been to a potluck or pretty much any gathering of 20 or so people, it never fails someone will bring this dish. I'll admit that I have taken it to my fair share of this to group events. It's so dang easy and I don't think I have ever brought home any leftovers.
Now this is my shortcut version because the hardest thing you have to do is open up a few packages, bottles and grab a few kitchen items. You can have this salad put together in well under 10 minutes. This recipe I am sharing today is what I use as a side dish. You can easily turn this into a main dish just by adding some thinly sliced grilled or rotisserie chicken.
As you can see by the ingredient list this is a very economical dinner option. I bet many of you guys enjoyed a bowl or two of ramen noodles when money was tight. These were a staple item for me and my college roommates. Heck, even after college I found myself picking them up so I'd have something to eat on those lean weeks.
My finances have improved since my college days but I will still pick up a pack of ramen noodles just for this recipe.
Now before I get a million comments about the use of the little packets in the ramen…you can leave them out. This is not something we eat all the time so I opt for the old adage…"everything in moderation." I know they have MSG, lots of sodium and they might even have unicorn horn powder in them–tee hee. If you opt to leave them out, I might use a little chicken bouillon and soy sauce instead. For you all with food sensitivities, it really is a super simple recipe modification so give this a try when you need a quick and easy side dish (or main dish).

Asian Ramen Salad
Ingredients
8 oz prepackaged broccoli slaw
8 oz prepackaged cole slaw
4 - 6 green onions, chopped
½ cup sliced almonds
3 tablespoons sesame seeds
¼ cup vegetable oil
⅓ cup rice wine vinegar
1 teaspoon sesame oil
¼ cup sugar
2 packages of ramen noodles with the enclosed seasoning packet (choose your favorite flavor--i went with chicken)
salt & pepper, if desired
Instructions
Place the slaws and green onions in a large bowl.
Toast the almonds and sesame seeds then set aside.
Mix the oils, vinegar, sugar and two seasoning packets and whisk until combined.
Pour the mixture over the slaw and onions.
Add the toasted almonds and sesame seeds.
Crush the uncooked ramen noodles and add to the mixture.
Gently mix everything together Taste and add additional salt and/or pepper if desired
Serve immediately.
Notes
If you are not serving the salad immediately, you may want to wait to add the almonds, sesame seeds and noodles right before you serve the salad.