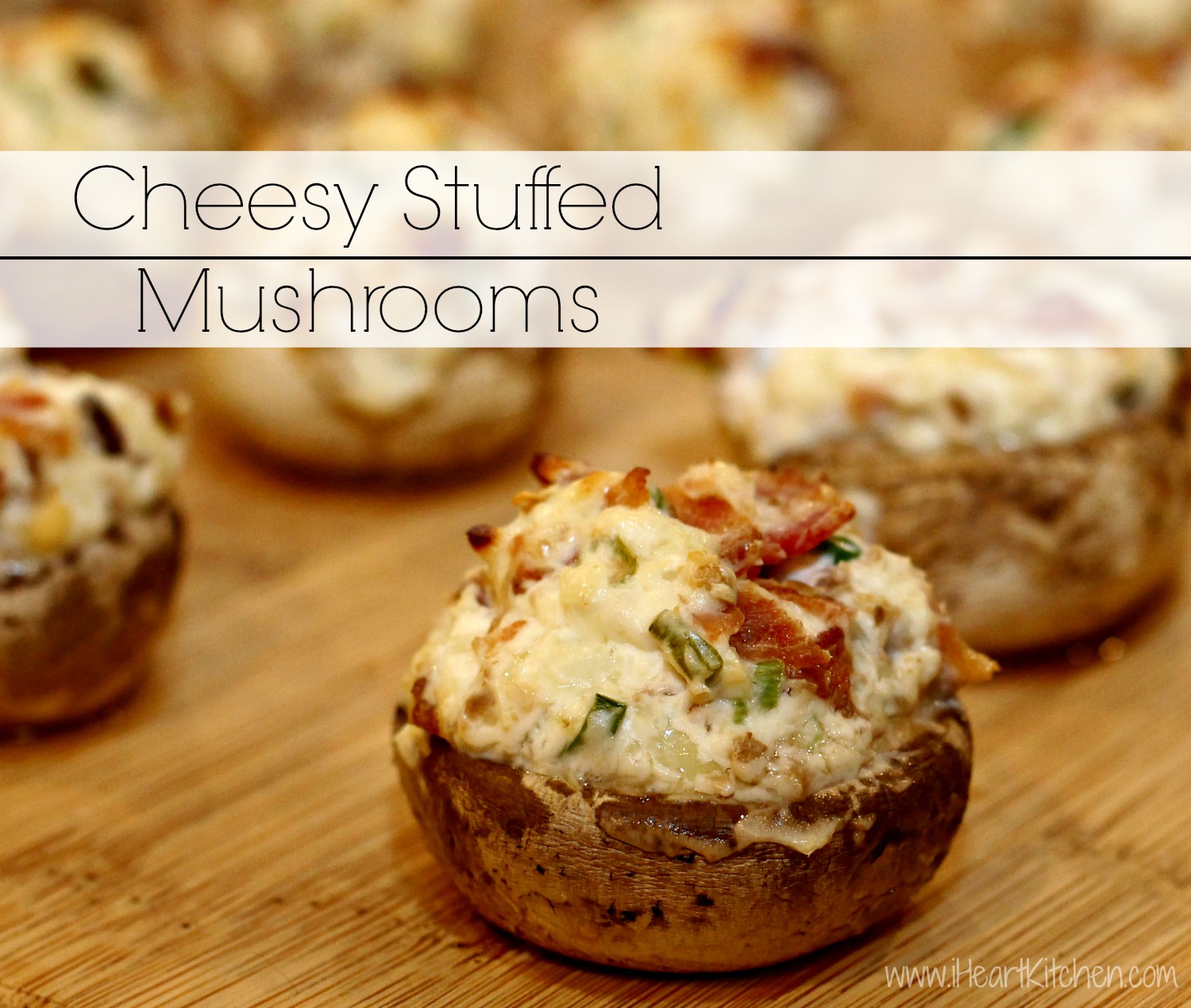 My husband teases me that it's not a meal unless I serve something stuffed.
I honestly don't know why I have a fascination with stuffed food! I guess there is just something fun about that added component to what might otherwise be a boring dish.
I mean c'mon…baked chicken is good but, Chicken Cordon Bleu Roll Ups are delicious. I love roasted zucchini but Feta Stuffed Zucchini Boats are even better. Of course broccoli is a favorite but it's even better when it's used for Broccoli & Swiss Stuffed Chicken. Meatballs are quite tasty but Blue Cheese Stuffed Buffalo Chicken Meatballs will have your taste buds dancing!
So that brings us to dinner last night. I had a pack of mushrooms sitting in my fridge. I have been seeing all kinds of yummy appetizers and football foods on TV and online because of the Super Bowl. So while I had originally planned to use them as part of a casserole, I decided that they'd work so much better as Cheesy Stuffed Mushrooms.
I typically serve these as an appetizer but I thought they'd also make a fantastic side dish that my guys would gobble up. I simply halved my usual recipe and served them with dinner. In just minutes, the majority of the plate was wiped out! As I was cleaning up the meal, my husband told me not to bother putting the extras in the fridge. He said he'd polish the rest off a little later for his evening snack. Sure enough…he cleaned the plate.
The version I am sharing today uses bacon because…well, that's what I had in my fridge. I have also made these with sausage and they are just as delicious. You can choose which you prefer.
Remember while these make a fantastic party food, I think they are fantastic for a change of pace at the dinner table too!

Cheesy Stuffed Mushrooms
Ingredients
16 oz whole mushrooms
6 oz cream cheese, softened
6 strips of bacon, cooked and crumbled (or about ⅓ cup crumbled cooked sausage)
½ cup parmesan cheese
4 green onions, chopped
1 clove of garlic, finely minced
Instructions
Preheat oven to 400º F.
Brush or wipe the mushrooms to clean off any dirt.
Cut off a thin slice of each stem and discard.
Twist and remove the remaining stems and finely chop.
Add ¼ cup of the chopped stems to a medium bowl, discard the extra.
Add the cheeses, bacon, onion and garlic to the chopped stems and mix until combined.
Use a spoon to fill the mushroom caps with about a teaspoon of filling (more or less as needed - the filling should mound on top of the mushroom).
Bake at 400º F for 15 - 18 minutes until the mushrooms are softened and the cheese is hot.