Products for this recipe sponsored by Good Cook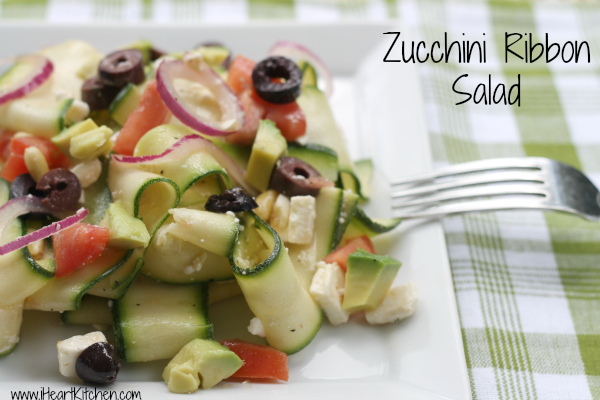 Zucchini is one of my favorite veggies. It's so versatile…some days I just sauté it. Other days I stuff it with sausage and feta. Then there are the casseroles, breads, zucchini chips…the list goes on and on. When I need a quick and easy meal or a simple side – I whip up a Zucchini Ribbon Salad.
This salad is so delicious and is often different every time I make it. You can just throw in your favorite veggies – you really can't go wrong. The recipe I am going to share with you guys is my one of my favorite versions. I had a bit of a Mediterranean flair and is great with chicken, pork or seafood. I like it as a simple lunch salad. It's light and fresh–perfect for summer. Give it a try and let me know what you think.

Zucchini Ribbon Salad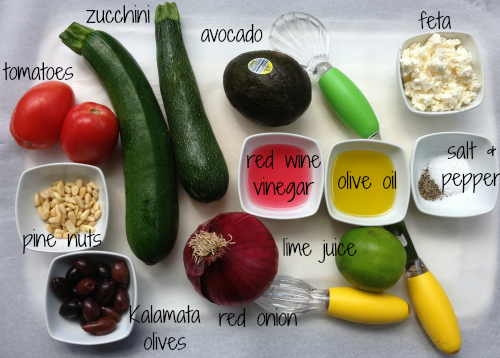 Ingredients
2 - 3 large zucchini, sliced thin
2 tomatoes, chopped
½ cup red onion, sliced thin
1 avocado, cut into chunks
¼ cup Kalamata olives, chopped
½ cup feta cheese, crumbled
¼ cup pine nuts
1 tablespoon lime juice
1 tablespoon red wine vinegar
2 tablespoons olive oil
salt & pepper to taste
Instructions
Whisk lime juice, vinegar, and olive oil in a small bowl until combined. Set aside
Cut ends off the zucchini then use a vegetable peeler to cut the squash into thin ribbons. Discard the middle seedy section of the zucchini.
Combine zucchini ribbons, chopped tomatoes, sliced onion, feta and pine nuts in a large bowl.
Gently toss the vegetable mixture with the vinaigrette.
Add the avocado, salt and pepper to taste right before serving.
Looking for some cool tools to help you whip this recipe up? Head over to the
Good Cook website
and look for the following: