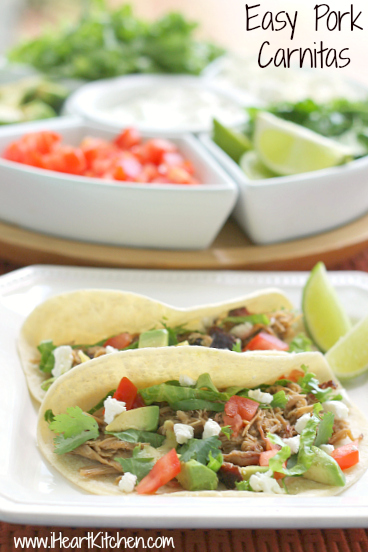 I can't tell you how many times my husband has smoked a Boston Butt roast on our Big Green Egg and afterwards we are left with a huge pile of smoked pork. You know there is no way I am letting that go to waste. At my house, our favorite way to use up the leftovers is to turn them into Easy Pork Carnitas!
Since the pork is already cooked it only takes about an hour on the oven to infuse delicious Mexican flavors that become the base of some of the tastiest tacos.
Now, the recipe below uses pre-cooked shredded pork but you can just as easily use an uncooked Boston Butt Roast with the ingredients listed below. You will have to cook it a bit longer, but the results are the same – delicious!

Easy Pork Carnitas - Perfect Use For Leftover Shredded Pork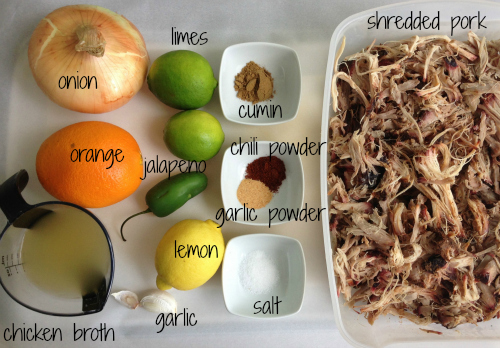 Ingredients
1 onion, chopped
1 orange, juiced
2 limes, juiced
1 lemon, juiced
1 jalapeno, seeded and chopped
2 cloves garlic, chopped
1 tablespoon cumin
1 teaspoon chili powder
1 teaspoon garlic powder
1 teaspoon salt
2½ - 3 cups shredded cooked pork
1 - 1½ cups chicken broth
Instructions
Place all ingredients into a large Dutch oven and simmer for 1 hour until most of the liquid is absorbed. You want to have about ½ cup liquid left in bottom of pan
Preheat oven to 450 degrees.
Spread shredded meat and remaining juices on a baking sheet and bake for 15 minutes until browned.
Remove and serve on a corn tortilla with your favorite fixings...limes, cilantro, tomato, etc...
Notes
If you do not have precooked pork. You can mix your spices with a tablespoon of oil and rub all over a 3 pound Boston Butt Roast. Place in crockpot and add onion, jalapeño garlic and fruit juices. Cover and cook for 8 hours on low. Remove and shred pork using two forks. Once shredded you can place on a baking sheet and cook in oven to crisp the meat as described above.