Easy Pork Carnitas - Perfect Use For Leftover Shredded Pork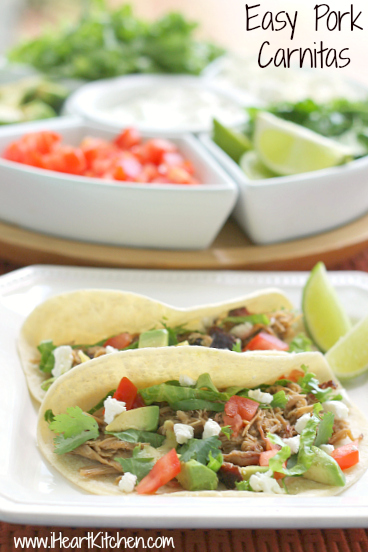 1 onion, chopped
1 orange, juiced
2 limes, juiced
1 lemon, juiced
1 jalapeno, seeded and chopped
2 cloves garlic, chopped
1 tablespoon cumin
1 teaspoon chili powder
1 teaspoon garlic powder
1 teaspoon salt
2½ - 3 cups shredded cooked pork
1 - 1½ cups chicken broth
Place all ingredients into a large Dutch oven and simmer for 1 hour until most of the liquid is absorbed. You want to have about ½ cup liquid left in bottom of pan
Preheat oven to 450 degrees.
Spread shredded meat and remaining juices on a baking sheet and bake for 15 minutes until browned.
Remove and serve on a corn tortilla with your favorite fixings...limes, cilantro, tomato, etc...
If you do not have precooked pork. You can mix your spices with a tablespoon of oil and rub all over a 3 pound Boston Butt Roast. Place in crockpot and add onion, jalapeño garlic and fruit juices. Cover and cook for 8 hours on low. Remove and shred pork using two forks. Once shredded you can place on a baking sheet and cook in oven to crisp the meat as described above.
Recipe by
I Heart Kitchen
at https://www.iheartkitchen.com/easy-pork-carnitas/