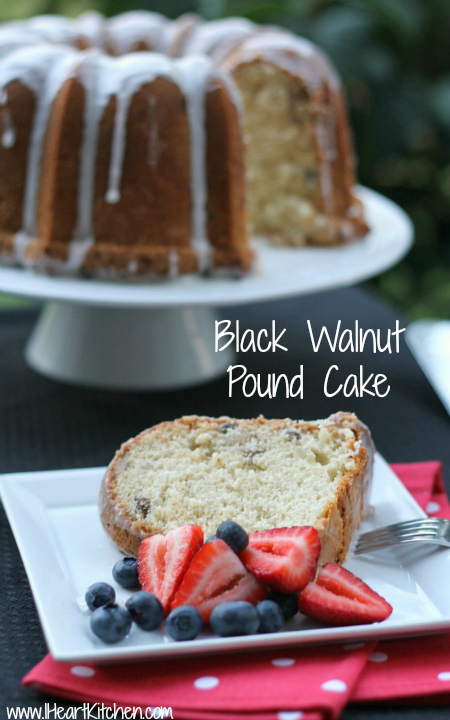 I am one of those people that if given my choice, I'd do dessert before my meal. I love sweets of all kinds – especially cake. When I think about cake, I think light and airy cakes with rich chocolate and creamy frosting.
I guess it's true that opposites attract because my husband's favorite cake is dense and has no frosting. Yep – he's a pound cake kind of guy. Dense, heavy pound cakes are not typically what I choose when I am craving cake… but I like to surprise him every now and again.
My mom sent me some of her favorite recipes that she has collected from various family members and friends. In the list was a recipe for a Black Walnut Pound Cake. It's been a while since I surprised my husband with a cake so I decided to give it a try.
I have to tell you, it was excellent. My husband would have been happy with a totally naked pound cake – but, I did have to throw some glaze on mine. With the glaze and addition of fresh fruit, I just might be a pound cake kind of gal after all.

Black Walnut Pound Cake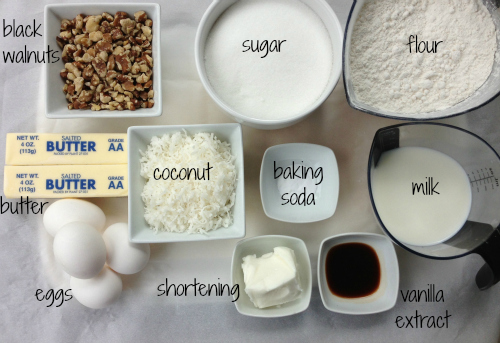 Ingredients
1 cup butter, softened
⅓ cup shortening
2 cups sugar
4 eggs
3 cups flour
½ teaspoon baking soda
1 cup whole milk
2 teaspoons vanilla extract
1 cup shredded coconut
1 cup black walnuts
Instructions
Do NOT preheat oven.
Beat butter and shortening until smooth and creamy.
Add sugar and beat at medium speed for 5 minutes.
Add eggs, one at a time and beat until well blended.
In a small bowl combine the flour with the baking soda.
Add the flour slowly into the butter/sugar mixture alternating with the milk just until blended.
Stir in the vanilla and coconut.
Fold the chopped walnuts into the batter and pour into a greased and floured 10-inch bundt pan.
Place into a cold oven and bake at 325 degrees for 1¼ or 1½ hours until done. Test for doneness using a toothpick.
Cool in pan for 30 minutes.
Remove the cake from the pan to a rack and continue to cool.
Glaze if desired.
Notes
You can also use standard walnuts or even pecans for this recipe.
Inspired by Claylee Rakestraw