Products for this recipe sponsored by Good Cook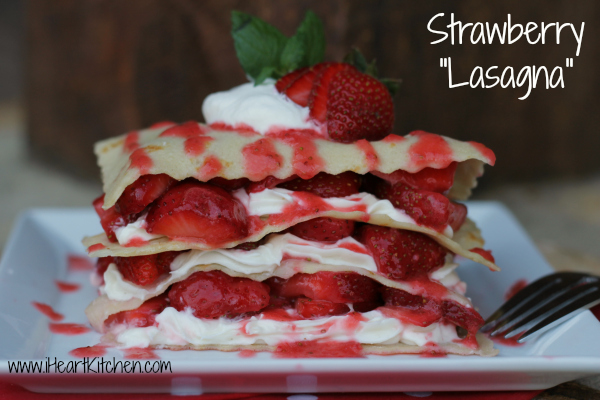 Crepes are a "go to" food here at my house. I always have the items on hand and they are so simple to whip up. They often replace bread and in the case of today's recipe…cake!
On school mornings we are very scheduled. Breakfast is very early and not very creative. In contrast, the weekends are hectic and everyone is going in four different directions. Because everyone is not in a hurry to rush out the door, I like to come up with fun breakfast/brunch options that are a change from boring bowls of grits, oatmeal or cereal.
Last weekend, I decided to do some crepes for my guys. I starting grabbing the items and noticed a box of goodies that the folks at Good Cook sent me and then my thoughts went to something even more fun..Strawberry "Lasagna".
In my box from Good Cook, there were a couple of decorating bottles, a pastry cutter and a baking mat. I decided instead of the usual way of folding a crepe around the filling…why not cut them like sheets of lasagna and do a stacked crepe. The decorating bottles were perfect to use for the cream cheese filling and strawberry puree. In the end I had a fantastic brunch that my guys devoured.
As you can see the recipe is very straight forward. While there are a few steps, they are very simple and then you just need to assemble. I macerated the strawberries first then prepared the strawberry sauce. Then I whipped cream and made the cream cheese filling. Finally I made the crepes and after about 10 minutes I laid everything out like an assembly line and voila – Cream Cheese Stacked Strawberry Crepes or as my oldest son proclaimed – Strawberry "Lasagna".
If you are looking to make a brunch that looks as good as it taste, give this a try. Be warned – your crew might not want boring old crepes again though 😉

Strawberry "Lasagna" (Cream Cheese Stacked Strawberry Crepes)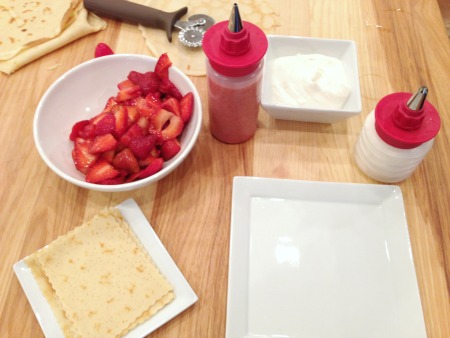 Ingredients
Strawberry "Filling" and Sauce
1½ pounds strawberries, hulled, washed and sliced
½ cup sugar
Whipped Cream
1 cup heavy cream
1 teaspoons vanilla
1 tablespoon confectioners sugar
Cream Cheese Filling
8 oz cream cheese, softened
⅓ cup powdered sugar
½ teaspoon fresh lemon juice
1 teaspoon vanilla extract
Crepes
2 eggs, beaten
½ cup water + 2 tablespoons
2 tablespoons butter, melted
½ cup milk
1 cup all-purpose flour
¼ teaspoon salt
Instructions
Strawberries
Placed sliced strawberries in a medium bowl and mix with the sugar.
Allow to sit for 10 minutes.
Place 1 cup of sweetened strawberries and any juice into the blender and pulse until smooth. (reserve majority for filling).
Pour strawberry sauce into a decorating bottle for easy dispensing.
Whipped Cream
Whip heavy cream until soft peaks form.
Add vanilla and sugar and whip just until the peaks stiffen. Do not over whip!
Cream Cheese Filling
Using a mixer, mix cream cheese, powdered sugar, lemon and vanilla until smooth. Fold in ½ cup of whipped cream.
Place into decorator bottle for easy dispensing.
Crepes
Whisk together eggs, water, butter and milk.
Gradually whisk in flour and salt, mixing until the batter is smooth.
Heat a small non-stick pan and coat with a very small amount of butter.
Pour 1 ounce of batter into the center of the pan and swirl to spread evenly.
Cook on medium high heat for about 2 -3 minutes then flip.
Cook for another minute or so and remove to a plate to cool.
Continue until all the batter is gone.
Cut the crepes into squares using the wavy pastry cutter to give the appearance of lasagna.
Assembly
Squeeze about a tablespoon of strawberry sauce onto a plate.
Top with a crepe square.
Squeeze a little cream cheese filling over crepe then top with sliced sweetened strawberries.
Add another crepe and repeat the layers.
Top with a dollop of whipped cream and additional strawberry sauce.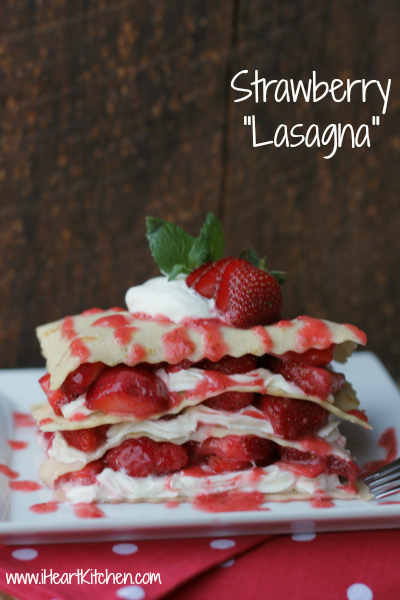 Disclosure: This post is sponsored by the folks at Good Cook. I am posting as a Good Cook Kitchen Expert but all comments and opinions are my own.