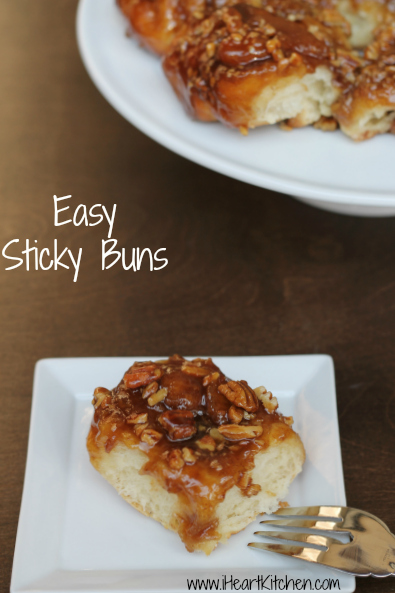 Every once in a while I get a craving for sticky rolls. With the weather getting chilly, these are perfect for a fall morning brunch. I whipped up a batch this past weekend and enjoyed my "mother of the day" status.
I often make these for Christmas or Thanksgiving morning because they really don't take much effort. You dump ingredients into your bread machine and it does most of the work. I also like these for holidays because they feed a big crowd. They are so good but very, very rich. If you are dieting, you definitely don't want to look at the ingredient list. It's best to have a crowd help you eat them so you aren't tempted to eat two (or four – tee hee!)
I got this recipe from a dear friend whose mom had pulled it from an old elementary school cookbook. I miss those old spiral bound cookbooks. The internet makes it super easy to find recipes but those old collection recipes just can't be beat. Every recipe was a tried and true recipe that you know would be a winner. While mine is now a faded copy of a copy, it is definitely a share worthy recipe.
You will need a little time to let the bread machine do it's work. So plan ahead and you can whip up the Easy Sticky Buns with very little effort. Pass these out to your friends and loved ones and get ready for lots of smiles and yummy noises!

Easy Sticky Buns (Bread Machine Does The Work)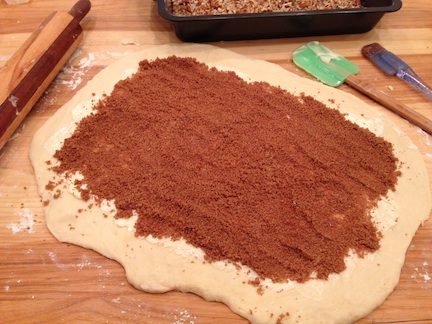 Ingredients
Dough
1 cup warm milk
2 eggs, beaten (room temperature)
1 teaspoon vanilla extract
3 tablespoons butter, melted
1¼ teaspoons salt
½ cup sugar
4½ cups all-purpose flour
2½ teaspoons active dry yeast
Filling
¾ cup brown sugar
1 tablespoon cinnamon
6 tablespoons butter, softened
Topping
⅓ cup butter
1 cup brown sugar
1 tablespoon light corn syrup
¾ cup pecans, chopped
Instructions
Add the dough ingredients in the order listed into your bread machine. Select dough cycle, start and allow the dough to run the full cycle.
About 10 minutes before the cycle ends mix the filling ingredients and set aside.
In a small saucepan combine topping ingredients and heat on medium heat just until sugar has dissolved.
Pour caramel mixture into a buttered 9" x 13" baking pan.
Once the dough has completed the cycle, remove to a lightly floured work surface.
Cover with a dish towel and allow to rest 10 minutes.
Once it has rested, roll out the dough to a 15" x 20" rectangle.
Spread the filling mixture over the dough and then roll the dough like a jelly roll lengthwise.
Cut into 12 even rolls.
Place in pan on top of the topping then cover with the dishtowel and allow to rise for 30 minutes.
Preheat oven to 400 degrees.
Bake rolls for 15 minutes or until golden brown.
Remove from oven and place a platter (or sheet pan) on top of the rolls and flip.
 Recipe from Unknown Cobb County School Cookbook