Easy Sticky Buns (Bread Machine Does The Work)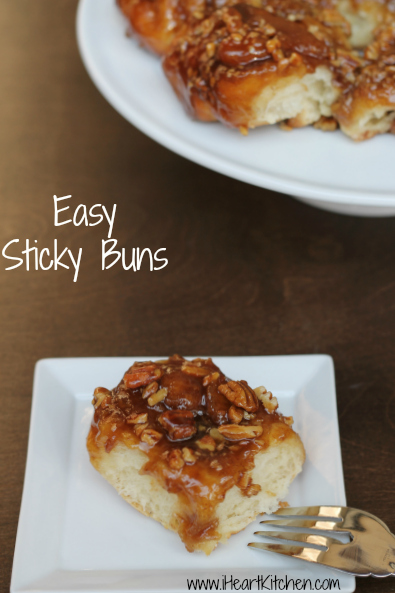 1 cup warm milk
2 eggs, beaten (room temperature)
1 teaspoon vanilla extract
3 tablespoons butter, melted
1¼ teaspoons salt
½ cup sugar
4½ cups all-purpose flour
2½ teaspoons active dry yeast
¾ cup brown sugar
1 tablespoon cinnamon
6 tablespoons butter, softened
⅓ cup butter
1 cup brown sugar
1 tablespoon light corn syrup
¾ cup pecans, chopped
Add the dough ingredients in the order listed into your bread machine. Select dough cycle, start and allow the dough to run the full cycle.
About 10 minutes before the cycle ends mix the filling ingredients and set aside.
In a small saucepan combine topping ingredients and heat on medium heat just until sugar has dissolved.
Pour caramel mixture into a buttered 9" x 13" baking pan.
Once the dough has completed the cycle, remove to a lightly floured work surface.
Cover with a dish towel and allow to rest 10 minutes.
Once it has rested, roll out the dough to a 15" x 20" rectangle.
Spread the filling mixture over the dough and then roll the dough like a jelly roll lengthwise.
Cut into 12 even rolls.
Place in pan on top of the topping then cover with the dishtowel and allow to rise for 30 minutes.
Preheat oven to 400 degrees.
Bake rolls for 15 minutes or until golden brown.
Remove from oven and place a platter (or sheet pan) on top of the rolls and flip.
Recipe by
I Heart Kitchen
at https://www.iheartkitchen.com/easy-sticky-buns-bread-machine-work/