Products for this recipe sponsored by Good Cook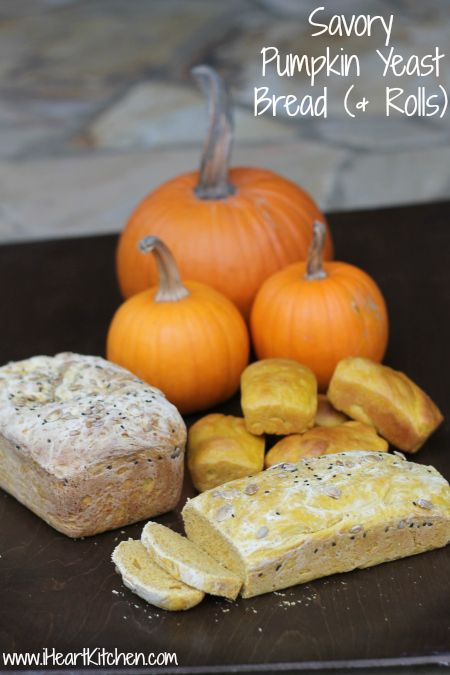 Thanksgiving is next week so I thought I would share one of my favorite bread recipes with you guys. I always have a bunch of pumpkins left over from Halloween and just hate the thought of tossing them away. So…I put them to use thanks to the Good Cook Pumpkin Scoop (available at Walmart). Digging out all that pumpkin goodness was so easy with the scoop. All those little stings and seeds came out lickity split. A rinse and a few minutes in the oven and I had a big batch of toasted pumpkin seeds. While they are an addictive little snack, they are not the only thing I made from my pumpkins. I decided to roast the pumpkin and use it to whip up Savory Pumpkin Yeast Bread.
My guys LOVE this bread. I love it too – not only because it's delicious but one batch makes a ton of baked goodies. I typically get one big loaf, two small loaves and a batch of rolls from one batch. This time I think I used 4 different types of Good Cook Bakeware. Can you believe that the rolls are from the same dough? The only difference in the bread and the rolls is a little brush of melted butter – oh so good!
The loaves baked up to a gorgeous rustic looking bread that is perfect with a meal or sliced up for sandwiches. This is the ultimate bread for leftover Thanksgiving turkey sandwiches. If you don't feel like roasting pumpkin you can also use canned pumpkin and you'll still get fantastic results. If you want a bread that your guest will love, try this recipe for your holiday meal.

Savory Pumpkin Yeast Bread (& Rolls)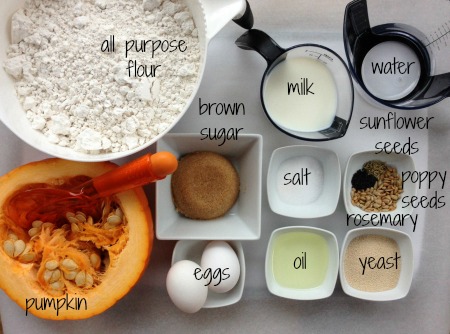 Ingredients
⅔ cup warm milk
½ cup warm water
2 tablespoons active dry yeast
2 eggs, beaten
1½ cups puréed pumpkin, (canned works great)
2 tablespoons vegetable oil
¼ cup brown sugar
2 tablespoons salt
7 - 8 cups all purpose flour
1 tablespoons kosher salt
½ teaspoon dried rosemary, crushed
½ teaspoon poppy seeds
1 teaspoon sunflower seeds
2 tablespoons roasted pumpkin seeds
butter if desired
Instructions
In your stand mixer bowl, stir yeast into water to soften.
Add milk, eggs, pumpkin, oil, 4 cups flour, brown sugar, 2 teaspoons of salt then beat beat on medium high for 2 minutes.
Slowly add 2½ cups flour to mixture until dough is stiff enough to knead.
Place dough on a floured surface and knead dough until smooth and elastic, adding flour as needed.
Place dough into oiled bowl - lightly rub to coat the dough.
Cover with a towel and let rise until doubled (approx hour).
After the first proofing, turn dough out onto oiled surface.
Divide dough as needed (2 large loaves, 1 large loaf + 12 muffins, etc…)
Shape dough and place into oiled pans.
Cover with a towel and set aside to proof.
After 30 minutes, sprinkle kosher salt, rosemary, poppy seeds, sunflower seeds and pumpkin seeds on top of the loaves.
Cover with towel and allow to rise an additional 30 minutes.
Bake in an 375 degree oven. Large loaves will need 30 minutes, smaller loaves and rolls will need about 20 minutes.
Immediately remove from pans to wire rack to cool
Notes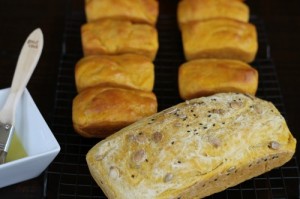 Brush with butter if you prefer a shiny crust.
Recipe adapted from King Arthur Flour

Come Join Me, Good Cook, TheFrugalMom and other Good Cook Kitchen Experts!
The Ultimate Thanksgiving Twitter Party, Monday, November 24, 2013 at 6:00 pm to 7:00pm EST On Twitter with hashtag #Thanksgivingtips
Join in as we talk about everything Thanksgiving from turkey prep to decorating the table.  Plus get a chance to win a special gift and one of three $200 Thanksgiving Baskets that will arrive in time for your dinner.
Be among the first 500 to RSVP by November 23, 2013 and receive a free set of Turkey Lifters. Click here to RSVP.
Disclosure: This post is sponsored by the folks at Good Cook. I am posting as a Good Cook Kitchen Expert but all comments and opinions are my own.