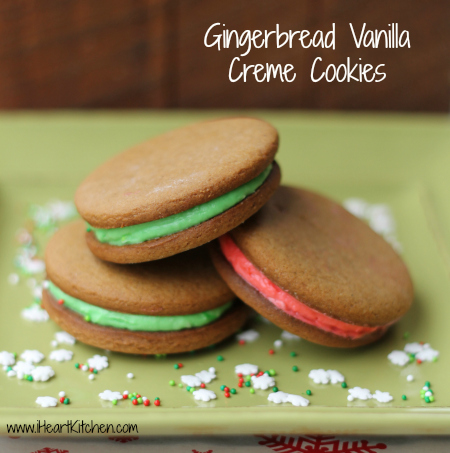 Tis the season for holiday cookies. I thought I would share one of my favorite cookies that get me into the holiday spirit.
Gingerbread is one of my favorite cookies. While they are great any time of the year, they are especially great during the holidays. I often whip up a batch of gingerbread for my boys so they can create their favorite gingerbread men. While putting together a bunch of cookies for a cookie swap a few years ago, I happened to dip one of the boys gingerbread men into my cream cheese frosting that I had made for another recipe. The crispy cookie with the creamy frosting was a perfect combination.
Since then I always make a double batch of gingerbread cookies. The boys get a chance to decorate some gingerbread men and I whip up my favorite Gingerbread Vanilla Creme Cookies.
You can stick with the white frosting or add a little red and green food coloring to make these cookies fun and festive.  Try dipping the sides of the cookies in sprinkles for a little extra flair. Whether you go plain or festive, these cookies are the perfect holiday treat.

Gingerbread Vanilla Creme Cookies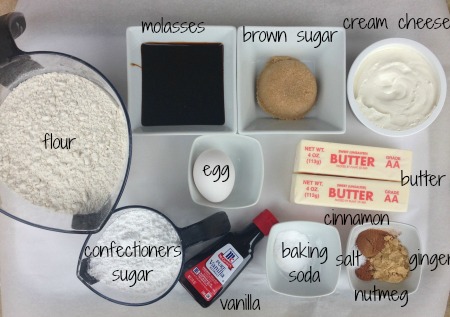 Ingredients
3 cup all purpose flour
2 teaspoons McCormick Ginger, ground
1 teaspoon McCormick Cinnamon, ground
1 teaspoon baking soda
¼ teaspoon McCormick Nutmeg, ground
¼ teaspoon salt
2½ sticks butter, softened (divided)
¾ cup firmly packed light brown sugar
½ cup molasses
1 egg
3 teaspoons McCormick Pure Vanilla, divided
2 cups confectioners sugar
8 oz cream cheese, softened
Instructions
Cookies
Mix flour, ginger, cinnamon, baking soda, nutmeg and salt in large bowl. Set aside.
Beat 1½ sticks of butter with the brown sugar in an electric mixer on medium speed until light and fluffy.
Add molasses, egg and 1 teaspoon of vanilla and mix well.
Gradually beat in flour mixture on low speed until well mixed.
Remove and press dough into a thick flat disk. Wrap in plastic wrap and refrigerate at least 4 hours (or overnight).
Preheat oven to 350°F.
Roll out dough to ¼-inch thickness on lightly floured work surface. Cut into 2 inch circles.
Place 1 inch apart on ungreased baking sheets.
Bake 8 to 10 minutes or until edges of cookies are set and just begin to brown.
Cool on baking sheets 1 to 2 minutes then remove to wire racks.
Vanilla Creme Filling
Beat 1 stick of butter with cream cheese and 2 teaspoons of vanilla in an electric mixer.
Slowly add confectioners sugar and beat until smooth.
If desired, use food coloring to change the color of the frosting - red and green are always festive
Cookie Assembly
Place 1 teaspoon of filling on bottom of one cooled gingerbread cookie.
Top with second cookie and lightly squeeze until filling spreads to the edge of the cookie.