Strawberry "Lasagna" (Cream Cheese Stacked Strawberry Crepes)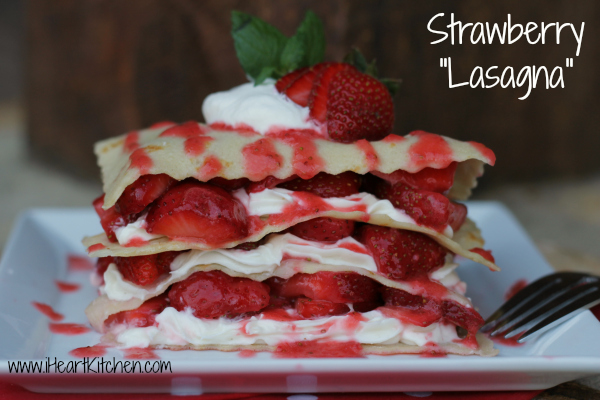 1½ pounds strawberries, hulled, washed and sliced
½ cup sugar
1 cup heavy cream
1 teaspoons vanilla
1 tablespoon confectioners sugar
8 oz cream cheese, softened
⅓ cup powdered sugar
½ teaspoon fresh lemon juice
1 teaspoon vanilla extract
2 eggs, beaten
½ cup water + 2 tablespoons
2 tablespoons butter, melted
½ cup milk
1 cup all-purpose flour
¼ teaspoon salt
Placed sliced strawberries in a medium bowl and mix with the sugar.
Allow to sit for 10 minutes.
Place 1 cup of sweetened strawberries and any juice into the blender and pulse until smooth. (reserve majority for filling).
Pour strawberry sauce into a decorating bottle for easy dispensing.
Whip heavy cream until soft peaks form.
Add vanilla and sugar and whip just until the peaks stiffen. Do not over whip!
Using a mixer, mix cream cheese, powdered sugar, lemon and vanilla until smooth. Fold in ½ cup of whipped cream.
Place into decorator bottle for easy dispensing.
Whisk together eggs, water, butter and milk.
Gradually whisk in flour and salt, mixing until the batter is smooth.
Heat a small non-stick pan and coat with a very small amount of butter.
Pour 1 ounce of batter into the center of the pan and swirl to spread evenly.
Cook on medium high heat for about 2 -3 minutes then flip.
Cook for another minute or so and remove to a plate to cool.
Continue until all the batter is gone.
Cut the crepes into squares using the wavy pastry cutter to give the appearance of lasagna.
Squeeze about a tablespoon of strawberry sauce onto a plate.
Top with a crepe square.
Squeeze a little cream cheese filling over crepe then top with sliced sweetened strawberries.
Add another crepe and repeat the layers.
Top with a dollop of whipped cream and additional strawberry sauce.
Recipe by
I Heart Kitchen
at https://www.iheartkitchen.com/strawberry-lasagna-cream-cheese-stacked-strawberry-crepes/