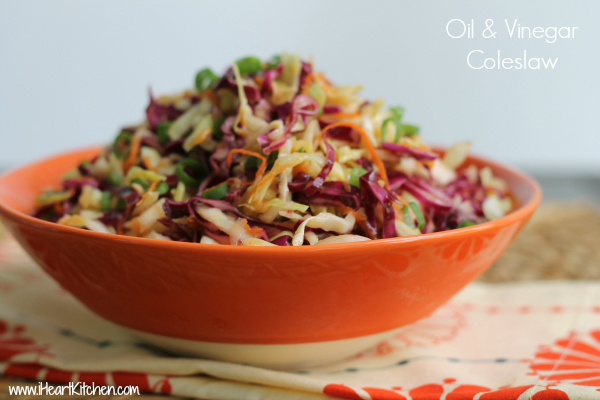 Coleslaw is one of my favorite summertime recipes. It's super easy and it's one of those things that actually gets better the longer it sits. You can put it together the night before you need it and it will be perfect the next day!
Whenever my husband puts a Boston Butt on the Big Green Egg it is a given that we'll have pulled pork sandwiches with coleslaw. He has the pork cooking as I am typing so you know I had to get my coleslaw ready. I thought while I was making it, I'd snap a couple of pictures and share it with you guys.
Now, this is not your standard cafeteria style coleslaw…you know the creamy kind that is dripping in mayo. My version is an Oil & Vinegar Coleslaw that is sweet and tangy with great crunch.  I am not a fan of mayo so I experimented for a while until I found the perfect combination of ingredients. Even my husband who would eat mayo sandwiches can't get enough of this slaw.
Next time you plan on firing up the grill or the smoker, whip up a batch of this Oil & Vinegar Slaw. It sure to take your cookout up a few notches.

Coleslaw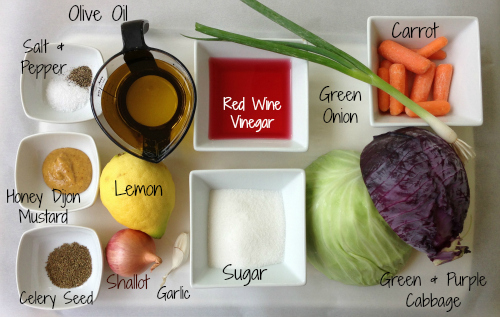 Ingredients
¾ cup olive oil
⅓ cup red wine vinegar
½ teaspoon lemon juice
1 teaspoon honey Dijon mustard
¼ cup granulated sugar
½ teaspoon celery seed
1 teaspoon garlic, minced
1 teaspoon shallots, chopped
½ head green cabbage, julienned
½ head red cabbage, julienned
¼ cup carrot, peeled and julienned
2 green onions, chopped
Salt and pepper to taste
Instructions
Place all the ingredients through the shallots into a medium bowl.
Whisk together until the dressing forms.
Places the veggies in a large bowl and toss with the vinaigrette.
Add salt and pepper to taste.
Refrigerate for at least 3 -4 hours before serving.