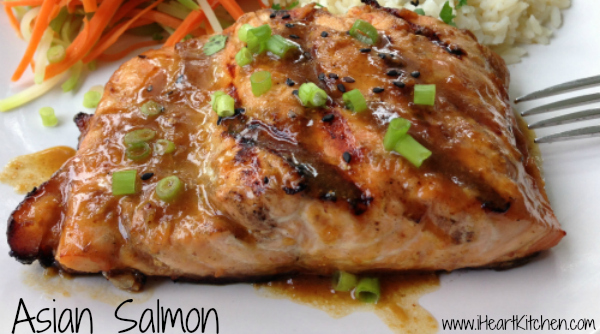 During the summer I use my grill as much as possible. Being in the south, the last thing I want to do is heat up my kitchen on a 90+ degree day in Georgia! I have a great grill recipe that all of my guys will eat just as readily as a cheeseburger – Asian Salmon!
This recipe is the reason I never give up in my exploration to find foods and recipes that my children will eat. I have prepared various types of fish in numerous recipes and the typical reaction I get from my 5 and 7 year old boys is always a big fat – "YUK"!
We have a rule at my house that my kids have to at least attempt the food that is presented. I think that is a fair request. I take the time to cook it so they need to take the time to try it. Imagine my surprise when both of my boys devoured this Asian Salmon the first time I served it! In my mind I was doing a huge happy dance – I had images of salmon salads, poached salmon and so many more recipes. So far no other recipes have received the enthusiastic response that this recipe gets…but I will keep trying!
I think you guys will like this recipe too. It is super simple and ready in no time flat. I typically serve it with my Ginger Rice. I start them both at the same time and the fish is ready by the time the rice is done.

Asian Salmon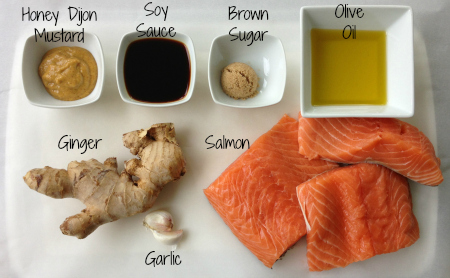 Ingredients
2 pounds salmon
2 tablespoons honey dijon mustard
3 tablespoons soy sauce
1 tablespoon brown sugar
6 tablespoons extra virgin olive oil
½ teaspoon fresh ginger (peeled and minced)
½ teaspoon minced garlic
Instructions
Combine mustard, soy sauce, brown sugar, olive oil, ginger and garlic.
Whisk to combine.
Pour half of marinade over salmon and reserve the remainder.
Refrigerate fish in marinade for 10 minutes.
Remove fish from marinade and place skin side down on hot grill for 4 minutes.
Carefully flip fish and cook an additional 4 minutes.
Remove from grill, brush with reserved marinade and allow to rest for 8 - 10 minutes.
Tip: I like to add about a tablespoon of Ponzu sauce to the reserved marinade. The sauce is wonderful drizzled over rice and veggies as well.
If you want to change it up a bit…cut the salmon in chunks and skewer it. Just make sure you oil your grill grates a bit to reduce the chance of the fish sticking. Enjoy!