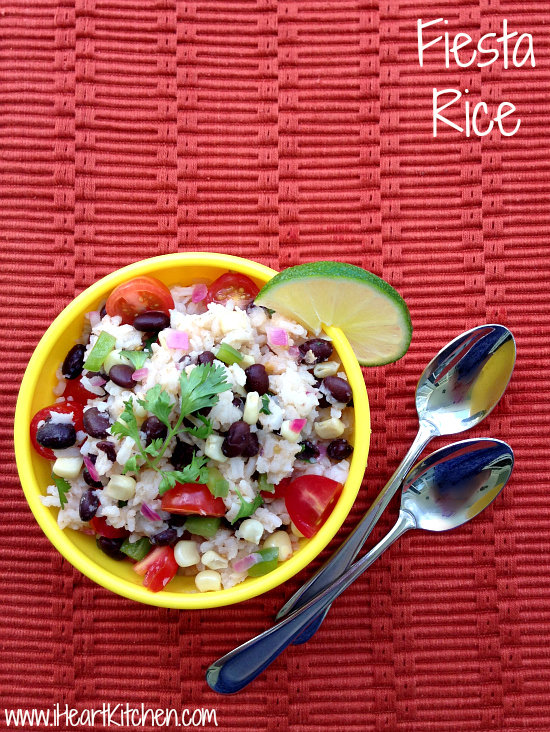 I have mentioned before that I have a house full of guys who love rice. This makes this frugal, super busy, hardly-have-any-free-time mom very happy. Rice is very affordable, quick, easy and so versatile. I would say we probably have some type of rice at least once a week.
I think the reason my guys like rice is because I vary it from week to week. Whether it's a basic steamed rice, my Pineapple Rice with Lime or this Fiesta Rice, I can rest easy knowing that dinnertime will be complaint-free.
Besides my Mexican Rice, this is my favorite rice for any Mexican or Southwest inspired meal. It's great warm or cold – making this a great option to prepare ahead of time. I always make extra so that I can have plenty for leftovers throughout the week.
Another perk is that once you make the rice you can be done cooking if you'd like. The combination of fresh, canned (or frozen) veggies provide wonderful taste and color. This one tastes as good as it looks!

Fiesta Rice Recipe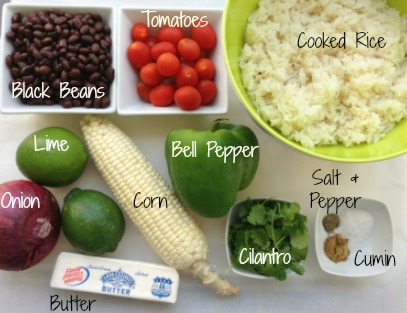 Ingredients
3 cups cooked rice
1 can black beans (15 oz), drained & rinsed
1 cup corn - fresh, frozen or canned
½ cup red onion, chopped
½ cup bell pepper, chopped
¼ - ½ cup cilantro, chopped
1 cup fresh cherry tomatoes, quartered (can also used chopped fresh tomatoes)
Juice of 2 limes
1½ teaspoon salt
½ teaspoon pepper
1 teaspoon cumin
½ teaspoon butter (optional)
Instructions
Cook rice according to package then remove to a large bowl.
Melt ½ teaspoon of butter in a large skillet.
Add corn and cook 2 minutes until heated.
Add beans, bell pepper, onions and corn and cook one minute until heated through.
Remove from heat and add vegetables to cooked rice.
Add tomatoes, cilantro, salt, pepper, cumin and lime juce to rice mixture.
Toss to combine.
Serve warm or chilled.