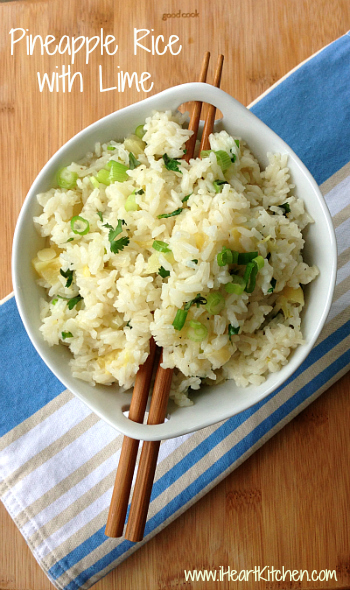 Rice is a staple at my house. It's simple to prepare and goes with just about anything. The added bonus is that my 5 and 7 year old boys will both eat it without complaint. That's big in my world!
Sometimes rice gets a bit boring and you have to kick it up a bit. Since I was whipping up a batch of Bacon Wrapped  Teriyaki Chicken with Pineapple for my other site, I thought that I'd also make a little Pineapple Rice with Lime to go with the kabobs – they are delicious together.
My Pineapple Rice with Lime is really just a modification of my Lime Rice recipe. Rice is so versatile, there's really no need for exact measurements. As long as you have enough liquid to cook the rice, you really can't mess it up. The recipe I have below is a wonderful combination of sweet and savory. Think of it as a starting point – a recipe that you can adjust based on what you like. I've been known to toss in chicken, beef, nuts, dried fruits and whatever else sounds good at the time.
When you feel like ditching the plain white rice, try this recipe. I know you'll love it.

Pineapple Rice With Lime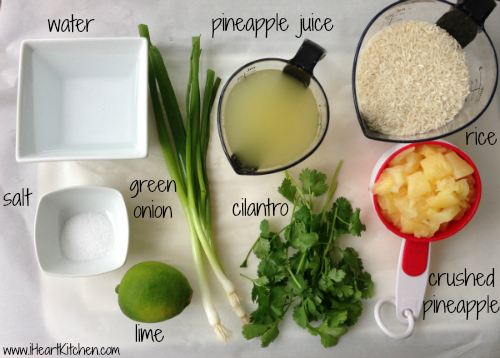 Ingredients
1½ cups uncooked long grain rice
20 oz can of chunk pineapple in 100% juice (crush pineapple before use)
1 cup water
1 lime, zested & juiced
½ teaspoon salt

1/4 cup fresh cilantro, minced

1/4 cup green onions , chopped
3 tablespoons butter (optional)
Instructions
In a medium saucepan, bring water, pineapple juice, crushed pineapple, lime zest, and salt to a boil.
Add rice, reduce heat to simmer and cook covered for 20- 25 minutes (or until tender).
Remove from heat and stir in lime juice, cilantro, chopped onions and butter.
Adjust seasoning and serve.