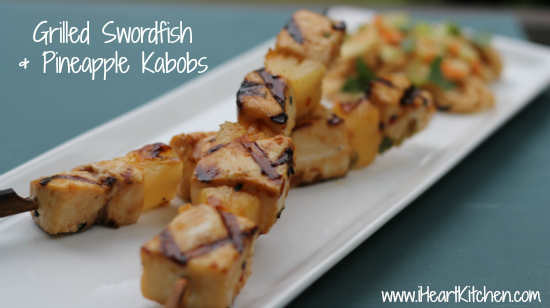 Being in the south, my grill gets a workout. Instead of boring burgers and hot dogs I like to change it up from time to time. Grilled fish is super easy, done in no time flat and oh so delicious. This recipe for Grilled Swordfish & Pineapple Kabobs is a great change of pace that your whole family will love.
Ever since I made the Bacon Wrapped Teriyaki Chicken Kabobs a few weeks ago, my husband has been requesting kabobs. Now, don't get me wrong…that bacon wrapped chicken is to die for – but, I wanted to lighten it up a bit. I had originally intended to do salmon kabobs but when I went to the store the fillets were all too thin. To do fish as a kabob you need a nice thick fish to skewer. You also need a firm fish so that it does not flake off as it cooks. Swordfish was on sale so that's what I went with.
It was a huge success. I think I might actually like it better than my salmon kabobs. Both use the same marinade so grab your favorite fish and fire up that grill!

Grilled Swordfish & Pineapple Kabobs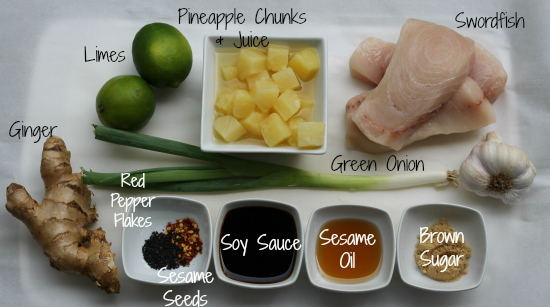 Ingredients
2 pounds swordfish fillets, cut into 1½ inch chunks
1 can of chunk pineapple in 100% juice
2 limes, juiced
1 tablespoon fresh ginger, grated or minced
½ teaspoon sesame seeds
½ teaspoon red pepper flakes
¼ cup soy sauce
1 tablespoon sesame oil
1½ tablespoon brown sugar
1 green onion chopped
Instructions
Whisk the 2 tablespoons of pineapple juice, lime juice, ginger, sesame seeds, red pepper flakes, soy sauce, sesame oil, brown sugar and onion.
Pour marinade over fish, cover and refrigerate for 1 hour.
Remove the fish from the marinade and skewer, alternating with pineapple chunks.
Grill over indirect heat for approximately 8 minutes, turning once.
Notes
If desired the reserved marinade can be boiled until thickened and used as a dipping sauce.