Grilled Swordfish & Pineapple Kabobs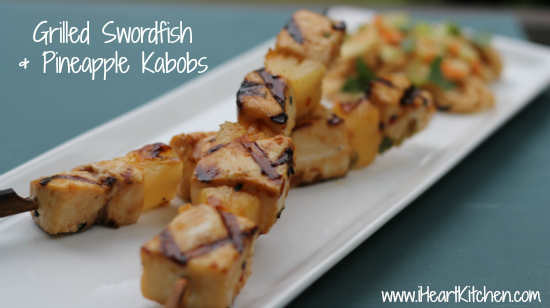 2 pounds swordfish fillets, cut into 1½ inch chunks
1 can of chunk pineapple in 100% juice
2 limes, juiced
1 tablespoon fresh ginger, grated or minced
½ teaspoon sesame seeds
½ teaspoon red pepper flakes
¼ cup soy sauce
1 tablespoon sesame oil
1½ tablespoon brown sugar
1 green onion chopped
Whisk the 2 tablespoons of pineapple juice, lime juice, ginger, sesame seeds, red pepper flakes, soy sauce, sesame oil, brown sugar and onion.
Pour marinade over fish, cover and refrigerate for 1 hour.
Remove the fish from the marinade and skewer, alternating with pineapple chunks.
Grill over indirect heat for approximately 8 minutes, turning once.
If desired the reserved marinade can be boiled until thickened and used as a dipping sauce.
Recipe by
I Heart Kitchen
at https://www.iheartkitchen.com/grilled-swordfish-pineapple-kabobs/