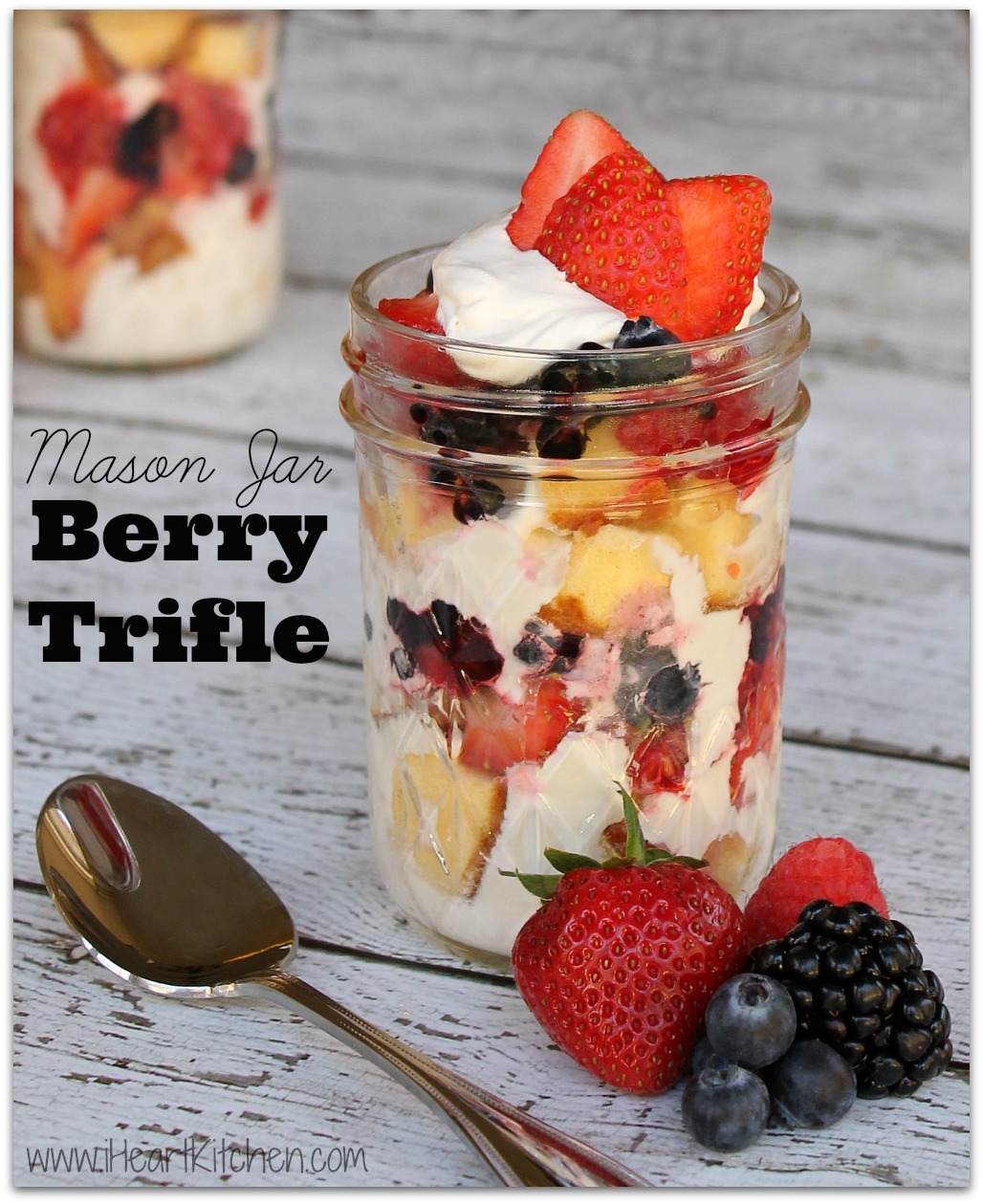 Here in the South we don't usually see those crazy frigid temps like our Northern neighbors, though our weather can be a bit unpredictable. For example earlier this week we had temperatures in the 80's and today we will only get up to the low 60's.
Well that warm weather had me hankering for a delicious Mason Jar Berry Trifle. I know it's November and while this may be a dessert that you usually think about as a summertime treat, fresh berries are available year round now at most grocery stores. In my opinion, this is a dessert that is perfect any time of the year.
I do a large version of this recipe in my big trifle dish for potlucks and big group get-togethers. When I am doing a small dinner party or just want a dessert for my crew, I opt to use mason jars. The mason jars are great as they allow you to whip up a single serving and they store in the fridge beautifully!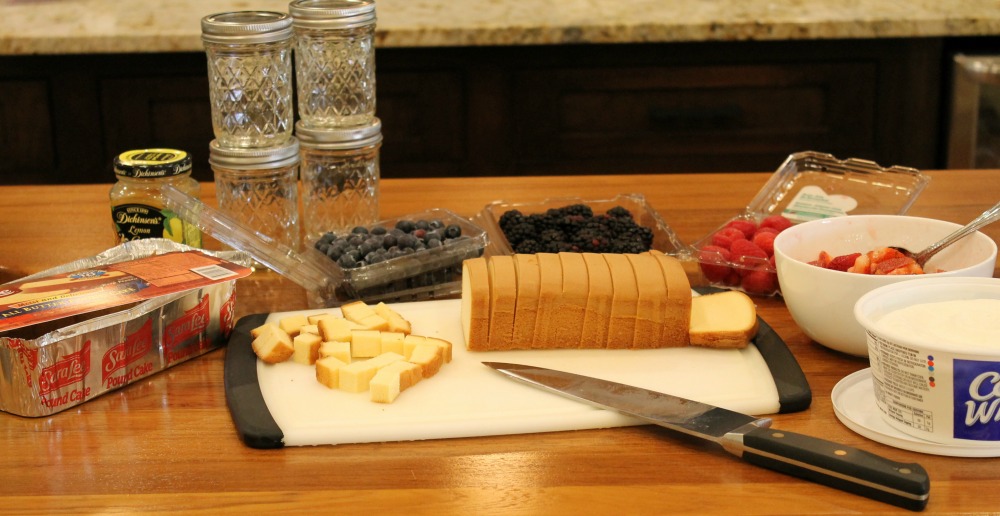 The best thing about this dessert is that it requires no cooking at all! A couple of containers of fruit, a Sara Lee Pound Cake, some whipped topping, lemon curd and sugar is all that's needed to build a dessert everyone will love! It comes together quickly and can be stored in the refrigerator until needed, making this a great make-ahead dessert. From start to finish, you can have this made in about 15 minutes. Quick, easy and delicious – the perfect combination.
Don't let the cold weather prevent you from enjoying a berry treat. This recipe is perfect whether you are hosting a dinner party or just need a sweet treat for your family on a regular weeknight!

Mason Jar Berry Trifle
Ingredients
16 oz carton of strawberries, hulled and cut into chunks
½ pint blackberries, cut into chunks
½ pint raspberrries, cut into chunks
½ pint blueberries
¼ cup sugar
Sara Lee Pound Cake, cut into ½" chunks
8 oz light whipped topping
1½ tablespoons lemon curd
Instructions
Place strawberry chunks, blackberry chunks and raspberries chunks into a medium bowl. Sprinkle with the sugar and lightly mix until combined. Allow the fruit to macerate for about 10 minutes.
Mix 2 oz of the whipped topping with the lemon curd.
Gently fold in an additional 4 oz of the whipped topping until combined.
Assemble each mason jar by adding a dollop of the prepared lemon cream and top with about ⅛ cup of pound cake cubes.
Next add about ¼ cup of the blueberries and macerated fruit with juice and press down gently.
Repeat the layers once more - ending with the fruit.
Put on the lid and refrigerate until ready to serve.
Before serving add a dollop of the remaining whipped topping and garnish with additional fruit if desired.