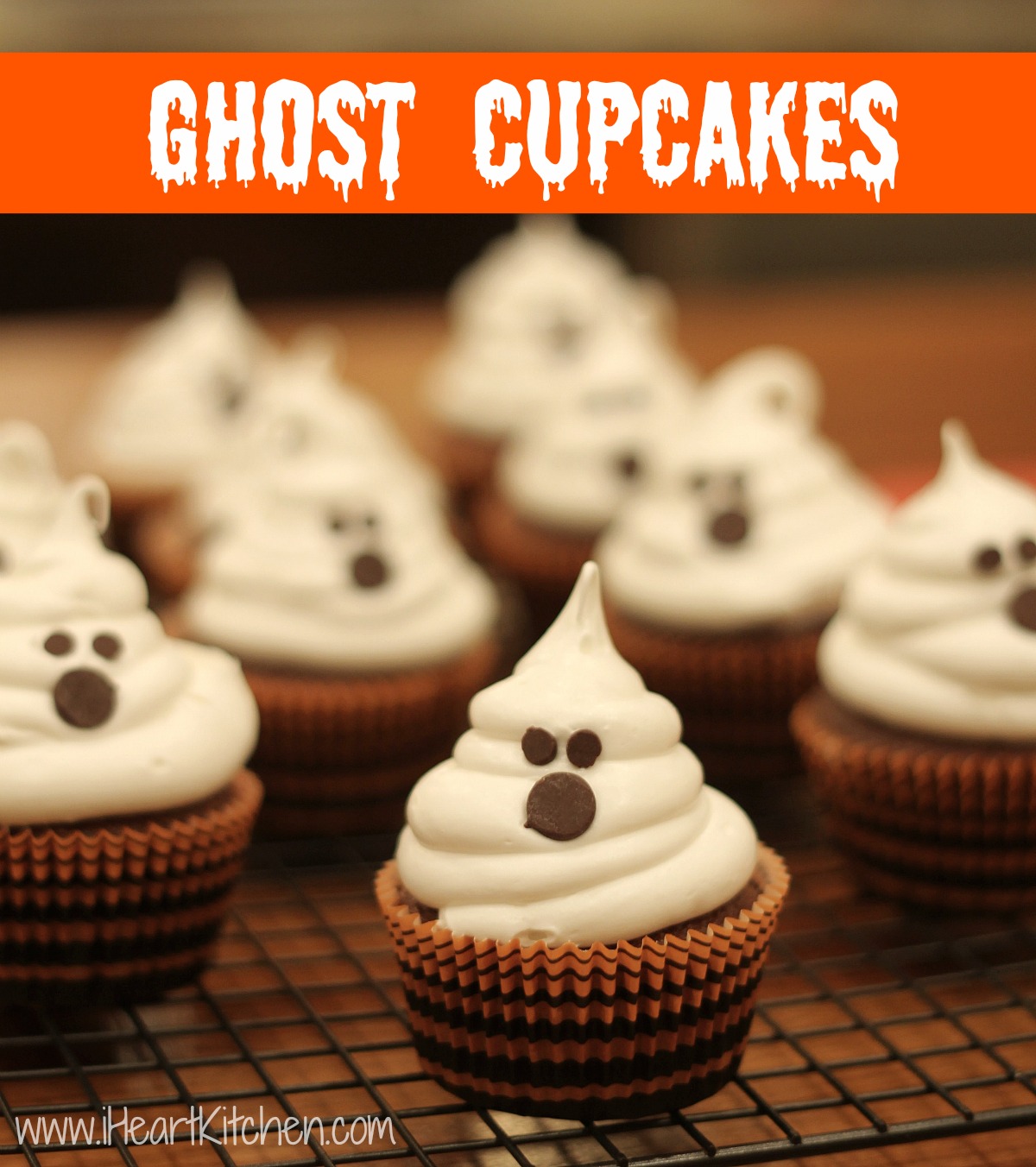 Happy Halloween! This is my favorite time of the year. It signals the start to the holiday season. For the next couple of months, my kitchen will be hopping. I will be whipping up all kinds of goodies for class parties, family functions, cookie swaps and so much more.  Phew…I am getting tired just thinking about it!
I thought I'd share one of my favorite cupcake recipes today. Now, I am not a coffee fan but coffee in chocolate cupcakes is phenomenal. The combination is just fantastic and even though there is a fair amount of coffee in this recipe, they don't come off as having a heavy coffee flavor.
Once you get them made you can make them into a fun holiday treat – Ghost Cupcakes! A big round decorating tip and a few well placed chocolate chips make for a cute cupcake that's sure to make everyone smile.

Ghost Cupcakes
Ingredients
1 cup sugar
½ cup butter, softened to room temperature
2 eggs
1¾ cups all purpose flour, sifted
2 tsp baking powder
¼ teaspoon salt
¼ cup unsweetened cocoa powder, sifted
1 cup brewed coffee, chilled
½ teaspoon vanilla extract
¼ cup semi sweet chocolate chips
Instructions
Preheat oven to 350 degrees
Combine flour, baking powder, salt and cocoa in a large bowl, set aside
Combine coffee and vanilla, set aside.
In the bowl of an electric mixer fitted with the paddle attachment, cream the sugar and butter (approx 2 - 3 minutes).
Add eggs to butter mixture, one at a time, mixing well after each addition.
Gradually add dry ingredient mixture alternating with the coffee mixture to the batter.
Fold in chocolate chips.
Line 2 muffin pans with cupcake liners (18 liners total).
Fill each liner with ¼ cup of mixture.
Bake for 20 minutes or until a toothpick comes out clean.
Notes
Easy buttercream frosting - Place 3 cups confectioners sugar and 1 cup softened butter into your stand mixer and beat slowly until combined. Increase speed to medium and beat an additional 3 minutes. Add 1 teaspoon vanilla extract and up to 2 tablespoons whipping cream (amount will depend on consistency desired) and beat an additional 1 minute. Pipe the frosting onto cooled cupcakes gradually swirling to a point. Add mini chocolate chips for the eyes and a large chocolate chip for the mouth.