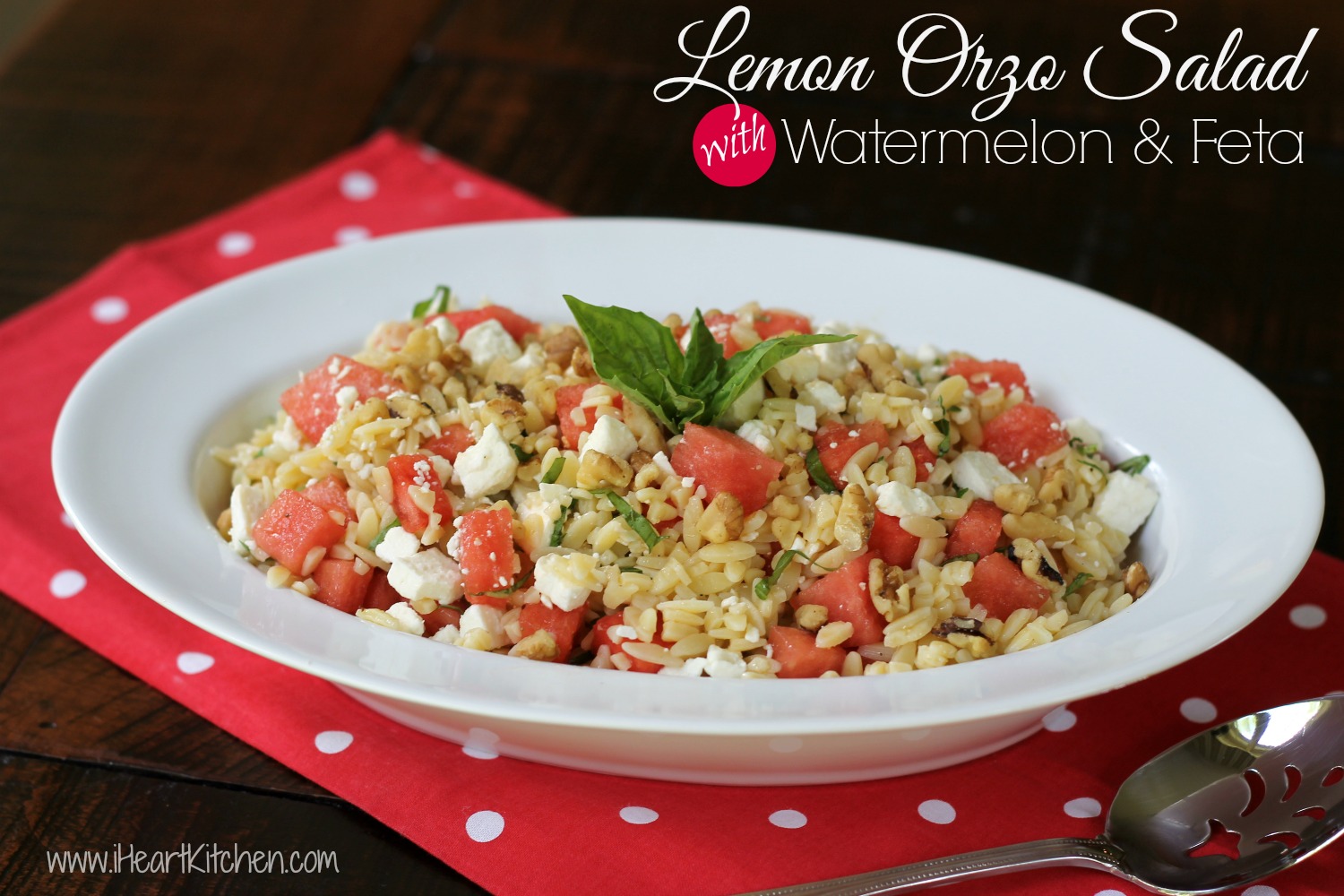 The folks at Good Cook sent me a big ProFreshionals Cut Fruit Bowl the other day. It's a huge 7 quart capacity bowl so I knew I'd be filling that baby with a whole bunch of watermelon. Well, when I think watermelon – I  think of my all time favorite Lemon Orzo Salad with Watermelon & Feta.
I love a good salad…especially in the summer. A light and refreshing salad is the best thing on a super hot day. A long time ago I found a Weight Watchers salad that combined orzo, watermelon and feta. At first, the combination just didn't sound all that appealing to me. I was in an online group and when I saw the picture from another member who gushed at how good it was, I decided to give it a try. Thank goodness for that picture as this is one of my all time avorite salads.
I am always changing up and modifying recipes and I finally found a combination that I love. I add the tang of lemon plus the texture of toasted walnuts to make a good salad even better!
This salad comes together very quickly and I have even served this one with thinly sliced steak to make my carnivores happy. It's light, refreshing and oh so good!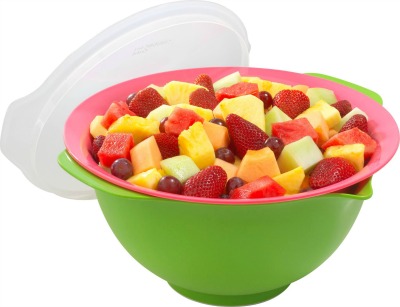 If you are looking for a way to keep your cut fruit fresher for longer, you might want to grab your own ProFreshionals Cut Fruit Bowl. The internal bowl is like a big colander and allows the excess juice to fall to the outer bowl. Since the fruit is not sitting in it's own juices, it stays fresher longer – super smart!!

Lemon Orzo Salad with Watermelon & Feta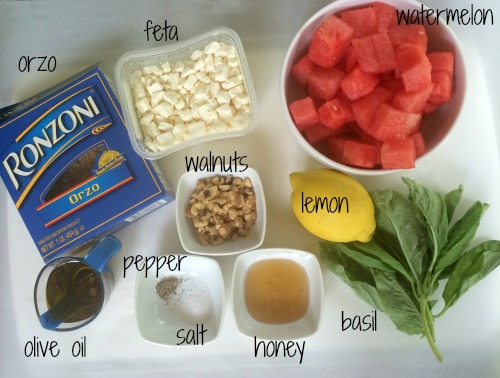 Ingredients
1 cup orzo pasta
¼ cup olive oil
1 tablespoon honey
1 lemon, juiced
½ teaspoon salt
¼ teaspoon pepper
1 large bunch fresh basil, chiffonade
2 cups watermelon, cut into bite size pieces
¼ cup feta, crumbled
2 tablespoons walnuts, toasted
Instructions
Cook the orzo pasta according to package instructions.
Drain and rinse with cold water. Allow to drain completely.
In a small bowl, combine honey and lemon juice then whisk in olive oil until emulsified.
Mix in salt and pepper.
Place pasta, watermelon, basil and feta in a large bowl.
Toss with the prepared vinaigrette then sprinkle with walnuts right before serving.
Notes
Adapted from Weight Watchers
Check out more recipes from other Good Cook Kitchen Experts