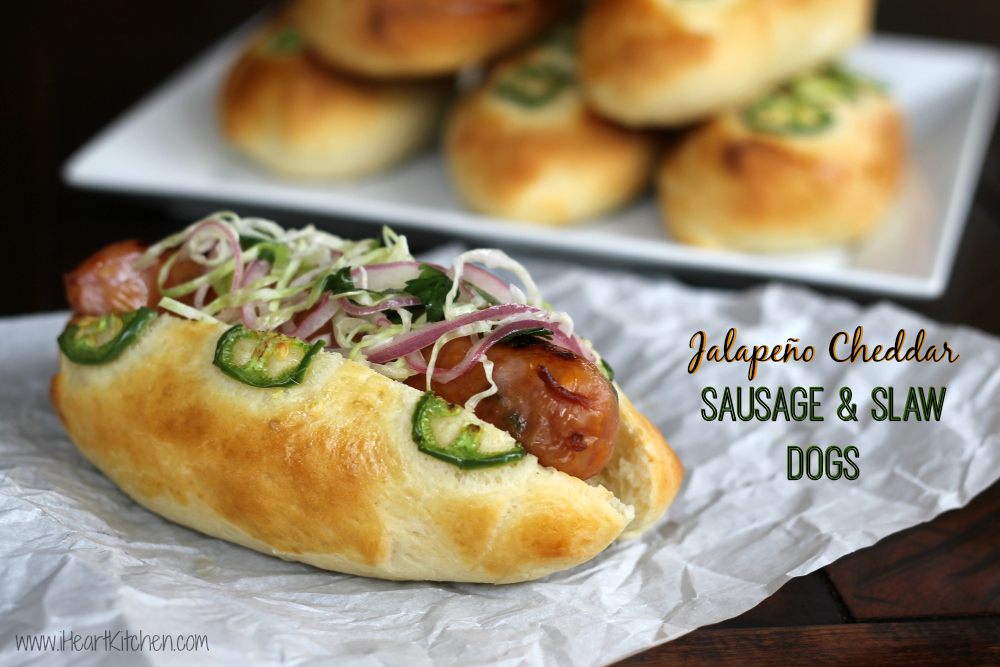 Summer is just around the corner. We had a day of 80 degree weather and I just couldn't resist firing up the grill. I recently grabbed a couple of packages of the new Hillshire Farm® American Craft™ Sausage and decided to see what I could do with them.
I picked up both the Jalapeño & Cheddar Smoked Sausage and the Garlic & Onion Polish Sausage. The Jalapeño Cheddar was calling my name so they turned into a dinner that was a huge hit at my house.
I don't buy many pre-package buns unless I am in a pinch for time. I decided that a batch of Jalapeño Buns would be a perfect compliment to the sausage. I also made a simple slaw that really kicked the Jalapeño Cheddar Sausage & Slaw Dogs to a level of delicious that you just have to try.
You can make your buns and slaw ahead of time so you can have dinner in a flash.
Jalapeño Buns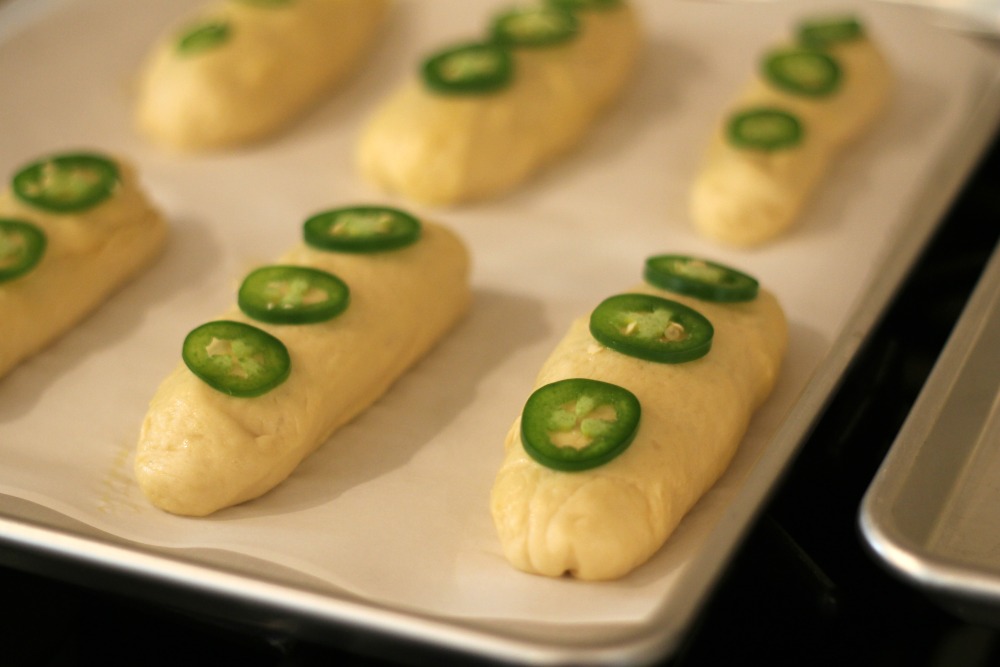 Ingredients
¼ cup sugar
½ teaspoon salt
¼ teaspoon onion powder
2½ teaspoons dry active yeast
1 cup warm milk (warmed to 100º F)
2 eggs
4 tablespoons unsalted butter, softened
3½ cups unbleached all-purpose flour
Jalapeño, sliced
Instructions
Mix sugar, salt, onion powder and yeast in a medium bowl.
Slowly add the milk and whisk until the yeast has dissolved (10 - 15 seconds).
Add one egg, butter and half of the flour to the mixture.
Mix until there are no lumps.
Add in the remaining flour a half of a cup at a time until the dough has formed and ready to knead. Note - you may not use the full 3½ cups.
Knead the dough on a lightly floured surface for 3 minutes.
Place the dough into a bowl that has been lightly coated with cooking spray.
Cover with plastic wrap and place in a warm spot to rise for 1½ hours (until doubled).
Punch down the dough, reshape and then re-cover with plastic wrap.
Set in a warm spot for an hour to double in size.
Preheat the oven to 425ºF.
Cut the dough into 8 pieces and shape into long buns.
Beat the last egg with 2 tablespoons of water and lightly brush the top of the dough with the egg wash.
Place the sliced jalapeños on top of the dough.
Allow to rise for 15 minutes then bake on a 425ºF on a parchment lined baking sheet for 12 - 15 minutes until the tops are golden brown.
To make the slaw: Combine 2 cups of thinly sliced cabbage, 1 cup thinly sliced red onion, ¼ cup chopped cilantro, the juice of one lime, 2 tablespoons canola oil, 1 tablespoon red wine vinegar, 1 tablespoon honey, 1 teaspoon salt, ¼ teaspoon salt and a pinch of cayenne pepper. Refrigerate for at least 30 minutes before serving.
Serve the grilled smoked sausage on a jalapeño bun with a hearty helping of slaw!