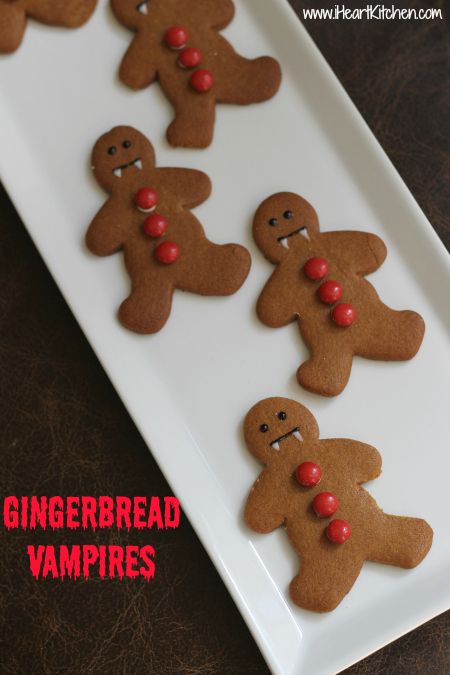 I love Halloween. It's so much fun to decorate, dress up and there are just so many fun foods and recipes to make. I could start on October 1st and make a recipe each day and never come close to covering all the cool stuff. I spent a little time this weekend working on some fun projects.
The folks at Good Cook challenged me to whip up a gingerbread house using the Haunted House Cookie Cutter Set. I have to admit this was my first attempt at doing a gingerbread house from scratch. I love making gingerbread cut out cookies but have never tried to assemble the cookies into a house. The boys and I have assembled a pre-made  set before and it was fairly simple. We had fun putting together the haunted house but my boys heavy handed decorating style caused a few issues. I would recommend building the house around a cardboard box if you try this at home.
The cookie cutters were simple to use and while our house didn't fit together perfectly, it was a ton of fun. Now that we have the set, I think this will be a yearly tradition here at my house.
If you are looking for a simple gingerbread recipe, you might want to try the Gingerbread Vampire Men. My boys love making these and they require very little decorating skills. Grab a tube of black and white decorating gel and you can have a whole army of vampires in minutes. These are tasty and always a fun presentation at parties.
Gingerbread Vampire Men
Ingredients
3 cups flour
2 teaspoons ground ginger
1 teaspoon ground cinnamon
1 teaspoon baking soda
¼ teaspoon ground nutmeg
¼ teaspoon salt
¾ cup butter, softened
¾ cup brown sugar, packed
½ cup molasses
1 egg
1 teaspoon vanilla extract
Instructions
Sift flour, ginger, cinnamon, baking soda, nutmeg and salt into a large bowl and set aside.
Use a mixer to combine butter and brown sugar until light and fluffy.
Add molasses, egg and vanilla to butter/sugar mixture and mix well.
Slowly add flour mixture and mix well.
Remove dough and wrap in wax paper or plastic wrap.
Refrigerate at least 4 hours.
Preheat oven to 350 degrees.
Lightly flour your work surface and roll dough to ¼ inch thickness
Use a cookie cutter to form gingerbread men shapes.
Place 1 inch apart on ungreased baking sheets.
Bake 8 to 10 minutes or until edges of cookies are set.
Cool on baking rack.
Decorate cooled cookies as desired.
Right now you can use the code
HAUNTED23
to get 25% off of any
Sweet Creations by Good Cook
 Halloween products.