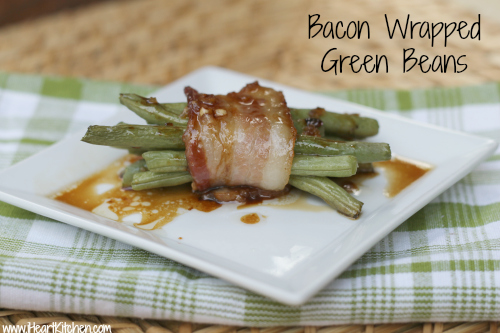 I love bacon and I love green beans….when you put the two together you have something spectacular. Boring old green beans are transformed into a side dish that everyone loves. The best part of this recipe for Bacon Wrapped Green Beans is that it's super simple to throw together.
A friend gave me a Williams Sonoma recipe many moons ago. It was tasty but I could never make it work. In order to really roast the green beans the small amount of sauce would burn before the green beans were ready. I decided to play around and tweak the recipe so the sauce wouldn't end up a caramelized mess stuck to the pan.
I found that there is enough fat still in the pre-cooked bacon to keep the green beans from totally drying out while roasting in the oven. Pouring the sauce over the almost done green beans means you still get a yummy, sticky sauce that makes this side dish a winner.

Bacon Wrapped Green Beans
Ingredients
1 pound fresh green beans, trimmed
½ pound bacon, cut in half
4 tablespoons butter
½ cup brown sugar
1 teaspoon soy sauce
1 teaspoon Worcestershire sauce
2 cloves garlic, minced
Instructions
Preheat oven to 350 degrees
Blanch the green beans in a pot of boiling water (just allow to cook in boiling water for 3 minutes- then remove to a bowl of ice water).
Cook the bacon until just slightly cooked - maybe 2 minutes per side and remove to paper lined plate to cool.
Gather green beans into bunches - around 6 beans per bundle.
Wrap pre-cooked bacon around each bundle, tucking ends under green bean bundle.
Place on baking sheet that has a light coat of olive oil.
Cook bacon wrapped bundles for 20 minutes at 350 degrees.
While the beans are roasting, add butter to a sauce pan and saute the garlic for 1 - 2 minutes on medium high.
Add brown sugar, Worcestershire sauce and soy sauce and stir. Remove from heat.
After green beans bundles have roasted for 20 minutes, remove from the oven and pour the sauce over the bundles and return to oven to cook and additional 5 - 8 minutes.
Remove and serve warm.
Adapted from Williams-Sonoma