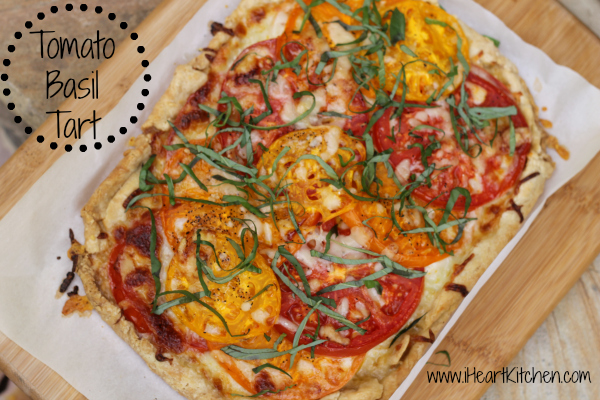 I love the Chattanooga Market. I just can't walk past all the beautiful veggies without taking home a huge bag of goodies. This past weekend the tomatoes were calling my name.
All the possibilities of what to do with those colorful gems rolled around in my head. I had considered several options and then next thing I knew it was dinner time. My boys are home for Fall Break so I was extra busy. I needed something that I could put together quickly. I had considered a tomato pie but I just didn't want to take the time to make a pretty crust…so I opted to throw together a free-form Tomato Basil Tart.
I threw together a quick tart crust and then a few minutes in the oven and dinner was done in no time flat. I love this recipe because you taste all the goodness of the tomatoes without too many other flavors getting in the way. This is a simple recipe but it really is packed with flavor. I often spill a little balsamic vinegar over mine just to add an extra punch.
The presentation is beautiful and makes a wonderful dish for company.

Tomato Basil Tart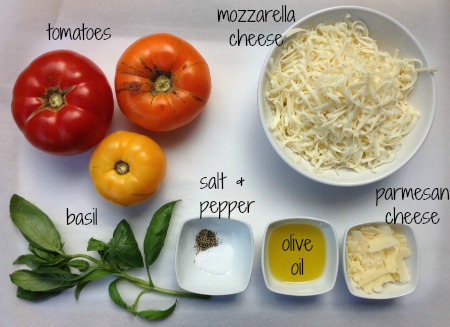 Ingredients
tart crust (can use pre-made crust or phyllo dough)
3 large tomatoes, sliced
1 cup mozzarella cheese, grated
1 tablespoon olive oil
¼ cup parmesan cheese, shaved
2 tablespoons basil, chiffonade
Instructions
Preheat oven to 425 degrees.
Place sliced tomatoes on a double stack of paper towels.
Sprinkle with salt and cover with another double stack of paper towels. (You need to remove some moisture from the tomatoes to avoid a soggy crust)
Place crust on a parchment lined sheet pan.
Create a freeform dough and fold edges over slightly to form a lip.
Pre-bake crust for 10 minutes.
Remove from oven and stack a layer of tomatoes on the crust.
Sprinkle the mozzarella cheese over the tomatoes.
Add another layer of tomatoes then drizzle with olive oil.
Sprinkle salt, pepper and parmesan cheese on the tomatoes then return to the oven and bake an additional 25 - 30 minutes or until cheese is bubbly and crust is golden.)
Top with basil before serving.
Serve warm.
For a simple tart crust – combine 1 1/2 cups of flour with a teaspoon of salt. Cut in 1 stick of cubed chilled butter. Create a reservoir in the middle of the flour. Pour in one egg that has been mixed with 2 tablespoons of very cold water. Mix until dough forms. Roll out the dough on a lightly floured surface.