Tomato Basil Tart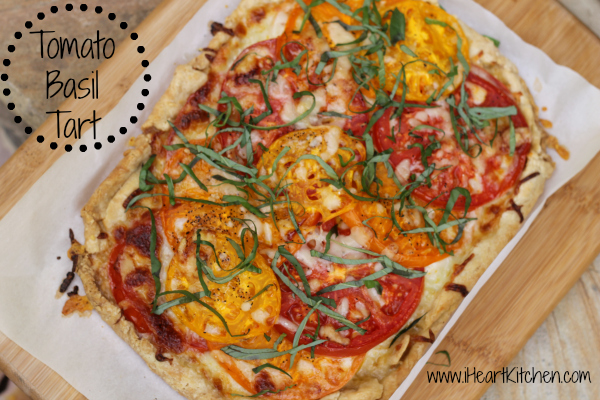 tart crust (can use pre-made crust or phyllo dough)
3 large tomatoes, sliced
1 cup mozzarella cheese, grated
1 tablespoon olive oil
¼ cup parmesan cheese, shaved
2 tablespoons basil, chiffonade
Preheat oven to 425 degrees.
Place sliced tomatoes on a double stack of paper towels.
Sprinkle with salt and cover with another double stack of paper towels. (You need to remove some moisture from the tomatoes to avoid a soggy crust)
Place crust on a parchment lined sheet pan.
Create a freeform dough and fold edges over slightly to form a lip.
Pre-bake crust for 10 minutes.
Remove from oven and stack a layer of tomatoes on the crust.
Sprinkle the mozzarella cheese over the tomatoes.
Add another layer of tomatoes then drizzle with olive oil.
Sprinkle salt, pepper and parmesan cheese on the tomatoes then return to the oven and bake an additional 25 - 30 minutes or until cheese is bubbly and crust is golden.)
Top with basil before serving.
Serve warm.