Gingerbread Vampire Men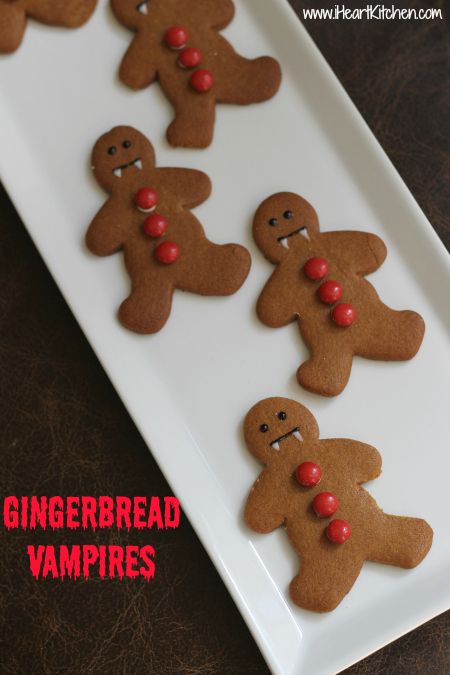 3 cups flour
2 teaspoons ground ginger
1 teaspoon ground cinnamon
1 teaspoon baking soda
¼ teaspoon ground nutmeg
¼ teaspoon salt
¾ cup butter, softened
¾ cup brown sugar, packed
½ cup molasses
1 egg
1 teaspoon vanilla extract
Sift flour, ginger, cinnamon, baking soda, nutmeg and salt into a large bowl and set aside.
Use a mixer to combine butter and brown sugar until light and fluffy.
Add molasses, egg and vanilla to butter/sugar mixture and mix well.
Slowly add flour mixture and mix well.
Remove dough and wrap in wax paper or plastic wrap.
Refrigerate at least 4 hours.
Preheat oven to 350 degrees.
Lightly flour your work surface and roll dough to ¼ inch thickness
Use a cookie cutter to form gingerbread men shapes.
Place 1 inch apart on ungreased baking sheets.
Bake 8 to 10 minutes or until edges of cookies are set.
Cool on baking rack.
Decorate cooled cookies as desired.