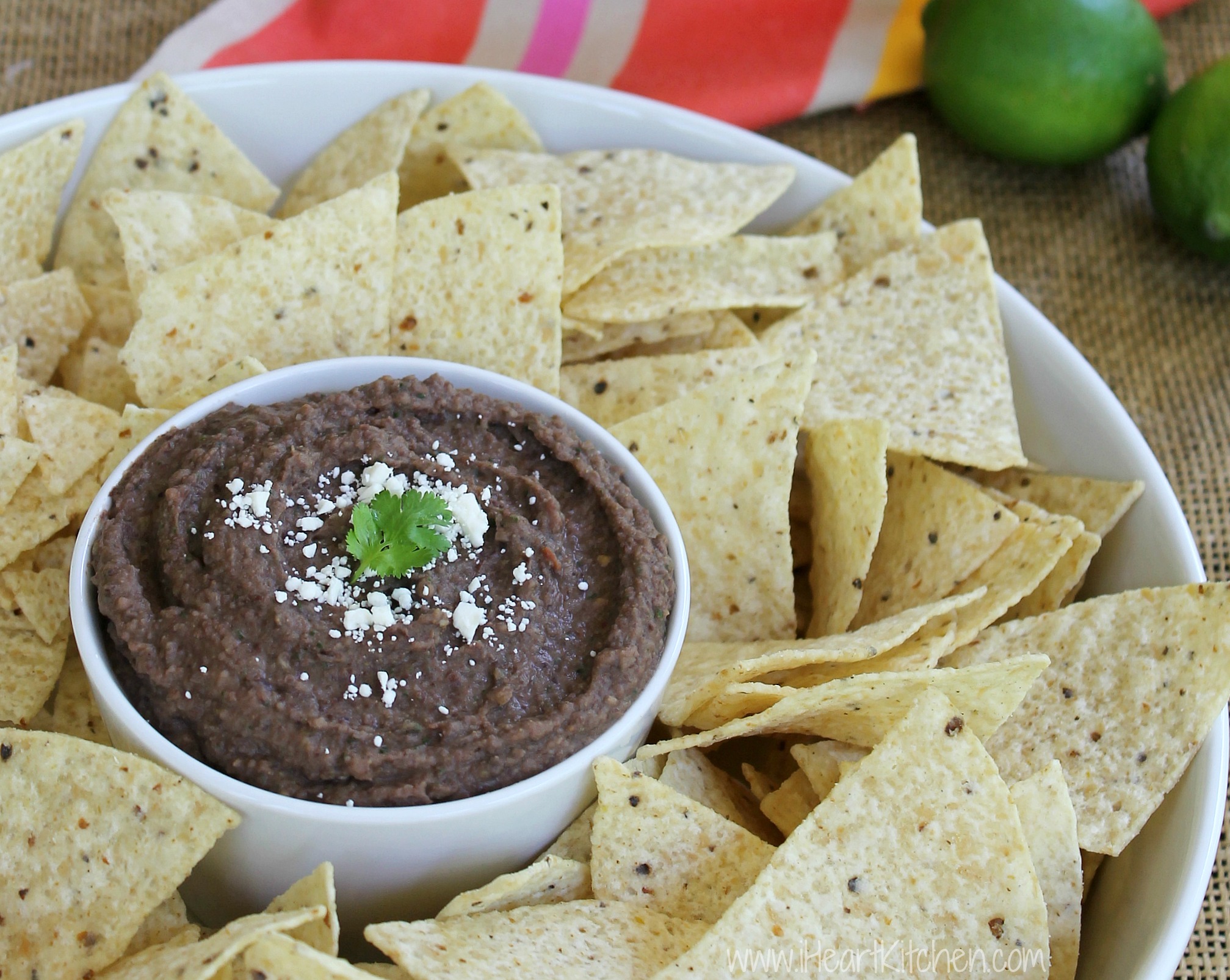 Cinco de Mayo is just around the corner. I love any excuse to get a bunch of my buddies together and chow down on some delicious Mexican food. This year the holiday falls on a Tuesday so I am planning my festivities for the weekend before.
I decided to go ahead and get my menu together so that I am not rushing around trying to gather my supplies. My friends aren't picky. As long as the margarita machine is running and there are lots of chips and dips…everyone will be smiling.
I'll definitely whip up some homemade guacamole, fresh salsa, pico de gallo and a big batch of this Easy Black Bean dip. There's no need for canned dips when you can have a delicious dip ready in about 5 minutes.
This bean dip is so fresh and the taste is just fantastic. I also use it as a base in the most delicious beef and bean burritos…but that's a recipe for another day!
Seriously, to make this one all you do is dump all the ingredients in your food processor and let it whirl. I have played around with a ton of different variations but this is the version that I like the best. The combination give you just the right dipping consistency and the taste is phenomenal.
It's perfect with chips, veggies and more. Plus, it's a better for you option. Black beans are packed with protein and if you opt for smart dippers, you can even make this one work with most diets too!
Whip this up for your next get together or just as a tasty addition to taco Tuesday. Enjoy!

Easy Black Bean Dip
Ingredients
2 cans black beans, rinsed and drained
1 small onion, cut into quarters
1 small fresh jalapeño, seeded with stem and membranes removed
1 heaping tablespoon pickled jalapeños
2 cloves garlic
2 roma tomatoes, cut into quarters
¼ cup cilantro leaves
juice of one lime (about 1 tablespoon)
1 teaspoon cumin
pinch of chili powder
½ teaspoon kosher salt
¼ teaspoon pepper
Instructions
Put everything into a food processor and blend until smooth.
You may need to use a spatula to encourage everything to move towards the blades at first but once it gets going it should be fine.
Serve with chips or your favorite veggies.