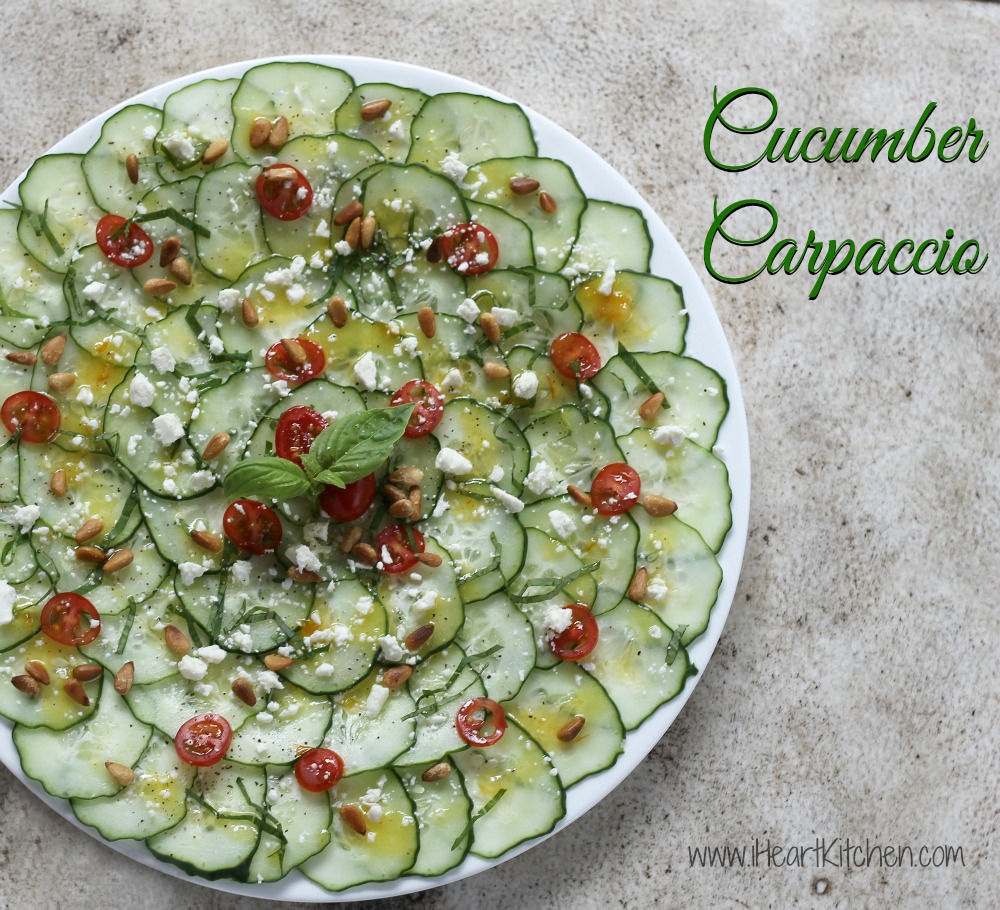 My friend Amy came over last week and brought me a delicious Cucumber Carpaccio that she had made with ingredients fresh from her garden. Now, the dish was supposed to be for my whole family but I won't lie…I ate the whole thing!
It was so good, I decided to whip up my own version. My mom brought me a ton of cucumbers from her garden and I happen to have a basil plant so I just went from there. Amy's version had a balsamic type dressing but I thought a sweet citrus type dressing would taste great. Boy, I think I might have outdone myself. The slight sweetness was such a compliment to the cucumbers and tomatoes. The feta and pine nuts add such a great texture combination.
This is a perfect summer salad that's light and refreshing. Plus, you can adjust the servings as needed. Cut just enough cucumber for one or whip up a huge platter to feed a crowd.
I would recommend pulling out the mandolin so you can make quick work of the cutting. To really get that paper thin cuts that are uniform, the mandolin is the only way to go. You can have this one made in under 10 minutes from start to finish making this a great lunch salad. The presentation is so pretty…you could also take it to your end of summer cookouts too!
Give this a try and let me know what you think!

Cucumber Carpaccio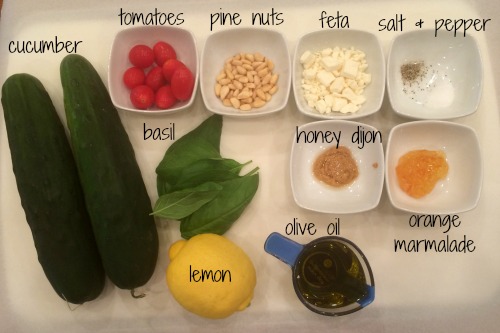 Ingredients
2 cucumbers cut paper thin
1 tomato, sliced thin (or a few cherry tomatoes)
4 - 5 basil leaves, chiffonade
1 tablespoon pine nuts, toasted
1 tablespoon feta, crumbled
¼ cup olive oil
1½ tablespoons lemon juice
1½ tablespoons orange marmalade
1 teaspoon honey dijon mustard
salt & pepper to taste
Instructions
Arrange the sliced cucumbers and tomatoes on a platter.
Top with the cut basil.
Sprinkle with feta and toasted pine nuts.
Make the dressing by whisking together the olive oil, lemon juice, marmalade, mustard and salt and pepper until emulsified.
Drizzle the dressing over the salad prior to serving.
Sprinkle with salt and pepper to taste.