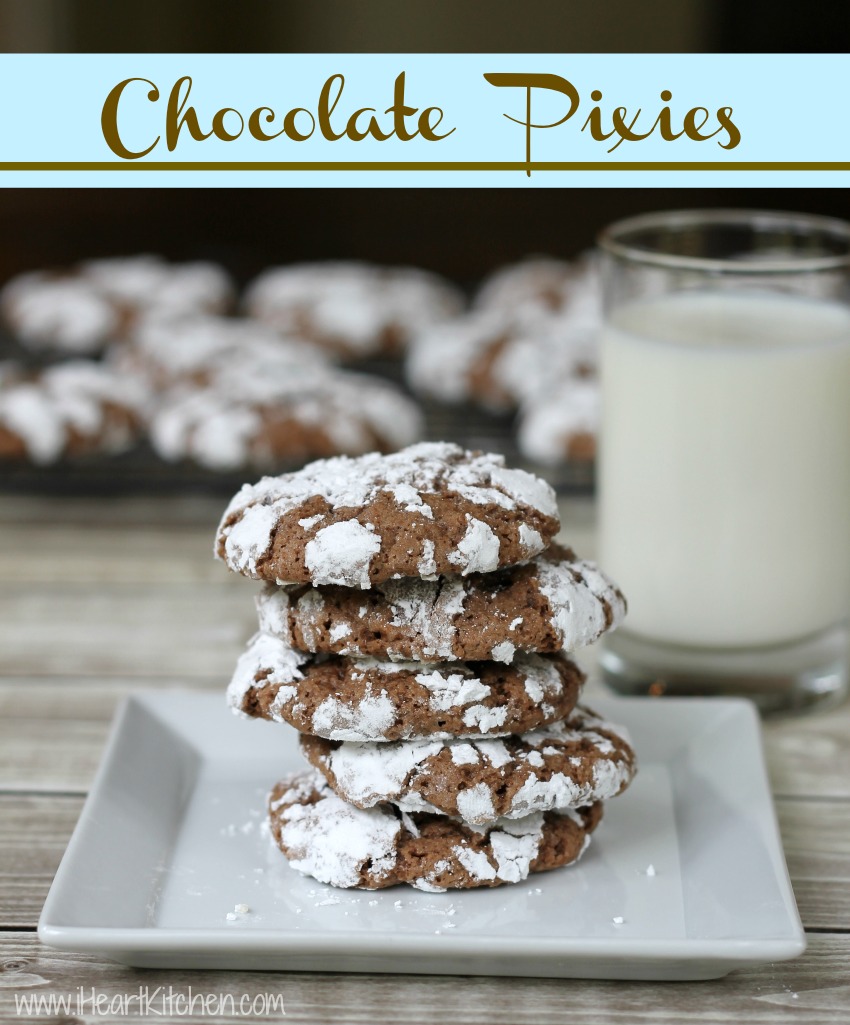 My boys are home for the summer so I have been spending a little more time than usual in the kitchen. While I used to be able to pack a couple of lunch boxes every day, now it seems peanut butter and jelly sandwiches just will not do. In addition to pretty hefty lunch requests, they are also very bad about turning on the charm and begging for homemade treats.
It seems that a bag of store bought cookies just wouldn't suffice for dessert…my oldest suggested that I make some Chocolate Pixies. He is a clever one. He knows that those are my all time favorite cookie and being the little con man that he is, knew exactly what ingredients I needed and started pulling them out of my baking drawer. It's a good thing that he's cute – tee hee.
I have been making these cookies since I was a little girl. I loved that they seemed to explode while cooking. They are also very messy and when you are little, that's just lots of fun.
These are like a cross between a brownie and a cookie. Soft and chewy with the slightest crunch. Your mouth is watering isn't it? Yep–go ahead and start gathering your supplies. You can whip up your dough then stick it in the fridge. Once you get dinner cleaned up, have the kids start rolling out the balls. You'll have a ton of cookies in no time flat.
Just remember not to eat these when you are wearing black. Just try to take a bite without wearing a little of that powdered sugar goodness. We always say that the mess is a "sign of a good cookie!"

Chocolate Pixies - My Favorite Cookies!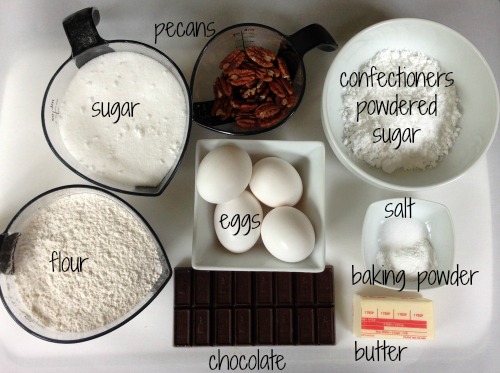 Ingredients
¼ cup butter
4 oz unsweetened baking chocolate (I have used semi-sweet as well)
2 cups sugar
4 egg
2 cups all-purpose flour
2 teaspoons baking powder
½ teaspoon salt
½ cup pecans, chopped
1 cup (approximately) confectioners powdered sugar
Instructions
Place the butter and chocolate in a small pan and melt over low heat.
Allow the chocolate to cool.
Place chocolate mixture, half of the flour, the sugar, eggs, baking powder and salt into a large bowl and mix on medium speed until well blended.
Stir in the remainder of the flour and nuts then mix until combined.
Cover the bowl and refrigerate for approximately 2 hours until chilled.
Preheat oven to 300º F.
Shape the dough into 1½ inch balls and then roll each into the confectioners powdered sugar.
Place the coated dough onto a greased cookie sheet and bake for 16 - 18 minutes.