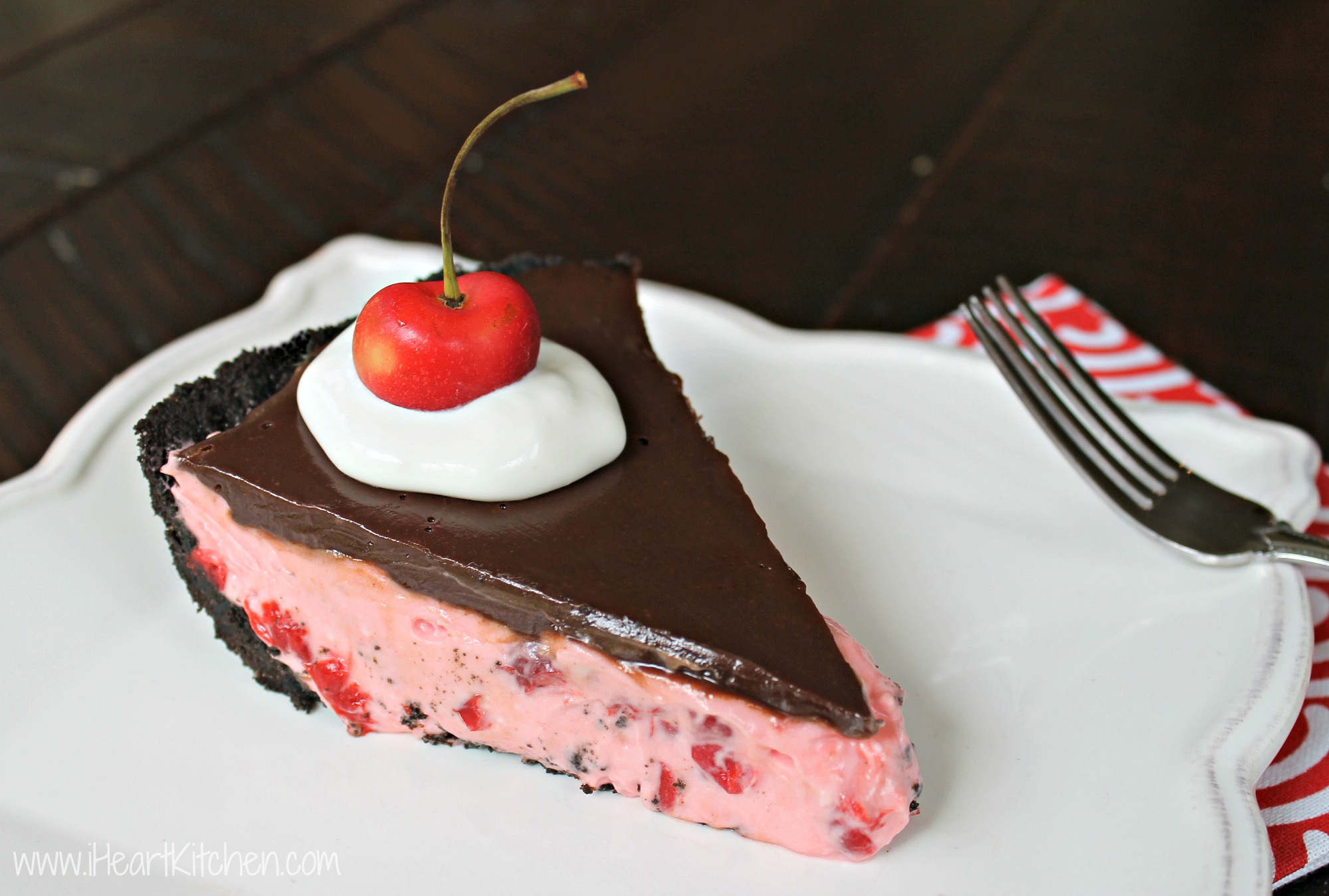 Cherries are in season right now and whenever I walk through the store I have visions of chocolate covered cherries dancing in my head. I also think about one of my all time favorite pies – my Chocolate Covered Cherry Dream Pie.
This one is great because you don't even have to turn on the oven. In fact it really requires very little effort. It's a three stage dessert but honestly it doesn't take very much time to put together. I'd give this one an easy rating – so it's a perfect recipe even for beginners!
If you are craving chocolate covered cherries but don't feel like pulling out your cherry pitter, this is the recipe for you!
Start with an Oreo crust. It's a very simple whirl around the food processor with a little butter and then pressed into a pan.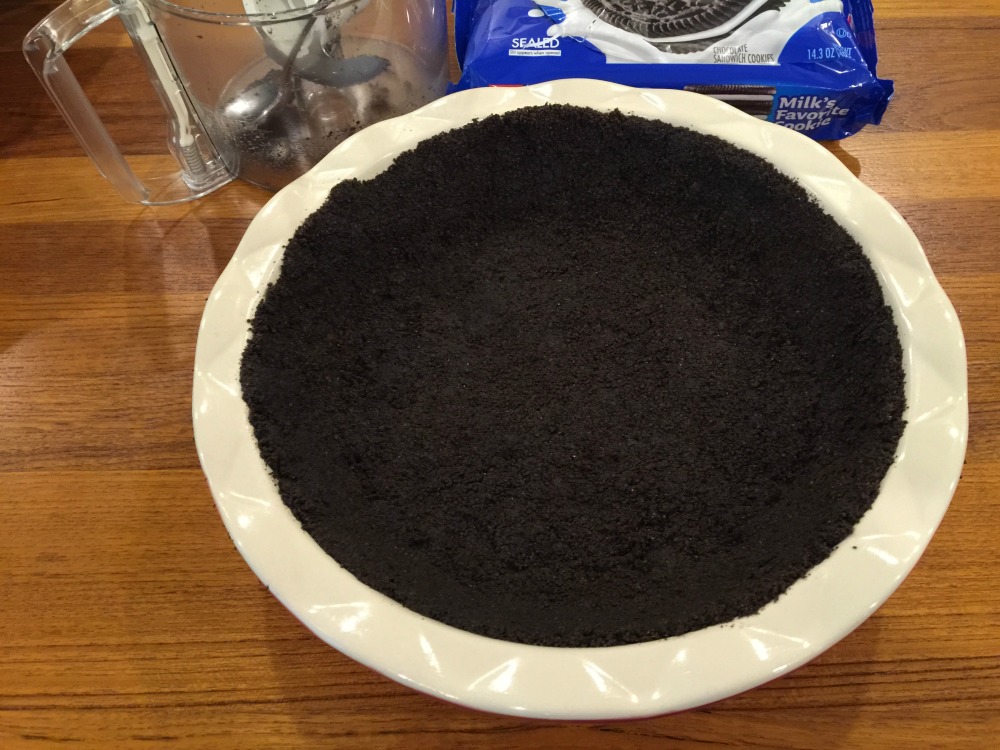 Next your whip up your filling. A little cream cheese, powdered sugar, cherry pie filling, and whipped cream is all your need!
Finally the ganache is the finishing touch! Just heat whipping cream to boiling then take it off the heat. Add your milk chocolate morsels and let it sit for five minutes. Stir it up and that's it!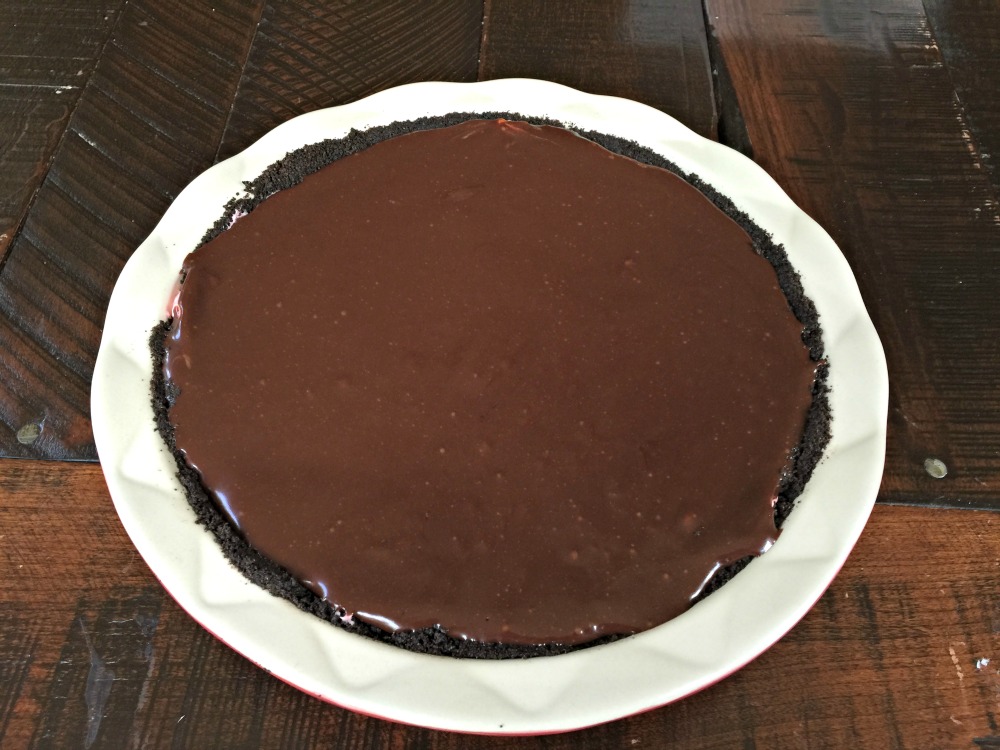 The hard part is waiting for it to chill!

Chocolate Covered Cherry Dream Pie - No Bake Dessert!
Ingredients
24 Oreo Cookies
¼ cup butter, melted
8 oz cream cheese, softened
1 cup powdered sugar
1 can cherry pie filling (21 oz)
1 cup Cool Whip, thawed
½ cup whipping cream
11½ oz milk chocolate morsels
Instructions
Crust
Place Oreo cookies into a food processor and pulse until broken into small crumbs.
Add the butter and pulse to combine.
Pour into a deep dish pie pan and push to bottom and sides.
Refrigerate for 30 minutes or until set.
Filling
Combine the cream cheese and powdered sugar and mix until creamed together.
Fold in the cherry pie filling and then the Cool Whip.
Pour into the Oreo pie crust then place back into the refrigerator while you prepare the ganache.
Ganache
In a small saucepan, bring the whipping cream just to boiling over medium-high heat.
Remove from heat and add chocolate morsels, but do not stir.
Let stand for 5 minutes then stir until smooth.
Pour over pie and refrigerate at least 2 hours until set.