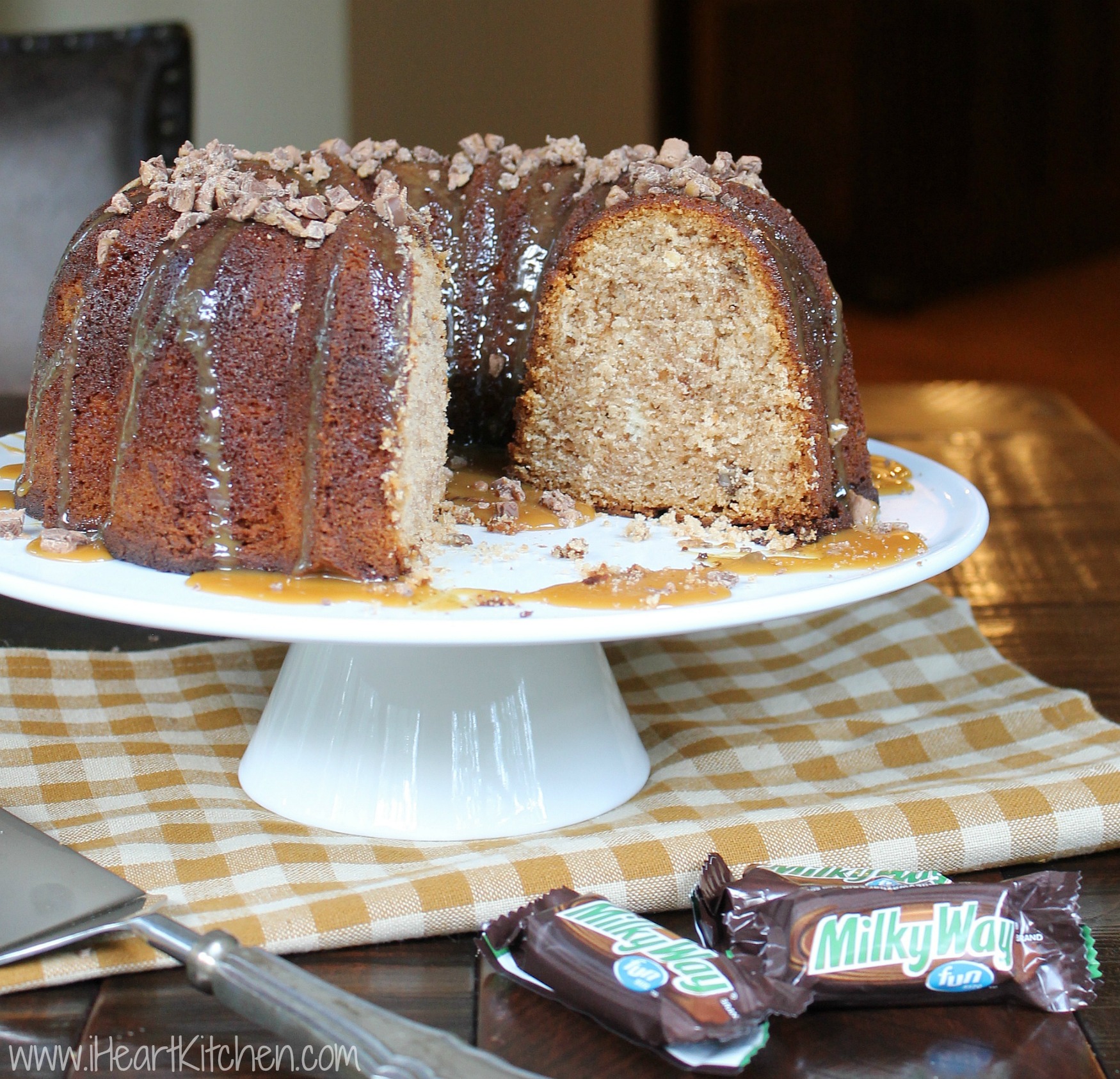 Every once in a while I pull out my cookbook and surprise my husband with some of his favorite treats from his childhood.
I was able to get access to a bunch of my husband's mom's recipes. My husband's mom passed away before we met so I never got the chance to meet her but from what I hear she was amazing in the kitchen. I made copies of my husband's favorite recipes and tucked them into my own cookbook. I have barely made a dent in the recipes and so far everything has been just delicious. Now most of the recipes are probably 25 + years old so they are not exactly the healthiest ever but boy are they tasty.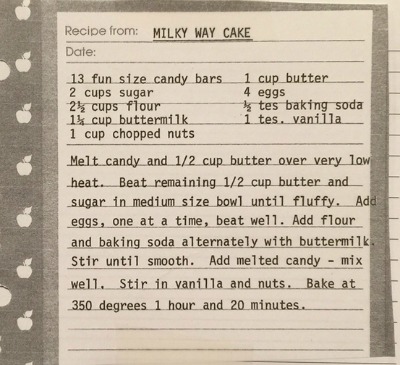 The recipe I am sharing today is one of the recipes from her cookbook – Milky Way Cake. I asked my husband if he knew how old this recipe was and he said he remembers eating it as a young boy of maybe 10 or so. Well, my dear husband will be 50 this year so this recipe is likely close to 40 years old if not older. Sometimes those oldies are the best ones – right?
The recipe takes a little effort but mainly you just have to be patient as it takes a while to bake. It's up to you if you want to add a frosting or serve it plain. My boys like it drizzled with a little caramel and then topped with some extra chopped Milky Way.
I hope you enjoy this one as much as we do!

Milky Way Cake
Ingredients
13 fun size Milk Way candy bars
1 cup butter, divided
2 cups sugar
4 eggs
2½ cup flour
½ teaspoon baking soda
1¼ cups buttermilk
1 teaspoon vanilla extract
1 cup chopped nuts
Instructions
Preheat oven to 350º F.
Melt candy bars and ½ cup butter over very low heat, mixing well until combined.
Remove from heat and set aside.
Meanwhile, beat remaining ½ cup of butter and sugar in a medium bowl until light and fluffy.
Gradually add flour and baking soda, alternating with buttermilk.
Stir until smith.
Add melted candy mixture and mix well.
Stir in vanilla extract and chopped nuts.
Bake in a 350º F oven for 1 hour and 20 minutes.
Top with glaze, frosting or caramel if desired.