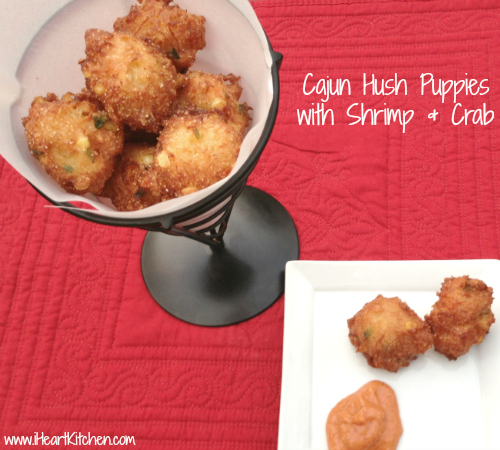 I love the beach – the ocean, the fun and of course the food! We spent a few days in Gulf Shores last week visiting family. We didn't get to spend as much time at the beach as we had hoped due to a stomach bug. It started with my little one and by the end of our visit, everyone was miserable.
Not only did the illness impact my time at the beach – it also meant that I wasn't able to enjoy some of my favorite dishes at the local seafood restaurants. Since I missed out on fresh gulf seafood, I decided to treat my guys to a taste of the beach here at home.  My Cajun Hush Puppies with Shrimp & Crab will make you think you hear waves crashing on the shore. Ok, maybe not …but they are delicious!
There are so many different types of hush puppies. You can go traditional with a plain batter or you can kick it up a bit and throw in different flavors and textures. I like a hush puppy that is crispy on the outside but soft on the inside. In this recipe, the seafood and cream cheese keep the inside moist. Plus, you get the crisp crunch of the fresh corn in every bite. Pair that with the heat from the pepper and cajun spice and you really have a crowd pleaser.
This is a pretty simple recipe to put together. Most of your time is spent cooking these little balls of goodness. You have to do them in batches so that you don't end up with a soggy mess.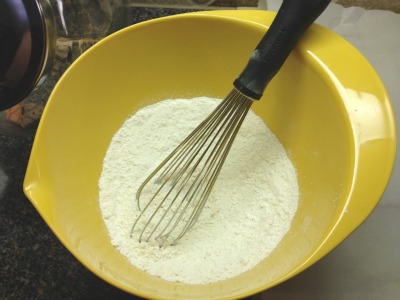 First just toss your dry ingredients together then set those aside.
Next you cook up the onions in a little butter. My basic hush puppy recipe just calls for grated onion but this is not your standard pup. The caramelized onion adds a nice sweetness and keeps the inside good and soft.
Once your onions are nice and golden you toss in the corn and just cook for a couple of minutes just to take away the raw taste. Next you toss in the seafood, jalapeño and cream cheese and mix just until the cream cheese is melted.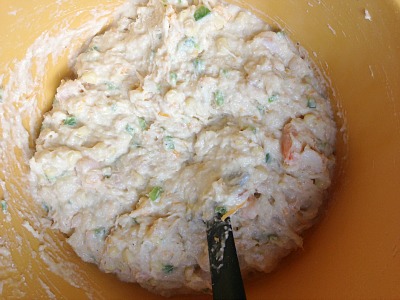 Combine the seafood mixture with the dry ingredients then add the egg, cheddar cheese and buttermilk. Mix it up and you are ready to drop it in oil. Be aware that your batter will be thick.
Heat your oil to around 350 degrees. I use a thermometer to make sure the oil is where I want it to be. If the oil is too hot you will have a crispy hush puppy that is undercooked in the center. You want to have 3 – 4 inches of oil in your pan.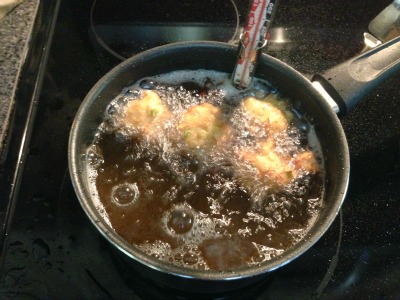 Once your oil is up to temp, drop the batter a tablespoon at a time into the hot oil. Make sure you only cook 3 – 4 per batch. If you overcrowd your pan you will have a hard time maintaining the temp and end up with an oily pup. Allow them to cook on one side then flip to get a golden brown over the entire hush puppy.
Once done, remove from the oil to a paper lined plate and allow to drain. Serve while warm. You might offer your guest a remoulade sauce, tartar sauce or even a cheese sauce….whatever floats your boat!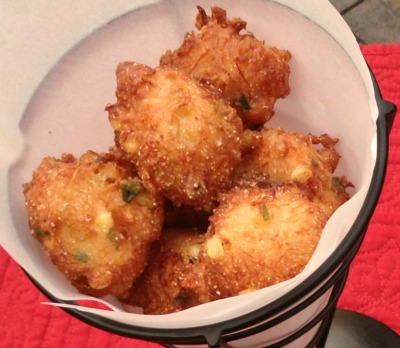 Crab and Shrimp Hush Puppies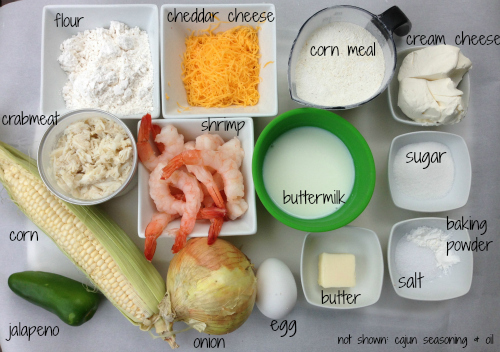 Ingredients
1 cup corn meal
¾ cup flour
½ teaspoon baking powder
1½ teaspoons salt
2 tablespoons sugar
2 tablespoons cajun seasoning
1 egg, beaten
½ cup cheddar cheese
1 tablespoon jalapeño, minced
¼ cup onion, chopped
1 tablespoon butter
¼ cup fresh corn, removed from cob
½ cup cooked shrimp, roughly chopped
½ cup lump crab meat
4 oz cream cheese
½ cup buttermilk
peanut oil for frying
Instructions
Combine corn meal, flour, baking powder, salt, sugar and cajun seasoning in a large mixing bowl. Set aside.
Melt butter in a large saucepan, add onions and cook until caramelized.
Add corn kernels and sauté for 2 minutes.
Add cream cheese, shrimp and crab to pan and stir until cream cheese has melted. Remove from heat.
Combine seafood mixture with dry ingredients.
Add egg, cheddar cheese and buttermilk and mix well.
Heat oil in medium saucepan to around 350 degrees.
Drop the batter one tablespoon at a time into the hot oil.
Cook until golden brown, turning once
Cook in batches only 3 - 4 at once - do not overcrowd pan.
Drain on paper towel.
Serve with remoulade or cocktail sauce.