Crab and Shrimp Hush Puppies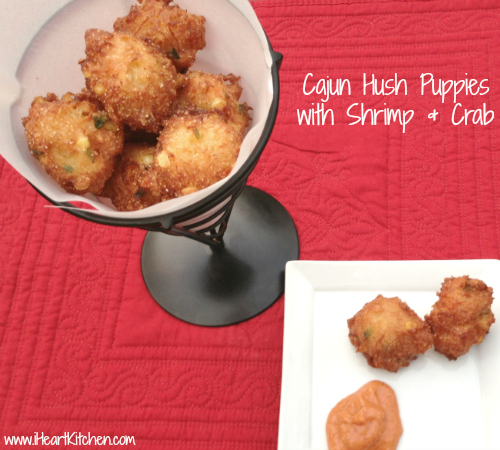 1 cup corn meal
¾ cup flour
½ teaspoon baking powder
1½ teaspoons salt
2 tablespoons sugar
2 tablespoons cajun seasoning
1 egg, beaten
½ cup cheddar cheese
1 tablespoon jalapeño, minced
¼ cup onion, chopped
1 tablespoon butter
¼ cup fresh corn, removed from cob
½ cup cooked shrimp, roughly chopped
½ cup lump crab meat
4 oz cream cheese
½ cup buttermilk
peanut oil for frying
Combine corn meal, flour, baking powder, salt, sugar and cajun seasoning in a large mixing bowl. Set aside.
Melt butter in a large saucepan, add onions and cook until caramelized.
Add corn kernels and sauté for 2 minutes.
Add cream cheese, shrimp and crab to pan and stir until cream cheese has melted. Remove from heat.
Combine seafood mixture with dry ingredients.
Add egg, cheddar cheese and buttermilk and mix well.
Heat oil in medium saucepan to around 350 degrees.
Drop the batter one tablespoon at a time into the hot oil.
Cook until golden brown, turning once
Cook in batches only 3 - 4 at once - do not overcrowd pan.
Drain on paper towel.
Serve with remoulade or cocktail sauce.
Recipe by
I Heart Kitchen
at https://www.iheartkitchen.com/cajun-hush-puppies-with-shrimp-crab/