Each week I get a beautiful box of organic fresh produce delivered right to my door. I subscribe to a program similar to a produce co-op. I get an email of the items available from the local farms and then I choose the items that I would like included in my box. Opening that box feels almost like Christmas.
Usually I am thrilled to see the box on my front porch but I forgot to cancel my delivery while I was out of town. Now, I have a ton of produce to use up. I just can't let any of that beautiful food go to waste so I had to come up with a plan. I had originally thought that I would just sauté the pattypan squash and serve it as a side dish. I decided that I'd add in some of the onions and potatoes that was also in my box to create a hearty Pattypan Squash Gratin.
The recipe is so simple to assemble and the results are tender vegetables in a creamy cheesy sauce. I think you guys will love it.
To start this recipe just caramelize some onions. I had about 3/4 of a Vidalia onion left from another recipe. I really wish I would have had the whole onion –but, we make do with what we have, right?!
The next step is to slice up the  squash and potatoes. If you have a mandolin – this is the time to bring that baby out of the cabinet.
I love my mandolin slicer – I use it all of the time. It can be a little intimidating at first. Once you try it,  you will never go back to hand slicing. When you need a bunch of even slices there is nothing else that compares.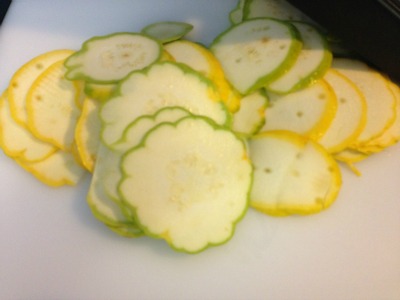 I think it took me a total of 3 minutes to do the 4 squash and 4 potatoes. Aren't they so pretty?!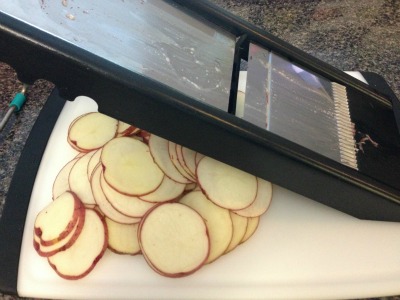 Once your veggies are ready all you have to do is assemble the dish. Grab a big gratin pan or casserole dish and layer the goodies. Start with the onions – just spread them out over the bottom of your dish. Next alternate potatoes and squash in a layer over the onions. Mix the salt, pepper and nutmeg and sprinkle half over the first layer of veggies. Then sprinkle the gorgonzola cheese and follow with another layer of potatoes and squash.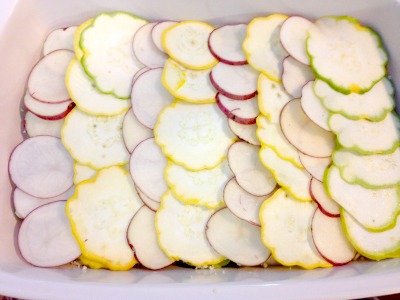 Once you have used up all the veggies sprinkle the remaining salt, pepper and nutmeg then pour the half and half over the veggies. Top with the parmesan cheese and buttered breadcrumbs. Bake at 400 degrees for 30 minutes.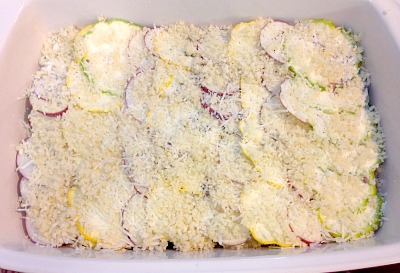 This recipe is a wonderful main dish with a big salad or perfect as a summer side dish.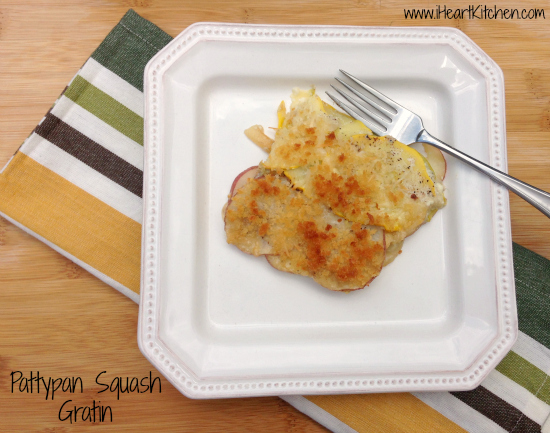 Pattypan Squash Gratin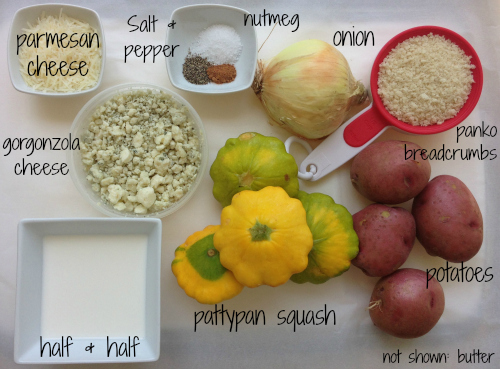 Ingredients
1 onion, sliced into rings
2 tablespoons butter, divided
2 cups summer squash, thinly sliced
2 cups red potatoes, thinly sliced
4 ounces gorgonzola (goat cheese, gruyere or your favorite soft cheese)
½ cup half & half
1 teaspoon salt
½ teaspoon pepper
¼ teaspoon nutmeg
½ cup parmesan cheese, shredded
½ cup panko breadcrumbs
Instructions
Preheat oven to 400 degrees,
Melt 1 tablespoon butter in medium skillet and saute onions until caramelized.
Place in bottom of large casserole dish or gratin pan.
Alternate slices of potato and squash on top of the onions creating a single layer.
Mix the salt, pepper and nutmeg and sprinkle half over the first layer of veggies
Sprinkle the gorgonzola cheese over the spices.
Repeat with another layer of alternating potatoes and squash.
Sprinkle the remaining salt, pepper and nutmeg over the final layer.
Pour the half and half over the vegetables.
Sprinkle with parmesan cheese.
Melt 1 tablespoon of butter and mix with breadcrumbs. Sprinkle over the top of the casserole.
Bake in a 400 degree oven for 30 minutes.
Serve warm.
Notes
You can substitute any summer squash for the pattypan squash. A combination of yellow and zucchini squash with the potatoes is delicious.