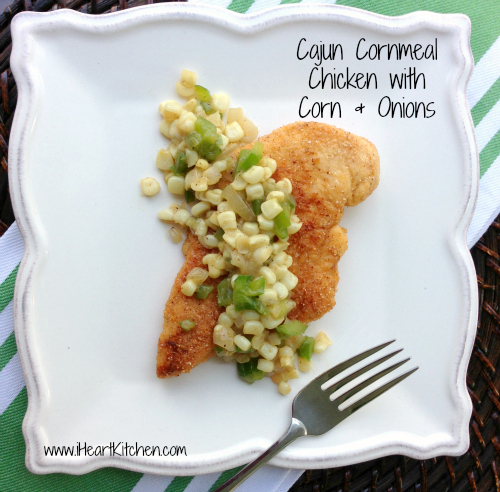 Being a blogger has it's perks every now and again. Yesterday it was getting a package of fresh corn. Yep, the folks at Amaize Sweet Corn sent me some of their corn to try out for a post on my other site – I Heart Publix. Let me tell you guys – it was good!
I struggled deciding whether I should go the traditional route and just boil it or slice it right off the cob for my chicken recipe. Well, I decided to just take a big bite of raw corn hoping that would help me make a decision. It did! The corn was so sweet, crisp and juicy. I knew it would be perfect with my chicken. I got my handy dandy Kuhn Rikon Corn Twister and had that corn off the cob in minutes (that thing is currently one of my favorite gadgets–so awesome!!)
My Cajun Cornmeal Chicken with Corn & Onions is one of my husband's favorite meals of all time. I very rarely fry up chicken for him. Who wants to deal with all that mess…and all that fat?! This recipe offers a pan fried chicken with much fewer calories and very little fat per serving.
The veggies are a wonderful compliment to the chicken. Besides being fairly healthy and delicious, this one is also quite simple to throw together. Give this recipe a try and let me know what you think!

Cajun Cornmeal Chicken with Corn & Onions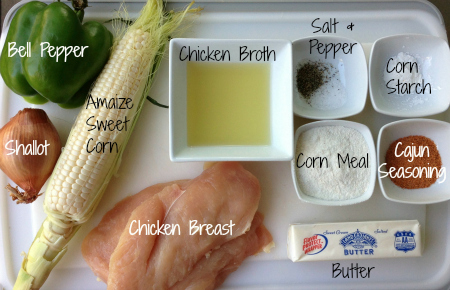 Ingredients
1 pound thinly sliced chicken breast fillets
¼ cup white corn meal
1 tablespoon cajun seasoning
3 tablespoons butter
¼ cup onion or shallot, chopped
½ cup fresh corn kernels
¼ cup bell pepper, chopped
1 teaspoon salt
½ teaspoon pepper
¼ cup chicken broth
1 teaspoon corn starch
Instructions
Mix corn meal and cajun seasoning in a large zip bag.
Place chicken in the bag and shake to coat.
Melt 2 tablespoons of butter in a large skillet.
Add seasoned chicken and cook 4 minutes on each side or until done.

Remove chicken and keep warm.
Add 1 tablespoon of butter to the skillet and melt.
Add corn, onions and bell pepper and cook until tender - about 5 minutes.

Add salt and pepper.
Combine corn starch and chicken broth then add to vegetable mixture.
Cook over medium heat until thickened.

Serve veggies over chicken.