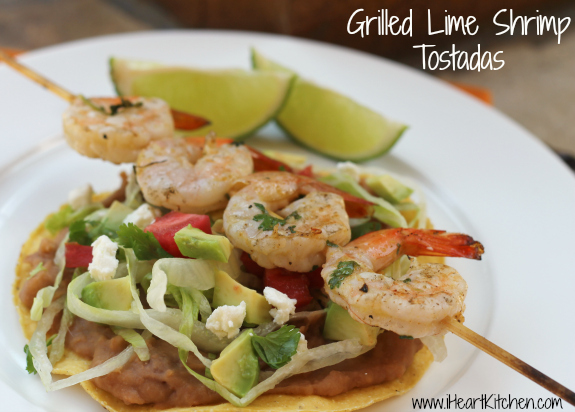 Weekends are crazy here at my house. I always say I am going to relax then end up planning way too much and never seem to find those moments of rest.
I don't want to spend a ton of time in the kitchen on the weekend. I have to go with easy recipes that I can whip up quickly. One of my favorite things is a tostada. I am a huge fan of mexican cuisine. The tostada is kinda like an open faced sandwich. You start with a crispy tostada shell then add a bunch of yummy topping or "fixings" as we like to call them.
I usually vary the toppings but this Grilled Lime Shrimp Tostada is my go to recipe when I need a meal on the table in a flash. A quick marinade and then a few minutes on the grill and you are ready to build your tostada. If you have a few extra minutes, I highly recommend whipping up some of my fresh guacamole. It is phenomenal with the shrimp!
I was in a hurry to get to the street market this weekend so I just went with avocado chunks – it was still fantastic!

Grilled Lime Shrimp Tostadas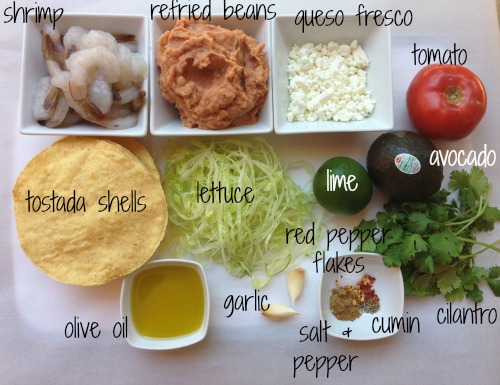 Ingredients
Skewers (if wooden soak in water for 20 minutes)
1 lb shrimp, shelled and deveined
¼ cup olive oil
1 lime, juiced
2 garlic cloves, minced
½ teaspoon cumin
¼ teaspoon salt
⅛ teaspoon pepper
⅛ teaspoon red pepper flakes (more if desired)
¼ cup cilantro
refried beans
lettuce, shredded
tomatoes, chopped
queso fresco
guacamole or any other favorite topping such as black olives, onions, salsa, etc...
Instructions
Place olive oil, salt, pepper, cumin, red pepper flakes, garlic and cilantro into a bowl and blend with a stick blender until emulsified. (You can also use a regular blender)
Pour over shrimp and refrigerate for 5 - 10 minutes.
Skewer shrimp and grill on high for 2 -3 minutes.
Brush with extra marinade then flip and grill an additional 2 - 3 minutes until shrimp is pink and cooked through. Remove from grill.
Assemble your tostada by spreading with beans, lettuce, tomato, cilantro and topped with the grilled shrimp. Squeeze extra lime juice on top before serving.